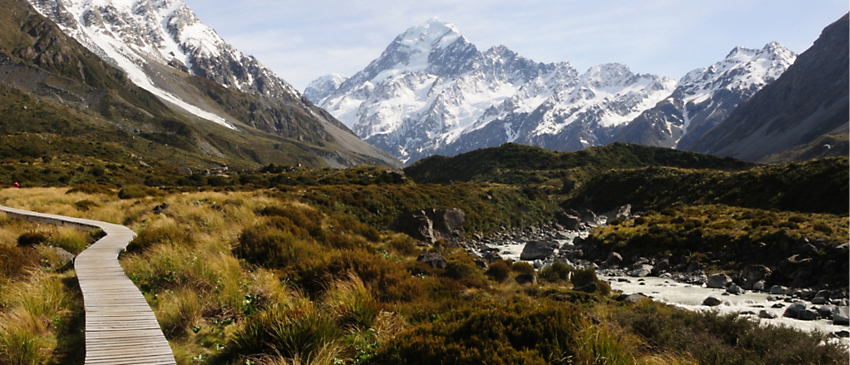 By Lynn A., 12-time traveler & 6-time Vacation Ambassador from Crest Hill, IL
We were on the Pure New Zealand trip a few years ago in November. It was unusually cold and rainy, and when we reached the Haast Pass on the western side of the South Island after a long ride up the mountain, it was closed ... snowed in. We were so disappointed that we wouldn't see Franz Josef Glacier!
But out guide Alan had a solution that turned out to be as good, perhaps better than the scheduled plan. He took us to an amazing resort at Mt. Cook where we had the best buffet meal on any trip: an enormous room with stations for many ethnic foods, all kinds of seafood, meats, poultry, and many gourmet wonders—including an assortment of caviars, oysters on the half shell, quail, and more, plus dessert tables with every imaginable treat.
And in the same building was an exceptional (and free) museum telling the story of Sir Edmund Hillary, who did most of his training at Mt. Cook. And all of this was in a winter wonderland setting where we could enjoy falling snow on tall pine trees right outside the floor-to-ceiling picture windows. It was a magical storybook experience. And we would have missed it, had the weather cooperated! It was especially meaningful to me because as a child my parents took me to hear a lecture by Sir Edmund and I got his autograph!
Go with the flow with O.A.T. during Pure New Zealand and perhaps things will turn out even better than planned.