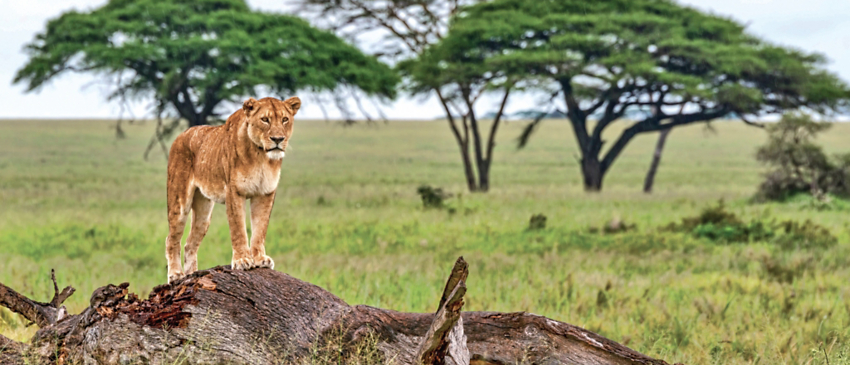 Elena Cunningham, 16-time traveler from Palm Coast, FL
From the time I was a little girl, I had dreamed of going to Africa. The dream followed me as an adult as my life went along as life does—college, career, marriage, children, all of the above. Then, in the midst of living my life, I happened to read an article about someone's African safari at just the right time. I did not realize it then, but that article would change my life dramatically.
There had been some stresses and I needed something to help me move forward. I decided that the whole family was going to take my dream trip to Africa! I called all the 800 numbers at the end of the article and began devouring catalogs and researching trips to East Africa. This was way back in 1986, long before the internet! I even went back to work to begin saving for this big dream to come true.
Two years later, I was on my way to Tanzania! I chose to travel with Overseas Adventure Travel for lots of reasons: cost, group size, and itinerary among them. I ended up going alone! My husband and two boys did not want to go. But, in Tanzania, I met up with 15 other people looking for adventure and, boy, did we find it! We traveled all over Tanzania in a big, beautiful Bedford truck that was so wonderful and added tremendously to the sense of adventure. We saw so much of the country while traveling around in our truck. I felt like I was an explorer! I was having the time of my life and everything was pure magic and joy!
Our first stop was Lake Manyara National Park where we were camping one night. Right after arriving, our guide, Howie, asked me and another woman to keep an eye on the food supplies that had just been unpacked and were spread out on the ground at that moment. No sooner had he left when a huge baboon appeared and, quick as lightning, grabbed a bunch of bananas and ran off with them! We never even had a chance to react! It happened that quickly.
The Tanzania portion of our trip was mostly camping in real tents—not the well-appointed ones O.A.T. uses now. These were basic tents just big enough for two sleeping bags and not a whole lot else. Our first night camping was in Lake Manyara National Park. We set up our tents in a clearing under giant jungle-like trees. The "bathroom" was a latrine hut you walked to. I had no idea about latrines at that point in my life. Apparently I was not the only one. Holy moly, what a mess we made!
That night a troop of baboons overnighted in the trees around our camp and made the most unimaginable sounds all night long. Screeching, screaming, scare-you-to-death sounds all night. In the morning, everyone was standing around one of the tents which belonged to two ladies. I walked over to see what was going on. Apparently, the ladies were directly beneath the tree where the baboons slept and their tent was covered in the baboons' bathroom activities. Talk about a mess! But, the O.A.T. camp staff got it cleaned up in no time. And then we were back on the road, but what an exciting night! My first in the wilds of Africa!
At that time, you could still camp in the Ngorongoro Crater and we were there for a couple of nights. We arrived and put up our tents and got situated. Later that evening as we sat around the campfire our first night, we heard a loud crashing through the bush nearby. Howie turned on a bright light on our truck and shined it into the darkness. There was an elephant! Right there! He was walking around the area and as he continued on his journey, he walked right past the tents of our driver and cook where they were sleeping. What a thrill!
The next night, some sort of creature came snuffling around the base of our tent! I had no idea what it might have been and, honestly, was too scared to get up and try to look out our screen. My roommate slept through it all, but I was pretty frightened. Never did find out what it was, but wow! I was having an incredible adventure! Listening to the sounds of the animals at night was the most wonderful thing ever! While in the Crater, we were near an open savannah where lots of zebra and wildebeest roamed. At night I could hear the zebra making their mule-like braying and the wildebeest, sounding like a pasture full of cows. I also heard hyenas off in the distance.
We stayed at a rustic little lodge in the Serengeti called Ndutu. It was a memorable stay because I remember being so thrilled to see ocelots climbing around in the rafters of the lodge. We spent time in the great room before and after dinner and watched them cavorting up in the ceiling rafters. Captivating! After dinner, we all sat around a big bonfire listening to the sounds of the bush at night. Oh my, I am in heaven!
We next spent a couple of nights in tents in the Serengeti. When we woke up the first morning, there were three giraffes right outside our tents! What a thrill that was! Everyone was up and out taking pictures. I think it was while camping in the Serengeti that I heard my first lion roar. It coincided with my roommates' visit behind our tent to answer the call of nature. Right after she got out there, the lion began to roar! I just could not stop myself from giggling while picturing her trying to get herself back together quickly while this lion was roaring. But on each trip back, that is what I live to hear. I want to hear the lion roar!
I am pretty sure the Serengeti was the last of our camping. The differences between our Tanzania trip and the Kenya trip were quite great. Our Tanzanian guide Howie left us at the Kenya border and instead of all of us driving around in our wonderful Bedford truck, we were split up into three smaller groups, each having its own guide and van.
We stayed in lodges from this point on. We saw many remarkable sights in Kenya and our adventures continued, but they were of a tamer sort until we arrived at our lodge in Meru National Park. So much happened there.
Our first day after arriving, my roommate and I checked into our room. We opened the big, heavy curtains to liberate the sliding doors onto our balcony. It was quite hot and we decided to go down to the lodge and enjoy a cold drink and write in our journals. We left the drapes open, turned on the lights over our beds, and left. We did not return to our room until after dinner, after dark. For some reason, we were the only ones staying on the second floor of the outdoor accessed rooms.
When we got to the stairs leading up to our room, we couldn't believe our eyes. The entire staircase was literally covered in beetles! All sizes. We tried to step gingerly up the stairs only to find that a light had been put on over our door and now our door was covered in beetles! Very quickly, we slid through the opening and into our room, which was also covered with beetles! They were everywhere—in the air, on the walls, on the floor and, oh no, in our beds!
We had to strip all the covers and pillows off our beds and shake out the mosquito nets to get the beetles out of our beds. After doing that, we got into bed and looked at each other. It's too early to go to bed! Oh no! But there was no getting back up now.
The next morning, many of the bugs were dead, but they were still everywhere. We got up and got dressed and went down to breakfast and our first game drive in Meru. As we began our drive through the park, we encountered men with rifles dressed in camouflage. After seeing many of them, our guide asked what was going on. Apparently, shortly after we had arrived the night before, poachers had come into the park and held the park employees hostage while they killed the five white rhinos that had been kept in an enclosure at night for safe keeping.
We were stunned. Never had we expected to hear something like this! You hear about poaching, but never expect to be somewhere it has just happened. It was devastating news. The people at the lodge would not talk about it, but we did find a newspaper that had an account of what happened after we left the park.
Game was extremely scarce that day and one can only guess that this tragedy affected everything in the park—people and animals alike. That afternoon when we returned from our game drive, we went up to our room and all traces of the beetles were magically gone! Not a single one to be found. Amazing!
Before we left to go down to the lodge, we closed the heavy drapes, made sure all lights were turned off and we put our mosquito nets down over our beds and tucked them in. After dinner when we returned, the stairs were still covered with beetles, our door was still covered with beetles and there were, again, lots of beetles in our room. But, not quite as many and with the nets over our beds, there were none in our beds! As we lay down to go to sleep, we began to hear screaming. A group of Germans had come in that afternoon. We had seen them at dinner. My roommate and I just laughed knowing what all the screaming was about. They were coming back to their rooms to find the beetles in their beds!
I have taken O.A.T.'s Best of Kenya and Tanzania trip two more times since my original trip. No matter where else I go with O.A.T. in the world—and I have been with them to India, Morocco, Turkey twice, and just recently Costa Rica—I will always go back to Africa. In Africa, every day is "Anything Can Happen Day." For me, it is the place where adventure begins. I have had many more exciting experiences in Africa and hope there are many, many more in my future.
Fulfill your own dream of visiting Africa when you join O.A.T. for New! Kenya & Tanzania Safari: Masai Mara to the Serengeti.