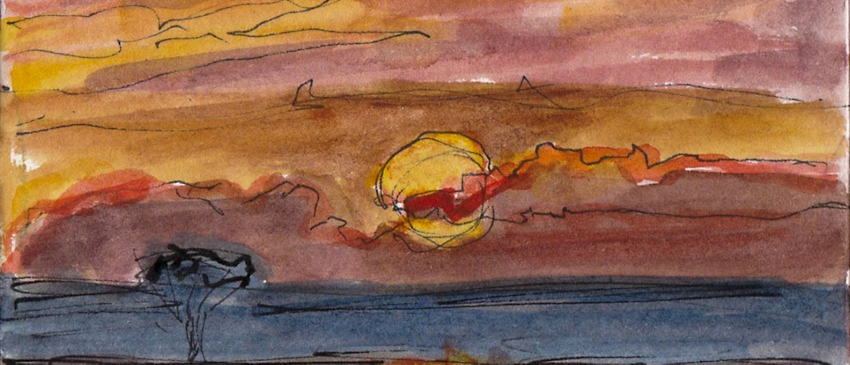 By Ann C., 3-time traveler from Bellingham, WA
Ann C. creates detailed journals of her adventures, including the beautiful watercolor pages below. She journaled each day of her recent back-to-back trip, which combined two O.A.T. adventures: Southern Africa Safari & Lake Kariba Cruise: South Africa, Zimbabwe & Botswana and Safari Serengeti: Tanzania Lodge & Tented Safari. We've included a few pages from her travels—enjoy!
Trip #1: Southern Africa Safari & Lake Kariba Cruise: South Africa, Zimbabwe & Botswana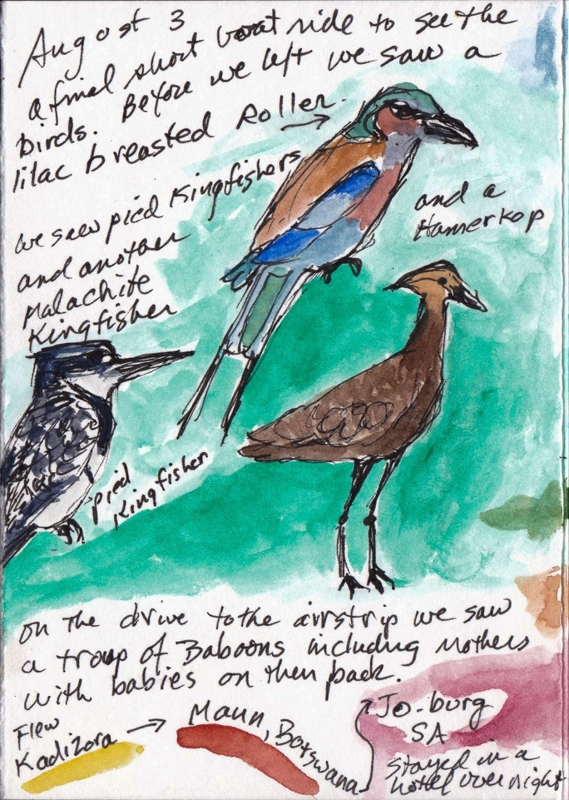 August 3:
"A final short ride to see the birds. Before we left, we saw a Lilac-breasted roller. We saw Pied kingfishers and another Malachite kingfisher and a Hamerkop. On the drive to the airstrip, we saw a troop of baboons including mothers with babies on their back."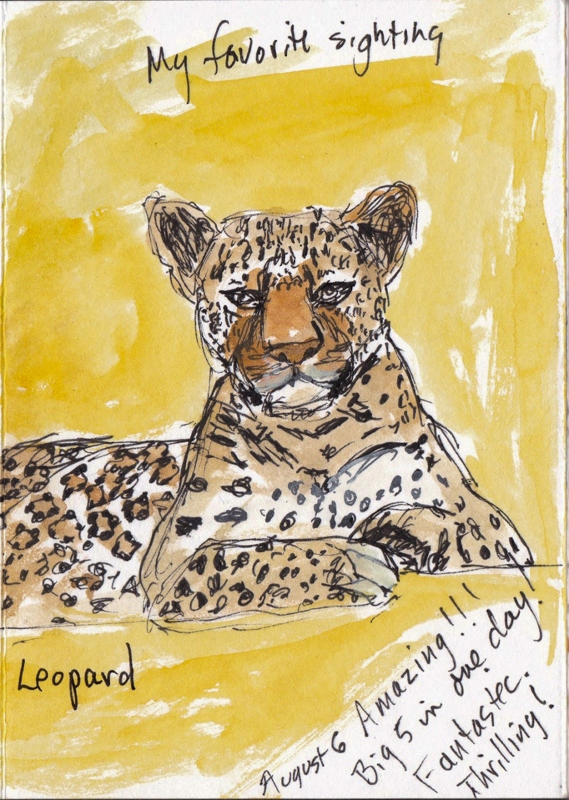 August 6:
"My favorite sighting: leopard. Amazing!!! Big 5 in one day! Fantastic, thrilling!"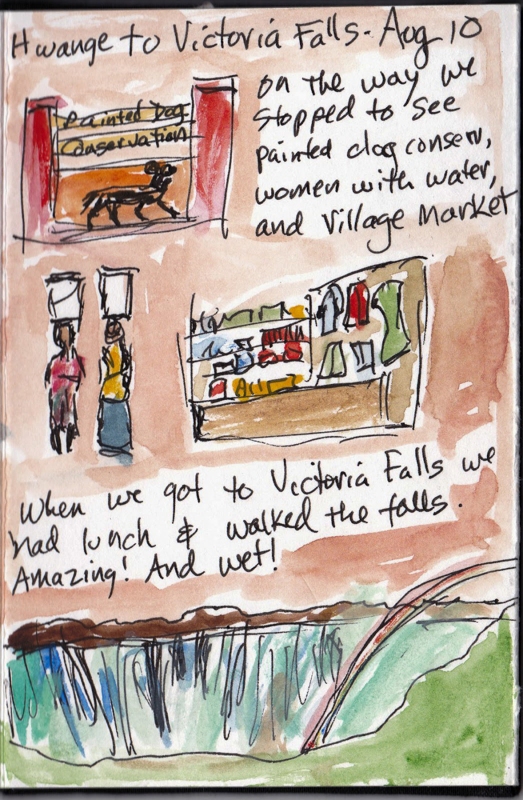 August 10:
"Hwange to Victoria Falls. On the way we stopped to see the Painted Dog Conservation, women with water, and village market. When we got to Victoria Falls, we had lunch and walked the falls. Amazing! And wet!"
August 16:
"Boat from Impalila Island to Chobe. Out of Namibia, into Botswana to Elephant Valley Lodge. Went on a late afternoon drive. Saw a brother and sister lion team and many elephants along the river."
August 20:
"Fantastic day! Up Table Mountain in cable car. Fantastic view up another mountain. Met artist who influenced Botha through art. Watched paragliders. Fabulous views. Went to Muslim Quarter. Had brownie and espresso at steam punk place. Went up in the Silo Hotel and had drinks with Jen and Pete. Had dinner at the Harbor House. Best ever. Rainbow clouds and beautiful harbor light. A perfect day with Jen and Pete."
Trip #2: Safari Serengeti: Tanzania Lodge & Tented Safari including a pre-trip extension to Kenya's Masai Mara Game Reserve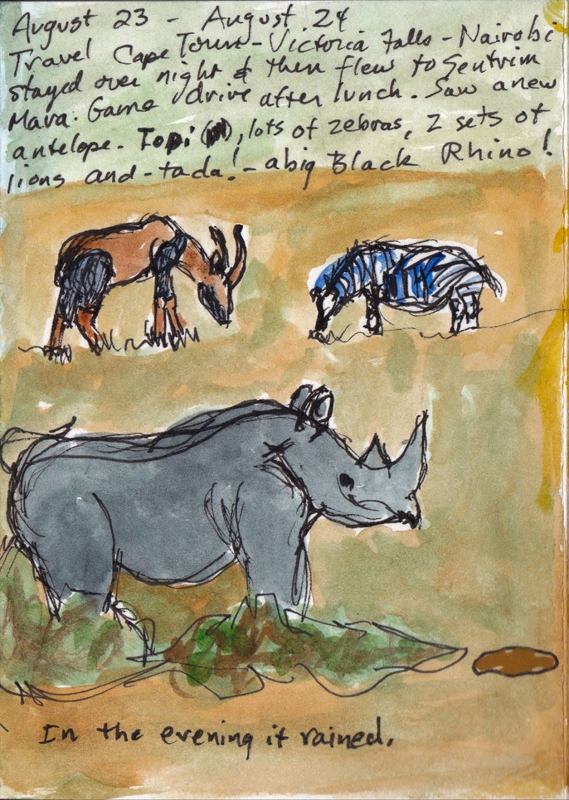 August 23-24
"Travel Cape Town – Victoria Falls – Nairobi. Stayed overnight and then flew to Sentrium Masai Mara Lodge. Game drive after lunch. Saw a new antelope (Topi), lots of zebras, two sets of lions, and ta-da! a big Black rhino!"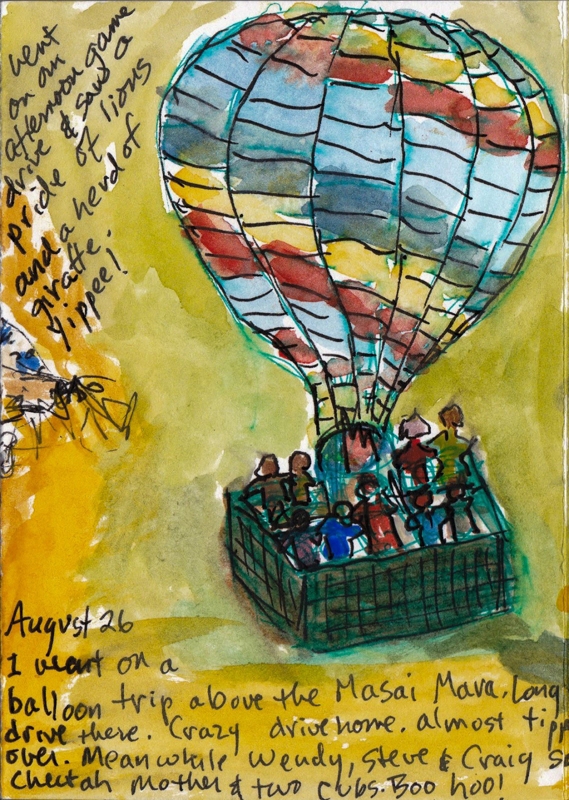 August 26
"I went on a balloon trip above the Masai Mara. Long drive there. Crazy drive home. Almost tipped over. Meanwhile, Wendy, Steve, and Craig saw a cheetah mother and two cubs. Boo hoo!"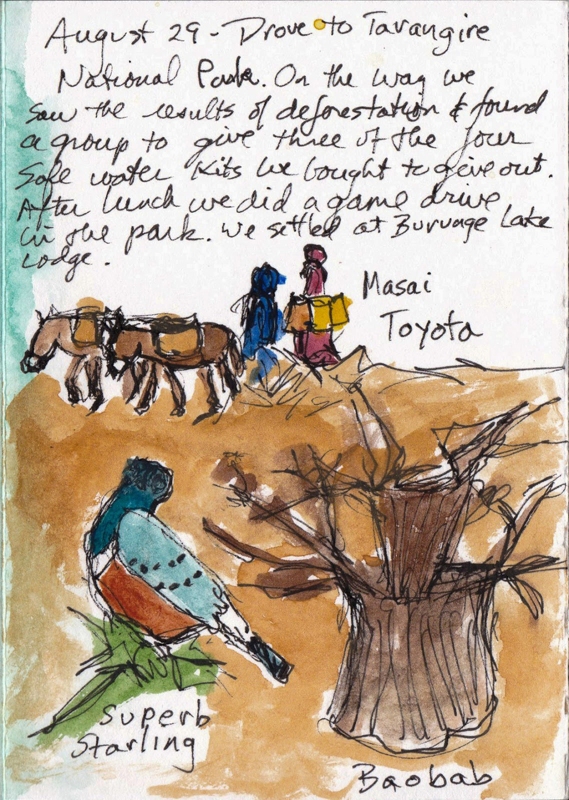 August 29:
"Drove to Tarangire National Park. On the way we saw the results of deforestation and found a group to give three of the four safe water kits we brought to give out. After lunch, we did a game drive in the park. We settled at Burunge Lake Lodge."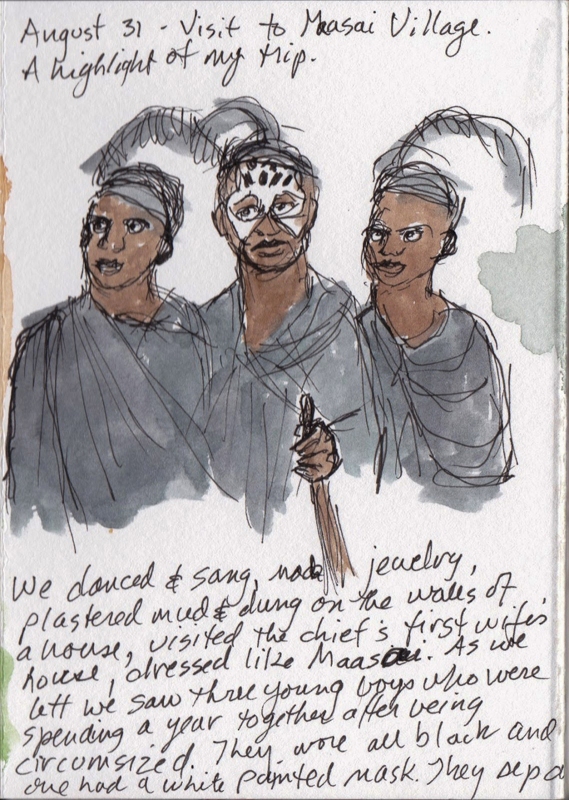 August 31:
"Visit to Maasai village—a highlight of my trip. We danced and sang, made jewelry, plastered mud and dung on the walls of a house, visited the chief's first wife's house, and dressed like Maasai. As we left, we saw three young boys who were spending a year together after being circumcised. They worse all black and one had a white painted mask."
September 7:
"In the morning, we went to a school sponsored by O.A.T., Endoro Primary School. We had a long talk with the principal after meeting and greeting a large group of kids. The school has over 700 kids and receives $150 a year total from the government! Seriously! We went to a sixth form class and I talked with three girls."
Start your own travel journal when you join O.A.T.'s Safari Serengeti: Tanzania Lodge & Tented Safari adventure.