Chile and Argentina: A Photographic Journey
By Kyle A., an 8-time traveler from San Carlos, CA
Greetings, fellow O.A.T. travelers and friends! I'm delighted to have a chance to introduce myself and to share a personal narrative of my family's recent O.A.T. trip—Chile and Argentina: The Andes to Patagonia—illustrated with some of my favorite photos from the trip, as well as a few suggestions for how to take the best images possible while traveling.
Photography has been a passion of mine since I was old enough to hold a camera. At first I was most intrigued by its ability to document and share images of the world around me. As an avid traveler, I've visited more than 100 countries and always have a camera or two with me to capture the landscapes, wildlife, people, and culture unique to each place. In more recent years, I have begun to recognize how wonderful a tool a camera can be for traveling with more awareness of the different cultures we encounter, and for sharing our experiences more powerfully. As a semi-retired technology professional based in the San Francisco Bay Area, I have ample opportunities to capture a fascinating range of natural and cultural diversity right near home, but wanderlust continues to strike on a regular basis, affording my family and me the chance to experience new places and people around the world. My work has been published in a variety of outlets including National Geographic Online, Measure Magazine, the photography book "eXtremy" by Vojtech Rusin, and fine art and stock photography sites. I have a special interest in helping travelers improve their photography while learning to travel with greater cultural awareness and advocacy. Toward that end, I have recently launched a new project dedicated to improving and inspiring travel photography: "To Travel Hopefully," at www.to-travel-hopefully.com.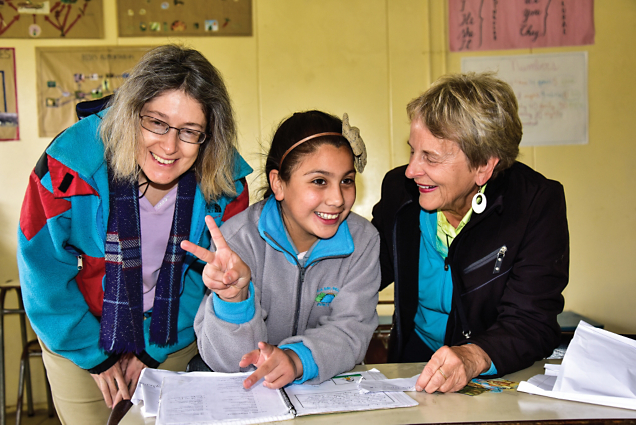 Visiting El Sol del Pacifico School on a Learning and Discovery day in Puerto Varas, Chile. I chose a wide aperture to defocus the background and emphasize the people, and I used a diffuser and bounced the flash off the ceiling to create softer lighting.
We chose the Andes to Patagonia trip in part so that we could visit our older daughter who was studying abroad in Santiago, Chile for her junior year of college. Our wonderful 3.5-week adventure took us from Santiago, to fabled Easter Island, sophisticated Buenos Aires, the mystical island of Chiloe, and then through much of Southern Patagonia. The knowledge of our remarkable local Trip Experience Leader, Andrea, coupled with O.A.T.'s small group size allowed us to travel to largely untouristed areas. We were able to engage in authentic cultural interactions that would not have been easy to set up on our own and would have been impractical to include on larger group trips. Such a format offers amazing opportunities for photographers, as it provides access to an array of experiences beyond the "postcard-type" shots. From home-hosted meals, to wildlife encounters, to hiking across glaciers and on the slopes of a volcano, this trip packed a lot of memorable moments—and images—into just a few weeks.
After a few days on our own in Santiago, we met our Trip Experience Leader and most of our group for the pre-trip extension to Easter Island, a small and extremely remote island accessible via daily flights from Santiago. It is, of course, famed for the monolithic human figures carved by the Rapa Nui people centuries ago—called moai—that are scattered across the island. But there is a lot more to Easter Island than the moai, including a distinctive Polynesian culture and a wealth of natural beauty.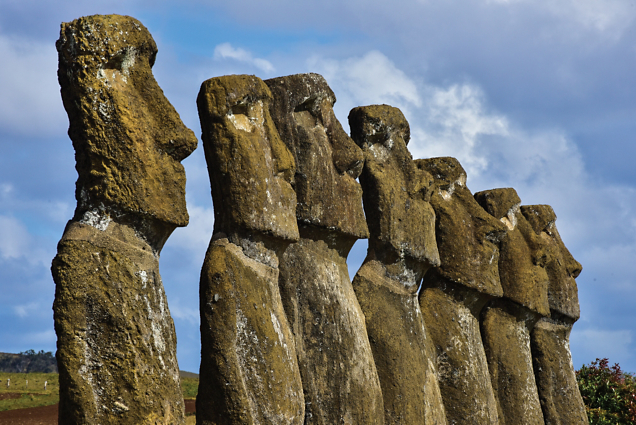 When photographing iconic sites like this grouping of moai on Easter Island, I look for a different perspective. Here, I have framed the image from an unusual vantage point, shooting with a telephoto lens to compress the moai so that they appear closer together and more imposing than they would if framed from directly in front.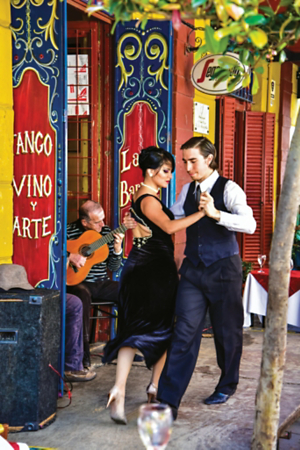 From Easter Island, we traveled to Argentina's capital city of Buenos Aires. This city has a high-energy feel, offers a huge array of food specialties, and is graced with stately European-style avenues and architecture.
Buenos Aires' colorful and historic barrio (neighborhood) of La Boca is the birthplace of the tango. To give a sense of the dance's motion, I shot with a slightly slower shutter speed. The rich colors of La Boca can be brought out in post-processing with subtle adjustments to the vibrance and/or saturation tools in image editing software.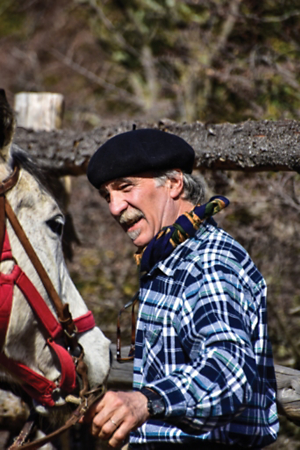 A stay in the Alpine-style village of San Carlos de Bariloche included a fascinating interaction with Hans, who as a German boy growing up in Bariloche, uncovered his father's Nazi past and wrote several scholarly books about Nazis living in Argentina. We also met Christina, a Mapuche Indian grandmother, civil rights activist, and jewelry maker. We then crossed overland toward the border of Chile, stopping en route for a home-hosted lunch of grilled lamb and for some horseback riding on the host family's estancia (ranch).
Chango, the family patriarch, saddles up the horses for a ranch ride. An environmental portrait includes not only the person who is the subject of the portrait, but also enough of the surroundings to give a deeper sense of who the person is. A classic portrait lens would also work nicely for a shot like this one, but to emphasize the relationship between man and horse, and to give some separation between the subject and the background, I chose a longer telephoto lens.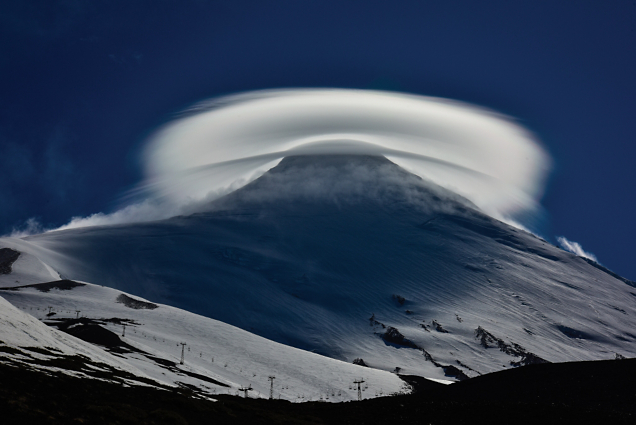 An otherworldly sight: a lenticular cloud forms on the summit of Osorno Volcano as we were hiking on the slopes. To capture high-contrast scenes like this one, I find it often helps to underexpose by about one stop to preserve the detail in the highlights, then the shadow detail can be brought back later during post-processing.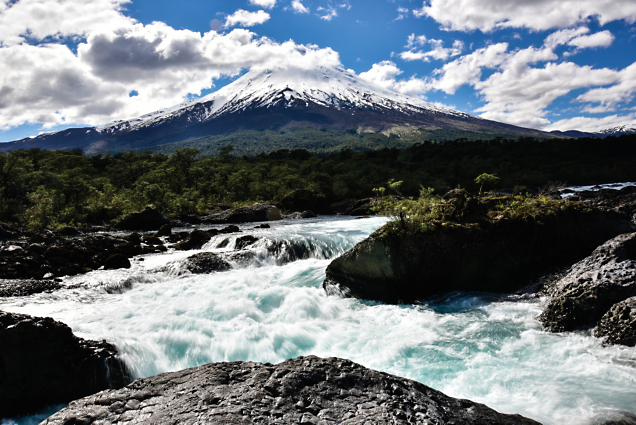 The same Osorno Volcano viewed from Vicente Perez Rosales National Park. To blur the water, I placed the camera on a steady tripod and used a longer shutter speed. Attaching a neutral density filter to the lens can help by reducing the amount of light reaching the camera's sensor, thus allowing a longer shutter speed even in bright daylight.
A ferry crossing from mainland Chile brought us to the island of Chiloe for an overnight stay. Chiloe exudes a strong sense of its mystical past and is characterized by colorful houses rising on stilts out of the water. One of the most exciting aspects of travel photography is the wide range of different types of images you can make in a short period of time. During one adventurous day on Chiloe, we had the opportunity to shoot landscapes, architecture, wildlife, portraits, and night photos.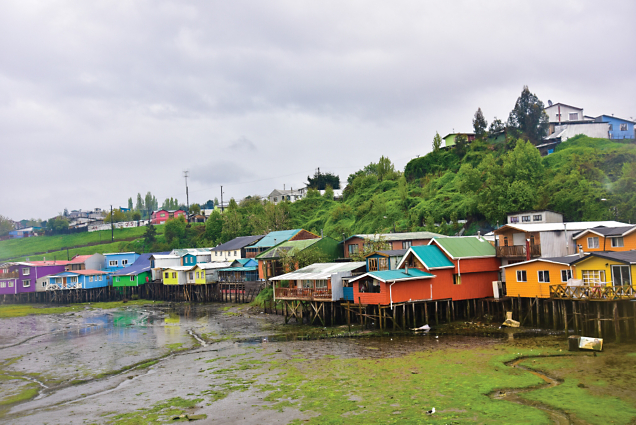 Characteristic brightly colored Chilote houses built on stilts. I chose a vantage point from which the houses can be framed in a pleasing manner, shot with a wide angle lens to include more of the houses, and added a bit of vibrance in post-processing to bring out the saturated colors.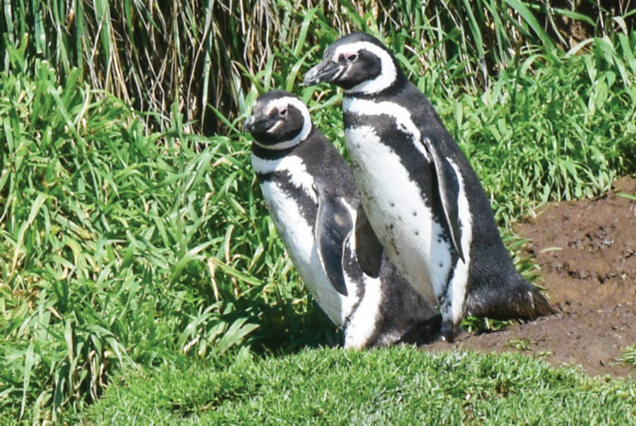 The island of Chiloe includes a fascinating bird preserve reachable by small boat. Here is a penguin couple out strolling in their formal wear. To stabilize the camera and long telephoto lens while shooting from a heavily rocking small boat, I used a fast shutter speed (choosing a higher ISO can help), turned on vibration reduction in the lens, released the shutter at the instant when the boat reached the top of its cycle of rocking, and shot a continuous burst of images to increase the likelihood of getting a good sharp one.
After traveling south all the way to the Strait of Magellan (the farthest south I have ever stood, with Antarctica the only land mass below it), we continued northwest until we reached Torres del Paine National Park—any photographer's dream destination. The photographic possibilities here are endless, with rugged mountains meeting brilliant blue glaciers and clear lakes. We had the opportunity to view this breathtaking beauty from various hikes and by boat.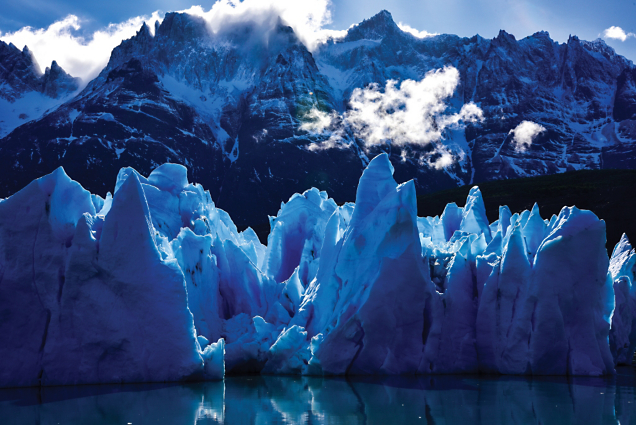 Blue ice on Lago Grey's glacier imitates the mountain peaks soaring behind. I used a polarizing filter to bring out the intense blues in the glacier and sky, but had to be careful not to remove too much of the reflection in the water of the lake.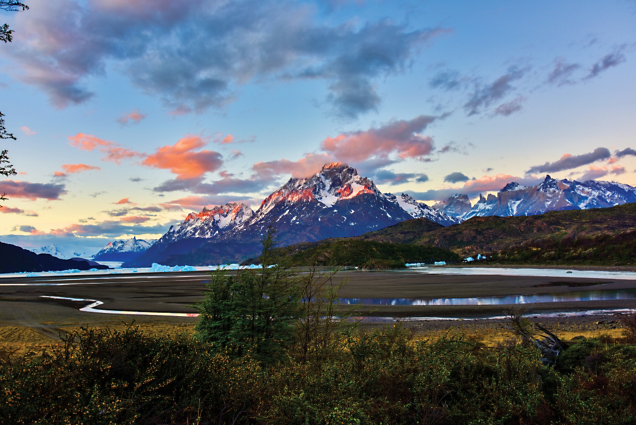 Heading out of Torres del Paine through the heart of Patagonia, our adventure was not yet over. We still had another national park (Los Glacieres) to visit on the Argentinian side before returning to Buenos Aires for our farewell dinner and our flights back home.
I hope you've enjoyed this narrative and that you will be inspired to travel more adventurously, capture images like a pro, and share your photos more powerfully. To see more of my images and to learn more about travel photography, please visit my new project, "To Travel Hopefully", at www.to-travel-hopefully.com.
Pave your own photographic journey with O.A.T. on Chile & Argentina: The Andes to Patagonia.