Botswana: Our Safari Begins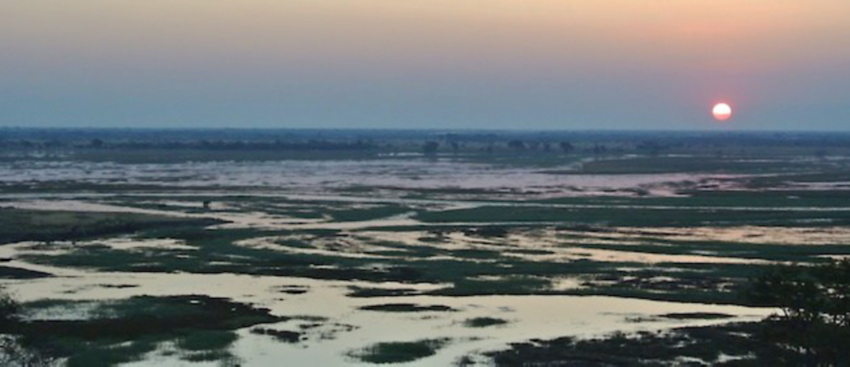 Nancy and Peter initially published this account of their safari on their blog, Pull That Cork. Do you blog about your adventures with O.A.T.? We'd love to share excerpts in The Inside Scoop. Email a link to [email protected].
By Nancy B. & Peter B., 5-time travelers from Stockton, CA
Baobab Safari Lodge is situated above the Chobe River in Botswana along a broad open forest that slopes toward the river. It isn't far from the Ngoma Bridge which reaches between Botswana and Namibia. By July the river forms a series of narrow channels in the area due to decreasing water levels. High water is generally in April and May after which it begins receding until January when water levels again begin to rise.
June, July, and August are the driest months of the year and remaining grasses had turned golden in color by the beginning of July. Because water sources become more concentrated and because grasses have died down and woodlands are less leafed-out, game viewing is best this time of year. No rain and less water also means almost no mosquitoes. These are the reasons we chose to travel in July.
The days were generally warm, short sleeves were comfortable, but as the sun went down, it got very chilly. Layered clothing was essential to keep us comfortable at 40ºF in the morning but which we could peel off as the day warmed.
Our flight into Victoria Falls, Zimbabwe from Johannesburg South Africa took just less than two hours. The quick flight, with an excellent in-flight meal complete with South African wines (at no additional charge for either, thank you British Airways), got us into Victoria Falls in the early afternoon. We were met there by Sanction, our Overseas Adventure Travel (O.A.T.) Trip Experience Leader.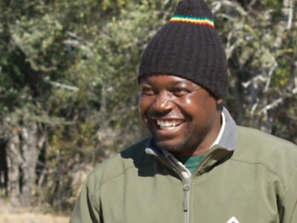 Sanction's broad smile is my first memory associated with our safari. His smile would be a constant throughout our trip. For the next three weeks he kept us organized, on time, and informed. At times he must have felt like he was herding cats, but he never let on. Sanction set the tone for our fun-filled safari from the very beginning.
Our drive to Baobab Lodge took us through the town of Victoria Falls to the border crossing at Kazungula and into Botswana. Most of the drive was on "tarred road." These two-lane roads are used by autos, buses, large trucks, pedestrians, donkey carts, and assorted animals (domestic and otherwise). I can only imagine how dangerous, for both driver and animal, driving at night must be.
We made our first official animal sightings along this stretch of road. My first animal photo was just by chance that of an elephant, my favorite African animal. It is giving me what is amusingly called the "African salute," rear end facing me. How appropriate.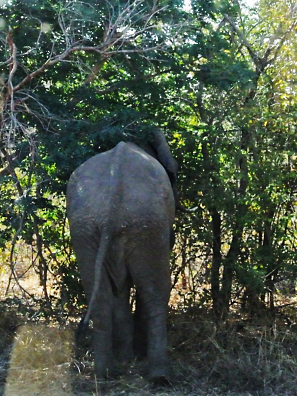 Before reaching the lodge we saw baboons, ground hornbills, more elephants, Cape buffalo, and once we turned off the paved road onto the dirt track leading to Baobab Lodge, giraffe. We were all so excited with these initial sightings. They were the first of so many to come.
It was late afternoon by the time we reached Baobab Lodge. We were greeted by the lodge staff with a welcoming song complete with ululation! This would be the routine followed by the wonderful staff at each camp. Whenever we returned from game drives, we were greeted with singing and cool wash cloths to wipe the dust from our faces (unless it was a chilly day, then they were warm). A wonderful welcome that never got old.
As we walked into camp and into the open-air dining area, we were able to take in the view of the Chobe River for the first time. Just breathtaking. We sipped cool fruit juice, nibbled on snacks, and tried to listen to the camp orientation. The scenery was so distracting!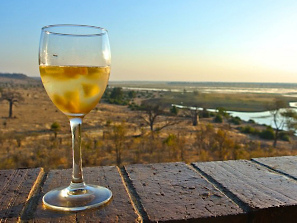 We were in tented cabin #8, the next to last cabin. We wanted to experience a safari in the wilds of Africa, but did not want to sleep in a tent in sleeping bags. This was so much better. We loved it. Our cabin was built on a stone foundation with a wooden deck, solid roof, and walls. Both ends of the tented cabin were screened like a tent, so it was almost open air. We had a front door that locked, so there was no issue with security, from either human or baboon intruders.
We had a spacious area for our bed, a couple of chairs, space for our luggage, indoor bathroom, shower, and vanity area. Everything we needed, including electricity and even a blow dryer! Our bed was surrounded by mosquito netting, just what I was hoping for. It was such a lovely room that looked out over the open forest leading to the Chobe River. The sunsets were stunning.
Because both ends of the cabin were screened, we were able to enjoy the sounds of the night. That first night we heard baboons screaming as if they were being killed. I thought they were being eaten by lions. Turns out they were just squabbling among themselves while jockeying for the best sleeping areas in the trees. I had so much to learn.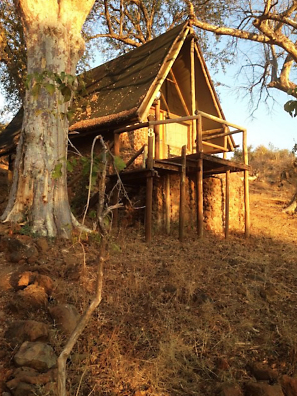 The camp staff was very serious about safety. We were not allowed to be outside our tented cabin after dark—no exceptions. The rules were the same at all four of tented camps at which we stayed. We were informed of their emergency procedure should we need assistance overnight for a medical condition or something serious (which did not include spiders in the bathroom). After dinner, we were escorted as a group by camp staff to our cabins. In the morning, a staff member came to each cabin to wake us to the sound of a drum or calling out to us. We were allowed to walk to breakfast unescorted and to walk around the camp by ourselves during the day.
All of the tented camps were unfenced. Animals regularly move around the cabins and this is the reason guests are not allowed to be outside at night. You never know when you might walk smack into a Cape buffalo or elephant. We had just such an experience on the way to breakfast one morning at one of the subsequent camps. It was memorable.
Our days fell into a fairly regular pattern. Early to rise, generally at 6 am, with half-an-hour to get dressed and walk down to breakfast. We were instructed to bring everything we needed for the day with us to breakfast, as we departed immediately after breakfast for the morning game drive. By 7 am or so, we were in the game drive vehicles and ready to go.
Mornings were chilly and each camp provided us with hooded and flannel-lined ponchos. That extra layer of warmth felt so good over my multiple layers along with ear warmers and gloves. Some mornings were so cold I needed to tie a handkerchief over my nose and mouth to protect my face from the cold.
The vehicles have three rows of seats behind the driver, with each row elevated above the one in front of it, and are open air with covers for shade. Every morning, two vehicles left camp but took separate tracks once we went through the Chobe National Park entrance. We were fortunate to have only 12 people on our safari, so everyone had a "window seat."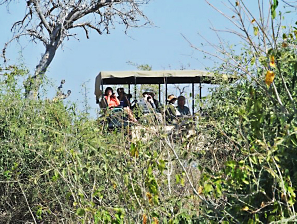 We typically met up again about 10:30 for "tea and pee." A cup of hot bush tea or coffee was so warming, and the biscuits (cookies to us) were delicious. Mostly they were shortbread cookies, sometimes with the savory addition of rosemary. It was during these breaks that each group would compare what they had seen. Every group had a unique experience.
Animal sightings in Chobe National Park were outstanding. We saw very large numbers of elephant, Cape buffalo, antelope, and giraffe. And lots of birds. Our drivers Nic and Richard were excellent at spotting wildlife and then positioning the vehicle so we could take pictures. We were not allowed to get out of the vehicles or to stand up. At times it was difficult to stay in my seat, I have to admit.
Generally we were back at the lodge by 11:30 or so. We had a little time to go back to our tented cabin, drop off our things, and get phones and camera batteries on the chargers before lunch. After lunch, typically we had a couple of hours to relax, shower, upload pictures etc., before "high tea" at about 3 pm.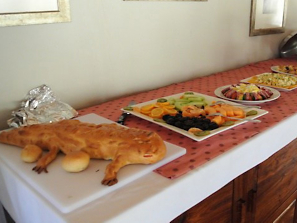 High tea always included something savory and something sweet along with fruit juice and cold tea. The food was delicious and the quantities very generous. These daily afternoon snacks were provided before the afternoon game drives, which were structured much like the morning drives. Two vehicles headed out, usually each group changed drivers in the afternoon, and we entered the park at a checkpoint and headed out on separate tracks. We met up for our afternoon tea and pee then continued our game drive until late in the day.
Vehicles must be checked out of the park by 6:30 pm, so we were always heading home by that time. Sometimes we cut it close, but we were generally back to the lodge by 7 pm. Once again we dashed for our tented cabin to put batteries on their chargers.
Dinners were always preceded by happy hour including beer, wine, liquor, soda, and snacks. The snacks were always different and always delicious. We had our meals in the large open-air dining room with an adjoining bar and lounge area. It was so restful to sit with a drink and enjoy the setting sun over the Chobe River in the evenings. We spent this time before dinner talking about the day's events, our sightings, and the things we learned. It was so much fun.
Dinners were always several courses. Most often we were served soup as a starter, a buffet dinner, and then dessert. Enormous amounts of delicious food once again. Flavors were interesting, sometimes curries, sometimes pasta or polenta, chicken, vegetables, pork, and fish were in the mix. Honestly, I enjoyed everything I tried and I didn't pass on anything.
After such a satisfying dinner, we were ready for bed and our nightly escort to our tents. Although I didn't check my watch, because I wasn't wearing one, I'm sure we were headed for bed by 8:30. When we reached our tented cabin, our beds had been turned down for us, the mosquito netting had been dropped, and hot water bottles had been placed in our beds. The hot water bottles were a wonderful surprise and felt so good during the very chilly nights.
The days were long and filled with something new every day. The landscape, color of the soil, and vegetation were so variable. The first day we went on morning and afternoon game drives. On the second day, we were gone on an all-day game drive. We drove more than 63 miles that day. Our lunch was packed for us by the kitchen staff and we enjoyed it at the Serondela picnic site along the Chobe River over 20 miles from Baobab Lodge. It was great fun being on the road all day.
We spent two full days at Baobab Lodge. Besides the game drives, we also celebrated a 50th wedding anniversary, tasted wine from Zimbabwe, and had an opportunity to watch local women making baskets.
What will you discover on safari? Find out with O.A.T. during Ultimate Africa: Botswana, Zambia & Zimbabwe Safari.