Bhutan: Happiness, Nirvana & Village Life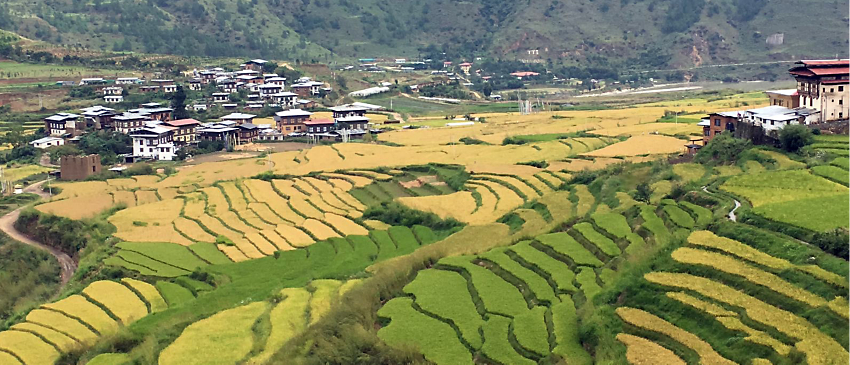 By Dawn P., a soon-to-be 3-time traveler from Rexford, MT
The "thunder dragon" pursuing happiness
Bhutan is a cheeky country, promoting the philosophy of Gross National Happiness. They diligently measure this elusive emotion, standing taller than David preaching to a Golliath world that acquiring material things does not lead to joy.
Since 1971, the King and parliament base their nation's happiness on spirituality and physical need fulfillment. For survival, humans require protection from the elements, food, and good health. Nothing greater occurs unless these basic needs are met. Free health care and free education were giant steps in this little Asian land. Bhutan is successful at this, but the United States fails. I'm ashamed of my homeland and the political dung heap we allow to fester.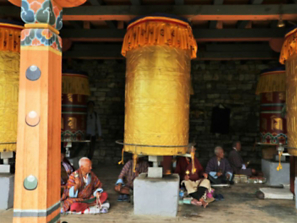 Having spiritual fulfillment is easy when 75% of Bhutan is Buddhist. During my visit, I saw people of all ages beginning their day at the local Buddhist Stupa, spinning prayer wheels and fingers slipping over mantra beads. Their faith is strong. Their commitment to compassion for all beings is impressive, rising with a sun hazy with curling incense smoke. Young couples believe in the power of prayer, dropping elderly parents at the temple in the morning. Their post retirement job is to beseech God for compassion and abundance for every life. This is a serious and endless mission.
The King took another leap in 2007 by demanding a parliamentary democracy and he entered his country into the United Nations. Sandwiched like a rare piece of prime rib between the white rice of China and India, local politics remain a high wire trapeze act without a safety net.
China already took some of the northern provinces and their request to place three highways through Bhutan to access India were quickly denied. An uneasy silence remains. Out of necessity, this tiny country with a big heart dances economically with India. Fear is expressed candidly.
"What will happen if China decides to invade us, as they did in Tibet?" Our guide held no illusions. "Will the United Nations protect us? We don't think so, because we don't produce anything great nations need." He believed that the majority of adults in Bhutan wouldn't know the difference living under a communist China.
But this land of a dragon licking seven wishing jewels is on the cusp of change. Through education of a large young population, Bhutan is entering the twenty-first century with lightning speed. The question is: Can they keep their brightest minds living at home and not escaping abroad for higher paying jobs?
I really admire the King for addressing this issue as well. I've never seen a country so full of pride about their heritage or a greater love for their King and Queen. There is a national dress code for all workers. Men wear a traditional robe called a Gho and women were a dress (Kira) topped by beautiful jackets.
The edict intends to bolster national pride and culture. It's working. I went to a local festival near the capital city of Thimphu in a downpour of rain that didn't stop anyone from tromping through the mud and dressing in their finest.
Seeking nirvana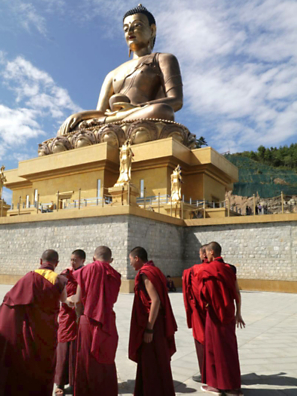 If faith in your religion brings happiness, then Bhutan has reached nirvana.
On a high hill overlooking Thimpu, an immense Buddha, called Kuensal Phodrang, glows in the sunlight. This multi-storied, 169-foot bronze statue covered in gold is the fulfillment of an ancient prophecy from the year 800 and was commissioned for the King's father's 60th birthday.
This seated Buddha grounds his fingers to the earth signifying the moment He transcended. He also holds a medicine bowl and before him sits the lightning bolt, a vehicle to greater transcendence.
There is a temple below and inside the edifice containing 125,000 smaller statues of Buddha in infinite lines. In a center alcove, another statue of Buddha is surrounded by larger-than-life angelic helpers. (In respect, cameras are not allowed inside.)
All of this is impressive, but I was so lucky to visit during a festival with a great Lama leading continuous prayer, 24 hours a day, for over three months. It's estimated that 10,000 people are present each day (many sleep in temporary tarp tents scattered around the site). Monks circulate through the crowd, passing out donated nourishment. Under a hanging canopy, more monks sit cross-legged managing stacks of holy manuscripts.
Meanwhile, inside the temple below the statue, another group of monks repaired the disintegrating paper in old books while others hand-wrote new pages. A senior priest sat with a computer, I'm guessing he was quality control offering vigilant inspection of each page.
I chuckled as younger monks pulled cell phones out of their red robes and I wondered who sent them a vibrating message. Mom? Brother? Lover? This action was secretive, as a circulating senior admonished those caught slacking off the task.
What impressed me the most was the palpable belief and trust from the thousands of worshippers inside the tent. People of all ages were intent in worship, except for a few young children who amused themselves.
Daily life in the village of Mershina
The most common question I receive about Bhutan (after "where?") is a curiosity about how a typical family might live.
Mershina is a village surrounded by beautiful rice paddies and sits below a famous fertility monastery. Their claim to fame is anything in the shape of a penis—for example, an anatomical key chain keepsake.
I resisted the urge and didn't buy one. Not even the pink one with wings. Although I'm progressing with tongue-in-cheek, infertile couples from around the world come here for the monk's ceremony and blessing. There's a book with tales of success inside the temple.
The exterior of the homes belies what's inside. We visited a 70 year-old woman who lives with her daughter, her son-in-law and their four children. The ground floor is the barn where they keep their water buffalo, goats, and chickens. The granddaughter worked in a small shed, toasting rice they harvested to sell at the market. This treat tastes like Rice Krispies without honey or sugar.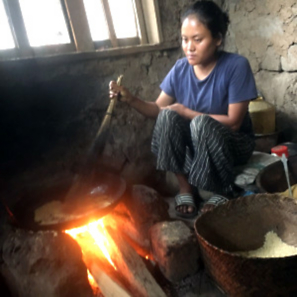 Here's a juxtaposition: This young lady was home on a college vacation. Her right foot stands in the 21st century and the left totters in medieval times. She has no intention of spending a traditional life living in a small farming village.
Climbing steep wood stairs, we entered the living room. A small color TV was on, images of the Buddhist festival in Thimphu flitted across the screen. The grandmother sat cross-legged on a mat as she invited guests to sit on her new couch. Most homes don't have such luxurious furniture. She offered us food. Drink. Hospitality. It was an honor that we came to see her.
We proceeded to ask the family questions about life in Bhutan while the grandmother and daughter chewed doma, their lips stained red and teeth blackened by the stimulant in the nut. The granddaughter on the left side of the photo told us (In English) that she won't chew and become addicted like her elders.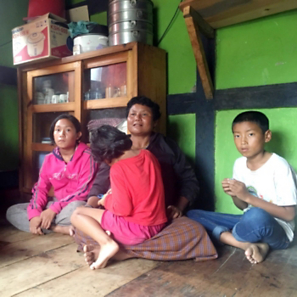 The grandmother asked us a hard question. "How many hours do you have to ride a bus from here to California in the United States?" We looked at each other stymied, trying to figure out how to explain geographic distance to someone who didn't know the world. After complex math based upon a 48-mile bus ride to Thimphu taking three hours, we came up with an impossible guesstimate of 21 days. Since she'd never seen an airplane, she wouldn't grasp the concept of traveling across the globe faster.
After much laughter, we were invited to tour the house. There was a Buddhist altar with hanging ceremonial drums and the kitchen is quite modern with a new indoor water spigot and a refrigerator.
But a home is measured by more than "things." A family and their happiness is something transparent. It's a moment offered with love. It's hidden in a smile and shared with faith. Happiness is reaching out across cultural differences and finding the common joyous denominator, even when we are so far apart.
Discover the people, culture, and ways of life in Bhutan on O.A.T.'s pre-trip extension: Bhutan: The Last Shangri-La during Nepal & the Mystical Himalayas.