By Lois C., 8-time traveler from Grantsburg, WI
Many years ago, my parents traveled to Tanzania (then Tanganyika) to serve as medical missionaries at a small mission station with a hospital. I was born in Dar es Salaam, Tanzania, and my two brothers were born at the mission station. At the age of eight, we left to come back to the U.S. as my mother suffered from chronic malaria. I grew up in Minneapolis as any other kid—school, church, friends, boyfriends, learning to drive, college, nursing school, and ultimately marriage.
During those growing up years, of course I heard many stories about life in Africa, so for my 21st birthday, my parents sent me on a two week tour to Tanzania, led by our pastor who was also a former missionary to Tanzania. We visited the mission station where I had lived, saw the house that my family lived in, and visited the hospital. Any good mission organization has a goal of helping locals become self-sufficient and that's what happened at that mission station.
The houses were now occupied by Tanzanian families, the hospital served by Tanzanian doctors and nurses. The goal of the organization had been achieved, but the life I had lived as a little girl was never to be duplicated. Even so, I was thankful to have been able to visit the places of my childhood for my memory bank.
Fast forward to 40 some years later after my husband and I had raised our four children and he was ready to retire. We signed up for a safari to Tanzania with O.A.T. That was in 2006, and what a marvelous adventure it was. There was no need to re-visit my childhood home as it was now abandoned, and I heard that the hospital was not in operation, although I'm unsure of the veracity of that info however. Because I had heard of my Dad, his brother, and his sister climbing Mt. Kilimanjaro in their younger days, I had secretly hoped to be able to do the same someday.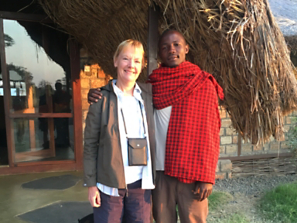 O.A.T. policies were different in 2006, so I wasn't allowed to stay on after the tour to climb the mountain, but in 2007, myself, a friend, and my daughter did climb the mountain. And in 2008, I did it again because I had only made it to the edge of the mountain in 2007. I needed to get to the summit, which I did—another goal met.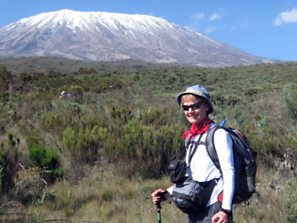 Since 2008, I have returned to Tanzania twice—once in 2013 to visit my cousin who is a medical missionary in Ketumbeine, Tanzania, several hours distance from my childhood home. I spent a week offering my services in whatever it was he needed help with. I was thinking nursing help as I had been a registered nurse all my life. What actually happened was that the home of the new nurse coming to work with him needed to be painted!
So, I painted that Tanzanian home interior despite the fact that painting is the last thing I would ever like to do. And finally in 2016, I did the Out of Africa trip, which originated with the pre-trip to Thornybush, South Africa, continues to Botswana, Zambia, Zimbabwe, Kenya, and finally Tanzania. It was a superb trip! While I haven't visited the home of my childhood more than once, every time I land in Arusha and visit the many places that there are to see in Tanzania, I do feel like I am coming home and back to my roots.
Make your own lasting memories and explore Lois' homeland with O.A.T. during Safari Serengeti: Tanzania Lodge & Tented Safari. Longtime Inside Scoop readers might remember another story from Lois C., in which she describes two serendipitous encounters during Out of Africa . Read the story here.
You may also like…
Travelogue: Arusha, Tanzania 1950
Travel back in time and discover Tanzania nearly 70 years ago.
It's All in the Details
What map tells you the romantic status of its owner?
A Photographic Journey Through Tanzania
Explore Tanzania with traveler Kyle A.'s photography.