A Voyage Through the Galápagos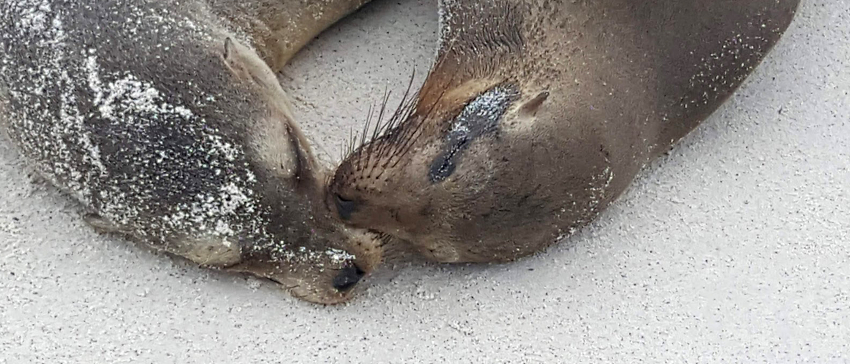 Part 1 of Niel's travels about his trip to Machu Picchu appeared in a recent edition of The Inside Scoop—you can read that story here.
By Niel T. & Hermine B., first-time O.A.T. travelers from Kamuela, HI
Baltra and Santa Cruz Islands
The 3:30 am wake-up is jarring, but this is a major bucket list day—to get to the Galápagos. The flight from Quito is our goodbye to altitude (9000 ft. there) and back to sea level. We land on Baltra, one of several island airports, and immediately take a ferry a couple of hundred yards across a straight to Santa Cruz Island.
Santa Cruz was occupied by U.S. military forces towards the end of World War II, and the remnants of infrastructure are evident as we cross the island by bus to get to the ship that will take us around the islands
On the way we stop at a private land in-holding since the Galápagos are mostly a national park. The place is full of Galápagos tortoises, and we aren't disappointed. They are everywhere, and we stroll among them and marvel at their size.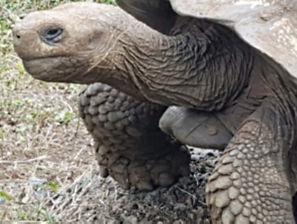 They got here by floating from the mainland that is south of the Galápagos, carried for weeks by the northwest-flowing Humboldt current. As creatures that can go for a long time without food or water, they ended up in Galápagos. With little competition for food and no predators, they can grow to this enormous size.
This is the route for most of the flora and fauna that reached the Galápagos. For instance, there are virtually no flowering plants because pollinators didn't make the trip. So the plants that survive are self-pollinators and do not need flowers to attract bees and insects.
Another stop is the Charles Darwin Research Station. Touring the grounds, we learn how Darwin figured out the origin of species and show how they adapt to their particular environments. The staff is raising baby tortoises, and many plants endemic to the Galápagos.
In the late afternoon, on the west coast of Santa Cruz, we reach our ship that will be our home for the rest of the trip. Archipell II (her sister ship Archipell shadowed us for most of our route) is a catamaran that's maybe 60 feet long and very well-equipped. The crew is friendly, and our guide, Jairo, is really at home. He grew up here, and at the end of our stay, he took us to his home.
Our suite has a double bed and opens to the bar—not a bad location at all. Our traveling pets, Wami the wombat and Baby Roo, love their view out the window. (They joined the family during our Australia trip. When the rest of our group found out, they were charmed and adopted them as ship's mascots.) Each day, the crew turns a towel into a creature for them to play with while we are ashore.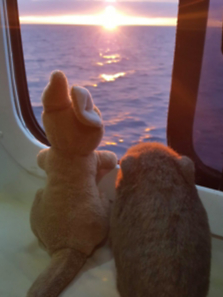 Getting on and off the ship for our excursions necessitates learning a few skills. We use Zodiacs to travel, and you have to reach for the crew member standing near the bow and do a wrist-to-wrist handshake.
There are two ways ashore. The Zodiacs aren't allowed to beach, so they back in and face the incoming surf. (Most locations are benign, but not all are calm.) For a "wet landing" you jump out, hopefully onto a shore that's not more than knee-deep. But if you miss—and people sometimes did—you get a swim in 65-degree water.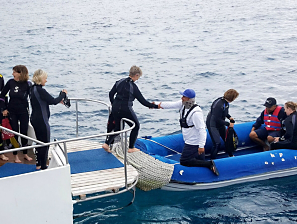 For a "dry landing", which we had only once while going ashore, you get to jump out onto a rock.
Nobody is partying late tonight after such a long day. One couple is having their anniversary, the third such for this group, and the ship puts on a good show for them.
The catamaran is quite stable, and we sleep well, rocked by a small swell during our overnight journey.
Floreana Island
The ship reaches Floreana after about five hours, and we awaken to the anchor chain dropping anchor. It's still night, and it's back to sleep until dawn.
After breakfast and a wet landing, we are ashore for a morning of sea lions, boobies courting, white herons, flamingos, a great blue heron, a night heron, and lots of wasps. We used a bug-off formula that was environmentally correct so we were mostly left alone. Nobody who got stung was seriously allergic, thankfully.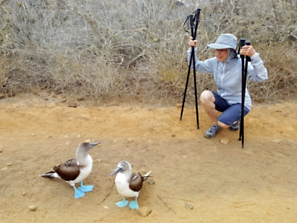 Boobies courting are quite a show. The male puts on a show and whistles and the female makes a sort of barking sound like she has a bad cold. We didn't see any of them getting it on, but as with many such things, the adventure is almost equally in the foreplay.
One stop is Post Office Bay. There's a tradition that goes back to whaling times, of leaving letters at this location, hoping that a subsequent visitor from the destination address will find it and take it home. We went through a hundred such letters and found one with a Hawaii address, so Herm brought it home to post. I suspect this is more of a visitor attraction than for real: none of the letters were dated more than a month ago, so somebody must clear them out regularly.
Tonight the bartender reveals his dancing skills and teaches salsa. Some of the gals caught the beat quickly.
The map on the wall of where we are going has a thick jagged line to Espanola Island, our next destination and a longer overnight run. The line warns us to be ready for some rock and roll as we will be sideways to the swell from the Humboldt current, one of the four seasonal currents that come from different directions and control the ecosystem of the Galápagos. This is a cold current from the south, the cousin of the currents that originate near Japan, flow through the Gulf of Alaska, and move south along the west coast of North America.
Espanola Island
The trip was a little rocky overnight, but thankfully, seasick bands and medication worked for everyone who could be sensitive.
This is a good day for sea lions. They are mostly friendly and love to play in the water. I chickened out of snorkeling and ended up regretting it. The group had lots of these creatures swimming around them.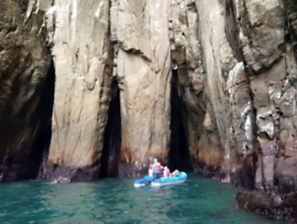 I did capture some video of a mother trying to wean her youngster. The kid was bumping against her, quite insistent about being hungry and needing to nurse.
"Nothing doing", says the mom, "you are old enough to get your own meal." Finally, she gets really tired of all this harassment and leads him out into the water and shows him where lunch comes from. Another creature famous in Galápagos is the iguana. Like most fauna found here, this species is endemic (meaning "only found here"). They look prehistoric and for some, they are really creepy.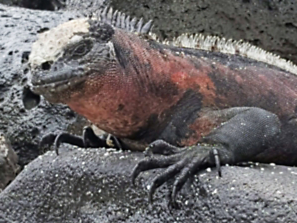 The afternoon hike took us to a lovely lookout from a cliff over the ocean. Many boobies of different species were courting. This was our only dry landing, a rock at the end of the breakwater that formed a small bay of sorts. The surf was breaking all around us on the way in. I was impressed with how the Zodiac drivers timed their entrance with the surf.
We were too late to use this landing at the end of the day because the tide had come in and the surf was washing over it. It was getting dark as we were ready to board.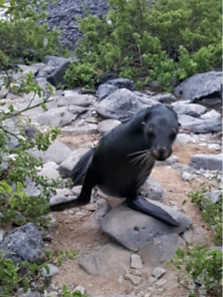 Why are we so late? Well, there was a sea lion on the path. Like a moose on your cross-country ski trail, there's no getting by, so we search for another path. Sorry, lion in that path too, and he runs me off. Finally, we find a difficult route to the rocky shore, and by the time we get back to the ship, it's mostly dark.
San Cristobal Island
Another overnight and we are at San Cristobal Island. This is the only island that has the red-footed booby. Unlike the land-nesting blue-footed boobies we've been seeing, the red footed boobies nest in trees. There's also a third species here called Nazca boobie (I still think this should be a racing boobie that has wheels instead of feet).
This is a nice hike to a high point on the island. The path is very rocky, large boulders and a steep path to get there. The view made the work worth it, and I was happy to find I wasn't totally terrorized by the way down, being afraid of heights as I am.
After lunch, we are offered sea kayaks to explore the rocky cliffs and sea caves of San Cristobal. Only four of us volunteer. Off we went with our escort Zodiac keeping us where it was safe and discouraging our forays into places we didn't belong, given a surge was evident.
Our last full day ends with a beautiful sunset as we circumnavigate a rock formation that juts from the sea a few miles away from San Cristobal. Frigate birds ride the updraft from the ship, just hanging in the sky only about 20 feet above us.
The farewell dinner continues the ship's tradition of good, simple local food nicely prepared and presented buffet-style. Nothing overly fancy, but flavor and simplicity trumps show in my book.
Puerto Baquerizo Moreno
Although our flight from the Galápagos doesn't leave for Quito until noon, the crew has to clean the ship for their next group that will take the reverse route we just followed. So it's off the ship at 8am and free time to shop the little town, then take a taxi to Jairo's house in the highlands. He's got a world-class view from a home he can open up with sliding glass doors to let the southeast trade winds flow through. We find some lovely stained glass windows in a church that depict the wildlife of the Galápagos.
Getting up at 6am until our doorstep home in Waimea is a 45-hour journey through Quito, Atlanta, Los Angeles, and Seattle. Delta accepted our bags in Quito and checked them through to Kona, even though we had connecting flights from Los Angeles. Three of our four bags came off the carousel in Kona, and when we asked about the fourth one Alaska Air produced it from storage. Seems that one was off-loaded by Delta in error in Los Angeles, but they caught themselves just in time to put on one of their flights that got to Kona before us. A happy ending to a marvelous trip!
Explore the Galápagos' extraordinary wildlife and picturesque views during O.A.T.'s Machu Picchu & the Galápagos Small Ship Adventure.