By Lynda T., 12-time traveler from Olympia, Washington
When my children were young, our family spent three months each summer in a little cabin on Lake Okanagan in British Columbia. This family tradition helped my children to grow up appreciating the outdoors and the beauty of nature.
As my children grew older, my middle daughter, Nishon, and I began to travel internationally together. Since we've started, my daughter and I have been to Peru, Africa, and most recently, Nepal. Nishon is an avid travel photographer who loves to capture the wildlife and children of the destinations we visit.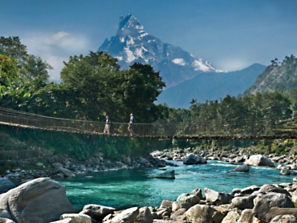 Since Nishon and I love adventure—and especially hiking—when we began planning our most recent trip, we were intrigued by O.A.T.'s Nepal & the Mystical Himalayas adventure. Nepal offered amazing hikes, visits to the countryside, and the opportunity to meet the country's native people.
And this trip didn't disappoint. We enjoyed some of the most incredible hikes. One morning, we woke very early to begin a trek into a small village. As we approached the entrance to the village, the sun was just coming out and the villagers began to emerge from their huts. Nishon grabbed her digital camera and started snapping photos of the amazing sight. It is a moment we'll always remember.
And although we missed visiting Chitwan National Park, our wonderful Trip Experience Leader, Sanjib Mishra, went out of his way to make arrangements for our group to spend the day driving and riding in more unusual ways than I can remember: dugout boat on the river looking for crocodiles, bareback riding an elephant on the banks of the river, and riding in an ox-drawn cart, a pony-drawn cart, and atop an elephant in a basket looking for rhinos outside the park.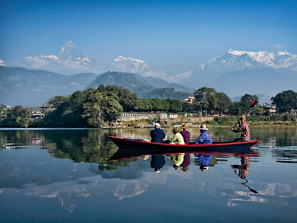 Nishon and I enjoyed so many wonderful adventures together in Nepal … and truly loved the beauty of the Nepalese people. While we were in Kathmandu, Nishon and I saw a petite, 103-year-old woman with the biggest and brightest smile we've ever encountered. Nishon quickly grabbed her camera and captured the sheer joy on this woman's face. It was such a wonderful moment … and one that we can always cherish thanks to her photograph.
And the best part about these amazing memories is that we're able to treasure them together. Nishon and her family live on a farm in Washington that reminded me of the beautiful hill farms we saw in Nepal. Several years ago, her husband built me a home on their property, where we can all enjoy the many advantages a farm has to offer. I can honestly say we're best friends. We have so much fun and when we're traveling, we feed off of each other's energies. I guess you could say that we tend to be the "characters" in our group … and I think that our group members really get a kick out of us. We even have three fellow travelers from our trip to Nepal visiting us in Washington this year.
Our adventures allow us to take ourselves out of our normal environment and force us to rely on each other. Thanks to Nishon's breathtaking photography, we're able to journey to these places all over again from the comfort of our own living room.
Leave your normal environment behind when you join O.A.T. for Nepal & the Mystical Himalayas.