A Step or Two Outside of the Culinary Box
Posted on 10/25/2016 12:47:00 PM in Traveler Insights
We usually love Howard's photography and attention to detail, but perhaps this time his thoroughness has gone too far.
By Howard A., 19-time traveler and long-time Inside Scoop contributor from Ashland, MA
Do as the Locals Do
Having travelled to 77 countries, many in Africa and Asia, I am extremely cautious as to what and where I eat. As a result of this, I have only been sick one time; that being the result of eating dried Mopani worms in Zimbabwe at an outdoor festival. These three inch long creatures are considered a delicacy by the locals. They have a rather revolting look as they are in fact caterpillars, and look the part. A group of colorfully dressed tribal teenage girls cordially offered some Mopani worms to me and my wife. My wife, the smarter of the two of us, politely declined. This is the local version of caviar, and not wanting to offend, I grabbed a few, chewed them, and swallowed them. For the next 24 hours my digestive track staged a revolt! No need for further details. So much for "When in Rome, do as the Romans do".
Tarantulas, Crickets, and Land Mines
Last year when visiting Cambodia with Overseas Adventure Travel, our guide Lov Soeng (real name) took us to Chheur Teal Village. This area is known for its tasty tarantulas. Although Cambodians have used spiders, frogs, bugs, and snakes for food and traditional medicine for generations, in the mid-1970s when starvation brought on by the genocidal Khmer Rouge regime left people with limited food options, these became a widespread source of sustenance. Today many are considered a delicacy, especially tarantulas.
In an effort to make us aware of the entire "farm to table" process, we were introduced to a woman and her family who make their living by providing these not-so-little spiders to the local restaurants. After introductions, our group of four was accompanied by the woman and her eight year old daughter into the forest. Although an expert at her trade, she indicated that this remains a dangerous business, as tarantula nests look similar to those of scorpions or snakes. Hey–not my problem; I was not the one who would be doing the actual hunting. She further indicated that as the result of decades of civil war, there remain between 4 and 6 million unexploded land mines in the country. That's a different story. Definitely my problem. My hair stood straight up! Lov, sensing my discomfort, assured me that this area was safe. Having already travelled to places that most Americans would not, I choose to operate as I always have, under the theory that "when God wants me he will take me". Like the man who fell off the 40-story building, upon passing the 5th floor he remarked "so far, so good". So, into the forest we went.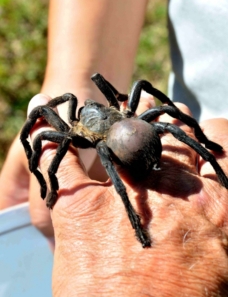 The woman was an expert hunter, and pointed out areas of raised earth among the tall grass. These are tarantula nests. She dipped a small twig into gasoline and gently inserted it a few inches into the hole. Within seconds out marched an agitated average size tarantula. "Average size" is about the size of an adult man's palm! These large, hairy, prehistoric looking creatures bear no resemblance to the spiders you find in your garage or attic. Rolling the tarantula onto its back she artfully "de-fanged" it with her fingernails (a tricky procedure with little room for error), and placed it into a plastic bucket carried by her daughter, who is in fact her apprentice. On to the next nest we went. Within 15 minutes we had 6 nice sized tarantulas, which was enough for lunch. On the way back to her home we stopped to grab a few crickets to add to the meal. In the jungles of Cambodia, the cricket bears no resemblance to the crickets back home in your yard. These critters are about an inch and a half long, and resemble a large Florida-esque cockroach!
Simple Ingredients and Great Skill are the Mark of a True Chef
Back at her house, she heated palm oil in a wok. When it began to sizzle, she added local herbs and spices including fresh garlic, basil, and chilies. She added the tarantulas and crickets one at a time to the hot oil. A skillful chef, she never took her eyes off the sizzling bugs, and knew exactly when to remove them. Apparently there is nothing worse than an overcooked tarantula or giant cricket. They were placed on a paper napkin to drain. Best eaten warm, she passed the plate around along with lettuce and tomato slices. You guessed it–I grabbed a tarantula and a cricket. Protocol for eating a tarantula is similar to eating a crab. Following her lead, I removed one leg at a time and ate it. As I chewed on the large crunchy leg, I realized that they were quite tasty, resembling potato chips. Although the center of the spider (about the size of a quarter) is considered the best part, being allergic to certain insect venoms (this is where the spider stores it), I decided to take a pass. I hope I didn't offend her. My wife, to my surprise joined in and ate 4 crunchy tarantula legs. As she held the rest of the creature in her hand, the woman's daughter realized that Nancy would not be finishing her meal, and politely signaled that she would like the rest. As Nancy passed it across the table, the child's eyes lit up and a beautiful smile appeared. Everyone passed on the giant crickets including me. I just couldn't "man up" and try one. This was not a problem as the daughter took over, eating and enjoying every last one.
A Warm and Musical Farewell
After lunch, my wife gave the daughter a straw whistle as a gift. She was delighted by the sound it made. As she blew the whistle, young boys and girls from the village began appearing out of nowhere. Each was given a whistle and a symphony of 12 young musicians ensued. The whistles were purchased at the dollar store before we left the US. We paid a buck for 20 of them. It was a joy to interact with these young boys and girls and see how much excitement and happiness that an item costing a few cents could bring them. As we left the village, the sight of happy children waving goodbye and blowing their whistles as the woman's daughter finished the last of the fried crickets is something I will never forget.
Watch as other brave travelers like Howard sample the local tarantula delicacy in this video, and perhaps taste the creepy-crawler for yourself during O.A.T.'s Ancient Kingdoms: Thailand, Laos, Cambodia & Vietnam.