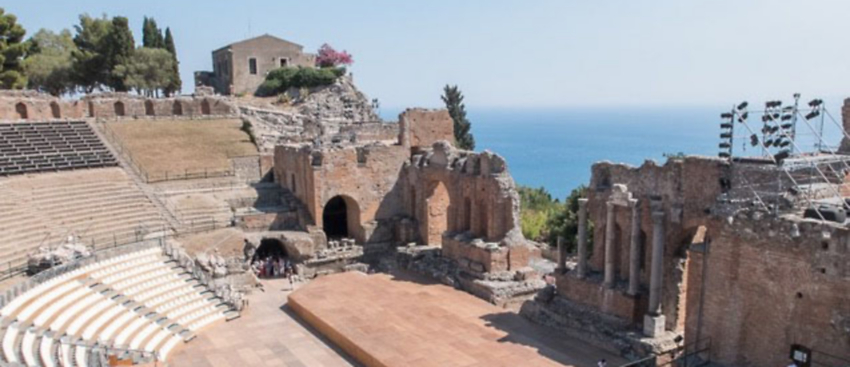 By Jack R., 4-time traveler and 4-time Vacation Ambassador from Bronx, NY
After having a wonderful time in Tuscany and Umbria last year with Overseas Adventure Travel, Jane and I decided to see another part of Italy. Although Sicily is part of Italy, it has its own character. Sicilians have their own language and customs. Because of its location, it has been occupied by many cultures and each culture has left something of itself in its customs, food, and way of life.
Sicily is an archeologist's dream. While digging foundations for new buildings, many ancient relics are uncovered. Fishermen have found ancient Greek relics deep in the local waters. There were Phoenicians, Carthaginians, Romans, Greeks, Byzantines, Arabs, Normans, and Romans until the Spanish rule. Structures that were built under one rule were changed many times by each conquering civilization.
Our trip was not only about history, archeology, and culture, but also about people. Everywhere we went, our Trip Experience Leader made sure we interacted with locals. He spoke with a man in his 90s who recalled Mussolini and World War II. We spent a day on a farm, cooking, eating, and participating in some chores and learning about their family. We enjoyed a Home-Hosted lunch, visited a man whose house was filled with family heirlooms from the 16th century, enjoyed local food, and always stayed in beautiful local hotels. One evening, to the dismay of some Sicilians, we were given a talk with Anthony Provenzano—his father was the Mafia "Boss of Bosses" in Sicily and was on the run for 43 years.
On the way to each location, we often chatted with a local resident while our terrific Trip Experience Leader, Marcello, translated. The O.A.T. experience was to be immersed in Sicilian life as opposed to viewing it from the outside. There was so much good food that sometimes I felt we were eating our way through the country.
We also had "adventure." We hiked on Mount Etna and walked down into a volcanic tube. We rode through the narrow streets of Modica in a 1960s two cylinder Fiat 500S and we cooked dinner at a restaurant. There were other hikes and a visit to a historic winery. The tour was 14 days of unique experiences.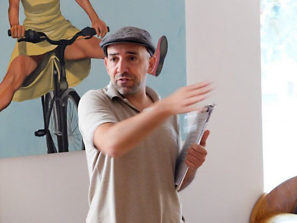 This is Marcello, our Trip Experience Leader, welcoming us on the first evening after landing in Palermo. Here, he's explaining our upcoming activities for the next morning. Most of us were pretty jet-lagged that evening. Marcello proved to be an excellent Trip Experience Leader. He was very knowledgeable, caring, and interesting. He also made sure we were always well fed, comfortable, and happy. He was well versed in all aspects of Sicilian life.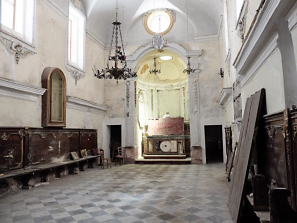 Before we left for Sicily, we read about a Jewish Synagogue being formed in Palermo. Jews were expelled by an edict on January 12, 1492, more than 500 years ago. In 2016, the property of a former church was given to the tiny Jewish community by the local Archbishop.
Those who were interested were able to visit the proposed synagogue space while the remainder of our group had free time. Marcello made all of the arrangements for the authorities to open the space and accompanied us.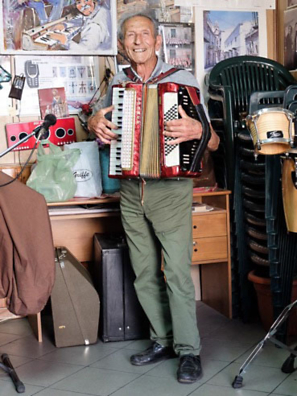 As we strolled through town, we passed a men's club. This was a small storefront where local retired musicians socialized. We were invited in by the fellow pictured here. He played well-known Italian and American melodies for us. Some of our travelers, like Linda, broke into song. Later on when we met again, after wandering around the village, Bill, a fellow traveler and professional guitarist, accompanied the accordionist.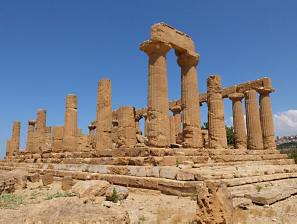 This is the Valley of the Temples located near Agrigento. Still standing are the remains of eight temples built between 510 and 430 BC. This is an astounding place and our local guide was great. There is no way to show the grandeur of these temples in a photograph. For many of our travelers, this was the highlight of the tour.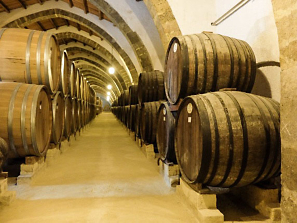 One afternoon we visited the historic Florio Marsala Winery for a tour and wine tasting.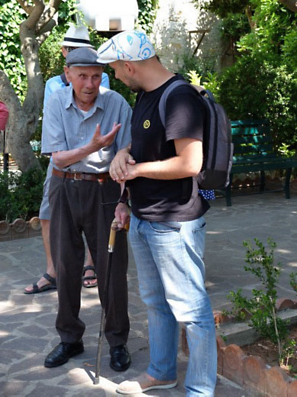 Our tour guide, Marcello, was always eager to interact with local residents. He engaged this 92 year-old man in a local park who gave us a brief recounting of his memories of Mussolini, WW2, and the hardships of the times.
One thing we all did well was eat. The food was terrific, all of it freshly cooked and delicious. We not only ate in fine restaurants, but also in a modern Sicilian home for lunch, on an island for a picnic, and on a traditional Sicilian farm. A stop for gelato was always on our itinerary. We had a wonderful group—friendly and fun.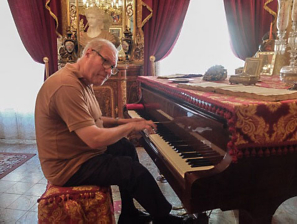 Not originally on our itinerary was a visit to this gentleman's house. He was someone Marcello met on the street. The man's house is filled with objects that belonged to his family, much from the 16th century. There were several rooms of incredible objects. The man also played some wonderful Bellini melodies and other composers as well.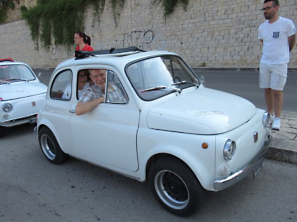 One afternoon, our group loaded into vintage two cylinder Fiat 500S cars from the 1960s and early 1970s. We were driven through the very narrow streets of Modica. The cars wound around the corners, which was great fun for us. After the ride, we all stopped to sample artisan made chocolate.
O.A.T. always arranges A Day in the Life when we become part of a family or community. On this trip, we visited a farm. We learned about the operation of the farm and participated in some of the activities. We also learned a great deal about the family. We made bread and cheese, and some travelers even milked a cow. After everything was ready, we all ate together with the family. This was a really wonderful day and another way to learn about the people of Sicily.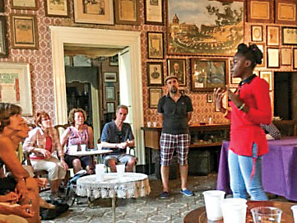 Overseas Adventure Travel supports community projects in the cities where their travelers visit. We heard a 19 year-old Nigerian woman tell her harrowing tale of a trip from Nigeria to Sicily. Looking for opportunity at 15, she left for Italy only to be kidnapped and made to work in Libya. She had been working for a year to pay off an additional fee for the passage. Then, one day, starving and thirsty, she passed out and was eventually rescued by the Italian police and Save the Children. This community group in Catania has helped her get back on her feet. She has become a success story, getting an education and pursuing a career. If she tries to return to Nigeria to visit her family, she will most likely be kidnapped again.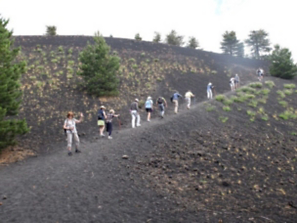 On our last adventure, we hiked on Mt. Etna and descended into a volcanic tube. We had a wonderful naturalist who seemed to know everything about Etna. Instead of fearing Etna, Sicilians call Etna their "Mother." I thought his was one of the best things we did and I loved being there. The views were spectacular and we could see Etna venting as we hiked.
After two weeks, we had to say goodbye to all of our new friends. We had a terrific group. This was also our sixth trip with Linda and Mike. You would have to look at hours of our photos to show all of our experiences.
Come home with your own set of memories and photographs after joining O.A.T. for Sicily's Ancient Landscapes & Timeless Traditions.