A Shared Song on the Seti
By Carol & John M., 9-time travelers and 2-time Vacation Ambassadors from Hampton Bays, NJ
Last fall we took the Bhutan and Nepal trip and had a serendipitous experience we won't soon forget.
The Nepal portion of the trip included two days of rafting on the Seti River. On day two, which included more formidable rapids, the oar on one of the rafts bent when the raft pitched downward on one section of the river. The raft didn't overturn and everyone was okay, but we all paddled to the shore so the oarsman could walk back to the base camp to retrieve a new oar. We were told he'd be met half-way, but we'd have to wait 30-45 minutes.
Looking off in the distance, we saw a building which our Trip Experience Leader, Avash, told us was a church. Having seen many temples and dzongs thus far, we asked if we could go to check it out. Avash agreed and led us through a rice field.
When we arrived at the church, the pastor's wife greeted us and Avash asked if we could see the inside. It was a very humble, one-story building with no pews—only a well-worn carpet on the floor. There was an altar, banners in Nepalese, and a guitar in the corner. I (John) asked if I might try the guitar and was told that I could. Unfortunately, it was quite out of tune, so I left it alone.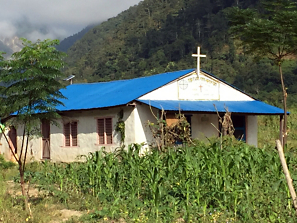 Acting as our translator, Avash was able to answer the many questions we asked the pastor's wife. She was most gracious and told us all about her life and the church. At one point, Avash asked if she would sing a hymn for us. After a few measures, we immediately recognized the tune she was singing and a few of us joined in, but in English. At first it appeared that she didn't know what to make of our singing, but she quickly realized that we shared a common song, albeit in a different language. Her face lit up with a huge smile and the rest of us were touched to the point of tears. It was truly a "learning and discovery" moment which we have shared with many friends. Experiences like this one keep us coming back to O.A.T. time and time again.
Create your own lasting memories with the Nepalese people during O.A.T.'s Nepal & the Mystical Himalayas adventure.