A Rendezvous with Wongo Wongo off Corfu: Fulfilling a 74-Year-Old Dream
By Nanc Marshall, 36-time traveler and 19-time Vacation Ambassador from The Villages, FL
Nanc is in the process of completing a book about World War II, a part of which honors the sacrifices of the Wongo Wongo crew. We're grateful to have played a role in her experience—and to share an excerpt with you here.
Standing on M/V Athena's sundeck off Corfu, gazing out at the most beautiful blue seas, reflecting back from equally beautiful blue skies, strangely, an inner calm settled over me. I was about to perform one of the most important duties I could for my family. The quest had taken me two years, and I'd prepared well, but this wasn't the reason for my peaceful state of mind. It came from the knowledge that our Trip Experience Leader, Jana Stepic; our Hotel Manager, Robert Jovicic; and our Captain, Ivan Hrabar; each resourceful, enterprising, and gifted, had made this final stage possible. I knew their compassion and devotion for serving all passengers was inborn and genuine. They'd proven it over and over in so many ways, but I still don't know how Captain Ivan was able to pull it all off in time … for I hadn't known how many preparations were left undone. When my husband, Ron, and I selected this, our 35th Grand Circle/O.A.T. tour for our 35th anniversary, we had no idea it would also include another major event in our lives.
It was after 3pm, Sunday, July 2, 2017, where fellow tour members were joining us as we were about to add another chapter to history. In fact, we called upon several new-found friends to play important roles, while some had already done so. Norlene Kemp became a close confidant, and she was so good with secrets.
What Happened?
Going off toward the island of Corfu, my thoughts turned to another Sunday which would be known as Black Sunday. As so often before, I tried to imagine August 1, 1943, and Operation Tidal Wave which belched forth 178, B-24 Liberators from the Libyan Desert choking out the sun with pinkish sand. If not outwardly called a suicide raid, the men knew casualties would be high; and, as ordered, many silently wrote final letters to be sent home it they didn't return. The B-24, often called "The Flying Coffin," would live up to its name that day with only 33 of those returning planes ever serviceable again.
Why the human sacrifice? Because high command believed destroying Hitler's oil refineries in Ploesti, Romania, would shorten the war by depriving oil and fuel for Hitler's planes and other war machines. Flying under radar at low-altitude and without radio contact, barely tree-top high, over-loaded with extra fuel, taking the enemy by surprise was the plan. The actuality is that Hitler's forces were well-prepared and waiting for them. Disaster would come in many forms.
Desert sand brings early death to engines, and extra fuel in bomb bays and wing cells took their toll before Ploesti materialized. Unfortunately, Wongo Wongo became another statistic. The crew of ten, all lost, included my uncle, Tim McLaughlin, a waist gunner leaving his wounded family in mourning.
This was a top-rated, highly-decorated, heavily-combat-seasoned crew who had faced death on at least four previous bombing missions and was soon returning home. They'd been interviewed in Yank magazine for their daring maneuvers on a recent experimental, low-level raid and now carried a mission photographer with them.
Home Front
My mom kept dad's brother alive, creating this special, family-loving soul and brave protector of his hard-working mother. I know it must have been especially difficult for everyone in my family when my birthday came around because I was born the day my grandparents received the telegram Tim was MIA.
Until it happens to you personally, the realm of "ambiguous loss" can never be felt, can never be understood; and you are truly blessed if you never have to feel or understand. Pauline Boss, a therapist, coined the phrase in 1973, and I could be her poster child, as could my cousin, Ralph Davis. It happens to families who lose a loved one, and there are no remains brought back or location to visit for closure. According to Boss, this lack of closure reaches down through following generations. She's right!
Cousin Ralph's diligence in preserving Tim's memory ended up in my lap in the form of roughly 150 letters, copied and bounded together. They included evidence of Grandma Carrie's ongoing pleas to locate her son's remains. Like osmosis, her agony became my own agonized quest. I can only describe the experience as an addiction: Forget food, water, everything … just search for Tim.
A lesser man would run screaming to divorce court, but to his credit, Ron took the brakes off and let me fly. Fly we did, in the Consolidated B-24 Liberator Witchcraft without the ack ack and battle flack, but I felt closer to Tim. The droning, threatening sound and the dust and debris striking my face as the engines started; the lumbering takeoff as the plane reached for its place in the skies; the wet-cold of an open wind tunnel tearing at my clothes as I half-sat, strapped to the floor; the thin pieces of metal between me and space … all brought visuals of the awesome power and danger of 178 beastly Warbirds in the hunt.
Athena's Sundeck
Reverie broken, I looked at our great Trip Experience Leader, Jana's, striking floral choices, all must be biodegradable, and all needed to symbolically tell a tale of freedom and sacrifice. For her part, Jana, after learning of my requests, chose a large wreath with ten roses, one for each of the crew. The roses were lovingly caressed by little puffs of white and blue flowers. Inside, I placed two crossed flags—one of the United States (for the men) and one of Greece (for the local Greek diver/historian, George Karelas, who located Wongo Wongo and for our own Greek community in Florida who'd assisted with translation work). I now removed the flags.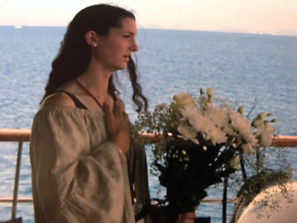 Fortunately, beautiful 14-year-old Amesley had joined her grandparents, Jim and Sandra Baylor, on tour. As we traveled together, for me, Amesley displayed the character and personality that symbolized the youth of the world for whom Wongo Wongo's crew and so many others willingly made their final sacrifice. The crew's desire to protect freedoms for future generations, not just in our country, but for the entire world, speaks volumes. Requesting a bouquet of white flowers, I really was overwhelmed by its magnificence. Later, I would tell Amesley that she could tell everyone how she had played a part in WWII history.
At-sea Memorial Service
We'd requested (or hood-winked) a number of fantastic photographers ready and able to record the Wongo Wongo crew's memorial service. Specifically, we relied on Roger Kiel, Gary Hoop, and Mike Ptersitzke. Thankfully, Delois Kiel and Alice Oldham supplied more. When you're on tour with such wonderful people providing so much support, it's easier to compose yourself. Feeling their positive vibes, I was ready.
At least I thought I was until Captain Ivan marched through the door followed by four dignified crew members, all at attention and all looking very military. Next came our Trip Experience Leaders, also at attention. I knew it couldn't get better than that. Much proof had to be provided that this was indeed a legitimate request to honor fallen WWII heroes. In the end, I was glad of that because it became all the more honorable and memorable.
Captain Ivan indicated to us Wongo Wongo's approximate location. Then, on behalf of my family, I read the names of Uncle Tim's family.
Tim's parents:
Tim's brothers and spouses:
Tim's sisters and spouses:
Tim's mystery girl:
Ivan and Carrie McLaughlin
Elmer (Ted) and Jean McLaughlin; Jess and Lou McLaughlin; Lester and Wilma McLaughlin; Dale (David) and Lynda McLaughlin
Orpha and Ray Manion; Edith and Frank Davis; Virginia and Carl Hansen
Nita Covert (Graybeal) … they'd been writing to each other for two years
In hopes of finding other descendants of the Wongo Wongo crew, I read the following information:
Brian W. Flavelle
John C. Ryan
Robert F. Wilson
Jack B. Lanning
John H. Cleveland
Willis S. Lutz
Tim O. McLaughlin
Robert M. Bowden
Melick J. Janacek
Sandar Lazar
Pilot
Co-pilot
Navigator
Bombardier
Engineer
Radio Operator
Waist Gunner
Waist Gunner
Tail Gunner
Mission Photographer
North Caldwell, NJ (4-month-old son he never saw)
Fresno, CA/Territory of Alaska (Son born after his death)
Chicago, IL (twin brother)
Belvidere, IL (married, only child)
Rock Island, IL
Portland, OR (12th of 14 children)
Janesville, WI (5th of 8 children … girl waiting)
Fort Worth, TX (married)
Hobson, TX (engaged)
New York, NY
At this point, Captain Ivan signaled: Our National Anthem played as our flag was raised to join the Greek flag (flown while in Greek waters). As this took place, with my mom's ring on one hand and my dad's on the other, I cradled the wreath and raised it against my body as a salute to our flag. Amesely held her huge bouquet in one hand with her other hand over her heart. Her beauty was indescribable.
When the music ceased, I walked to the sundeck railing, slightly caressed the flowers then tossed the great wreath overboard. Silently, I pleaded for it to remain upright. It did. The soft sea gathered it quickly where it now looked smaller, but set for unknown ventures.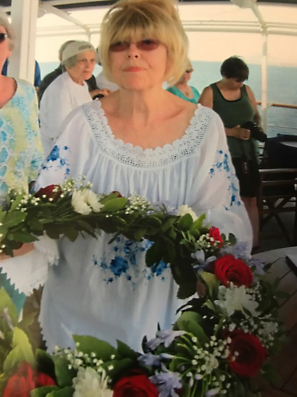 My emotions were building as I took a white rose from Amesely's bouquet and gave it to her. Then I took one for myself. Amesely took her bouquet to the railing and tossed the flowers into the sea. Unfettered, they fell freely in a semicircle to be gathered up and joined with the white, glistening foam of the sea.
Now, I'd requested a group photo, which Trip Experience Leader, Petra Lozica quickly volunteered to take. She was a big part of us, and I wished she'd been in it too, but I'll never forget the joy she embodied as she grouped us together. It really shows in that photo.
Then something happened that caught me off guard. Bev Robinson came to my side. She said she graduated in Rock Island, Illinois, and knew of a family named Cleveland. Could this possibly be the family of Wongo Wongo's engineer, John H. Cleveland? She would check when she got home. She had told Ron about this early in the morning, but wisely, he'd kept it from me. Not only did I have today to get through, but tomorrow was highly important as well.
Grand Conclusion
The next day was Monday July 3, 2017. This was the day Ron and I would meet George Karelas and his family. George, the Greek diver who'd located the wreckage, had documented it as one of the many wrecks in Greek waters. Incredibly, this was also the day that would have been Uncle Tim's 96th birthday had he lived.
Like meeting family, we had so much to share. His two children embodied the same beauty as Amesley, and I wished she were here. Everyone loved the ship which was being readied for our July 4th celebration, and an American flag found its place with George's son who waved it often. Next to him, his sister waved the little Greek flag from the wreath. Then, to the youngsters; great admiration, Captain Ivan joined us.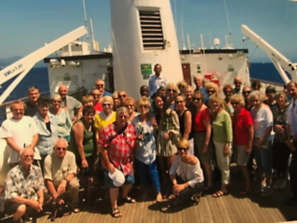 There is never a good time to say goodbye. It would be hard, for we were ending our tour shortly as well. The experience was so much more than I could have hoped, ending when my brother, Rolland, a Vietnam helicopter pilot (Army, 20+ years) contacted me: "Grandma and Grandpa would be so proud of you."
Create your own lasting memories in Greek waters during Hidden Gems of the Dalmatian Coast & Greece.