A Photographic Journey Through Tanzania
By Kyle A., 8-time traveler from San Carlos, CA
Greetings, fellow O.A.T. travelers! In recent editions of The Inside Scoop, I introduced myself as a passionate travel photographer and I shared photo narratives from Ireland and from O.A.T.'s Chile and Argentina: The Andes to Patagonia trip. Now I'm excited to have the opportunity to share another personal travel story, this one focusing on Tanzania, once again illustrated with some of my favorite photos from the trip and accompanied by suggestions to help you make the best images possible while traveling.
I have a special interest in helping travelers improve their photography while learning to travel with greater cultural awareness and advocacy. Toward that end, I have recently launched a new project dedicated to improving and inspiring travel photography, "To Travel Hopefully," at www.to-travel-hopefully.com.
There are very few destinations more exciting to us travel photographers than East Africa. My family's O.A.T. trip, Safari Serengeti: Tanzania Lodge and Tented Safari with the Foothills of Kilimanjaro pre-trip, was a dream come true. Our adventure began with the pre-trip excursion to the Kilimanjaro region, then moved on to the regional capital city of Arusha and to safaris in Tarangire National Park, Olduvai Gorge, Serengeti National Park, and Ngorongoro Crater. It goes without saying that the wildlife photography in Tanzania is second-to-none, but we found the authentic cultural interactions with the nomadic Maasai and other local people to be a highlight of the trip.
The usually shy Mount Kilimanjaro made a brief appearance as we awaited sunset near our lodge. The glaciers that adorn this iconic landform are melting quickly as a result of climate change, so this is a place to visit soon. I used a polarizing filter on a medium telephoto lens to reduce the haze and bring out the texture of the mountain, and I framed the shot through some branches near our campfire.
Mount Kilimanjaro lit by alpenglow. A polarizing filter helps immensely when photographing mountain scenery, as it reduces haze and glare and adds drama to the sky.
On a game drive in the Kilimanjaro region, we encountered this lovely lilac-breasted roller. To capture this image, I used a long telephoto lens (500mm, which was equivalent to 750mm when fitted on this camera) and stabilized it on a beanbag that I rested on the top of the safari vehicle. This is a very important accessory to bring with you on a safari, as you cannot fit a tripod in a safari vehicle and a monopod is awkward. When shooting wildlife, be aware of the background as much as the subject itself; a clean, uncluttered background can make the difference between an excellent wildlife portrait and a mediocre one.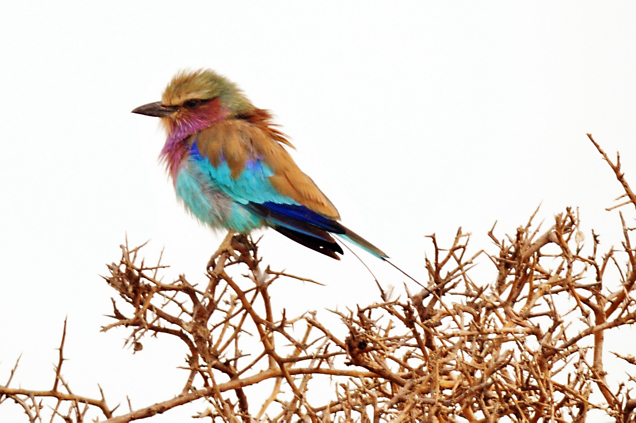 Lilac-breasted roller captured with a 500mm lens in the Kilimanjaro region. A beanbag camera support is inexpensive and is invaluable for photography on African safaris.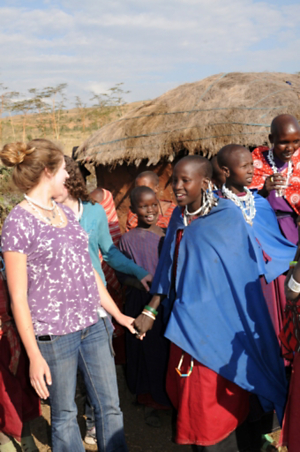 The cultural learning and interaction was a big part of this trip. Here my older daughter is greeted by a young Maasai woman as we arrived at their settlement. The Maasai are nomadic herders, usually moving from place to place to pasture their cattle throughout the seasons of the year. It was a fascinating opportunity to meet them and learn about their way of life, and to make portraits with the Maasai people we met.
A warm welcome as we arrived at the first of two Maasai villages we visited during our trip.
I had a fun interaction with this young Maasai boy by showing him the images as I shot his portrait in various places around the village. He had not seen many photos of himself. Here he is posing in front of his family's house.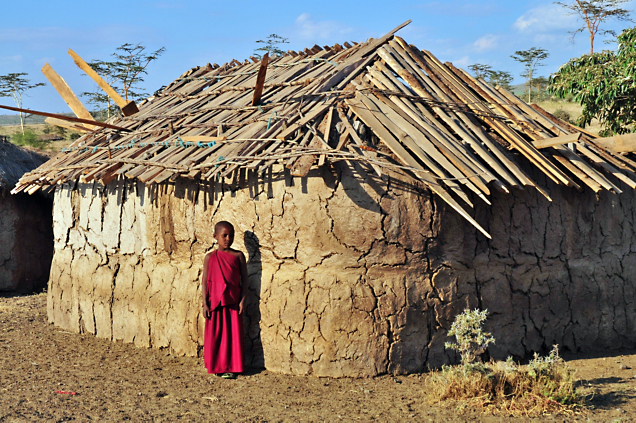 A Maasai boy by his family's shelter. When shooting in harsh mid-day lighting conditions, it is helpful to use the camera's spot meter to set the exposure based on the main subject.
Our visit to the bustling city of Arusha was intended to be only a staging point for the game viewing excursions to follow, but we found Arusha to be a very interesting cultural crossroads in its own right. Here is a shot of what passes for a towing service in the area, a broken-down van being pulled to a service station on top of a donkey cart. Always be on the lookout for serendipitous moments like this one when you travel!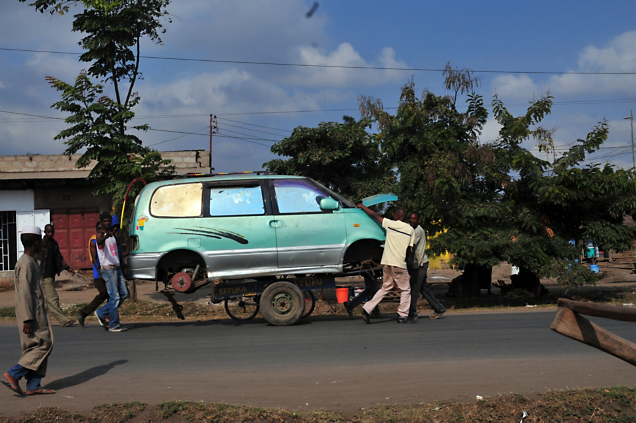 A street scene in Arusha, the region's largest city. Keep your camera gear set up and ready to use at all times while traveling; you never know what might happen.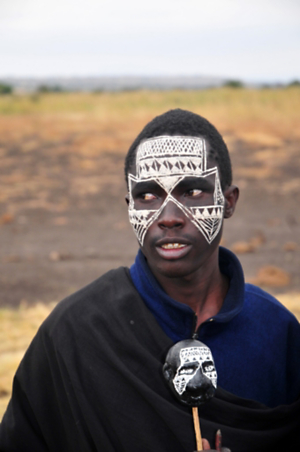 Along the road from Arusha to Tarangire National Park, we stopped to chat with a group of several young Maasai men. They had recently undergone the ritual circumcision ceremony that marked an important milestone on their journey to become warriors. For the next six months they would wear the special face paint while they underwent their final training. Our wonderful Trip Experience Leader was very helpful in facilitating our conversation. Through him, I asked this man's permission to make a portrait. This photo was shot with a moderate telephoto lens and a wide aperture to soften the background.
A young man nears the end of his journey to becoming a Maasai warrior.
Tarangire National Park is a gem of a nature preserve that is often overlooked by visitors to Tanzania. Fortunately, O.A.T. includes Tarangire in this itinerary! Here's a shot of a baby baboon in a troop of baboons we were observing there. When shooting backlit wildlife, use your camera's spot metering mode with the focus point on the animal, so your camera doesn't underexpose the main subject. Selecting a wide aperture on a telephoto lens helps isolate the subject by creating shallow depth-of-field to blur the background.
A playful baby baboon in Tarangire National Park. Emphasize the main subject by using a wide aperture setting (low F-stop number) on a telephoto lens.
We stopped for a visit to a second Maasai village, very different from our first Maasai encounter. This second group of Maasai were only semi-nomadic and lived much of the year in a more permanent settlement. While their way of life was a bit less precarious, and included public education and solid housing, they still lacked a source of safe drinking water, a common problem in East Africa. We presented the chief with a water filter we had purchased in Arusha for use by the whole village. I made this group portrait when they accepted our gift.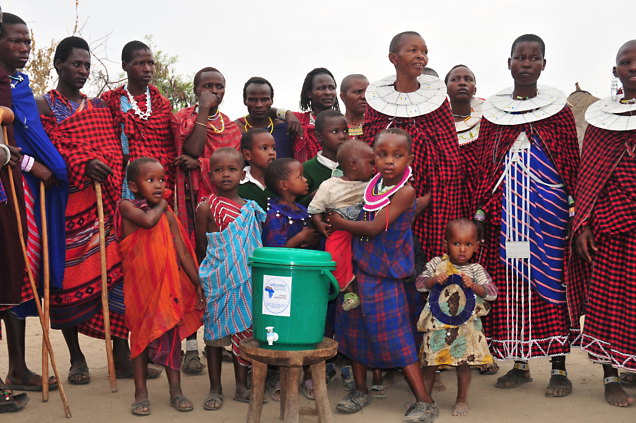 Maasai villagers with their new water filter. To make this large-group portrait, I used a normal lens and got down to ground level for a more relatable vantage point.
Serengeti National Park is the stuff travel photographers' dreams are made of! Along with game walks and game drives in open safari vehicles, we also had the chance to soar silently above the Endless Plains in a hot air balloon. This is an amazing way to view the migrations of the herds and the predators and scavengers that tag along. This image was made by shooting down from the gondola of our balloon toward a balloon closer to the ground. You can see the trees and herds of wildebeest on the plains below.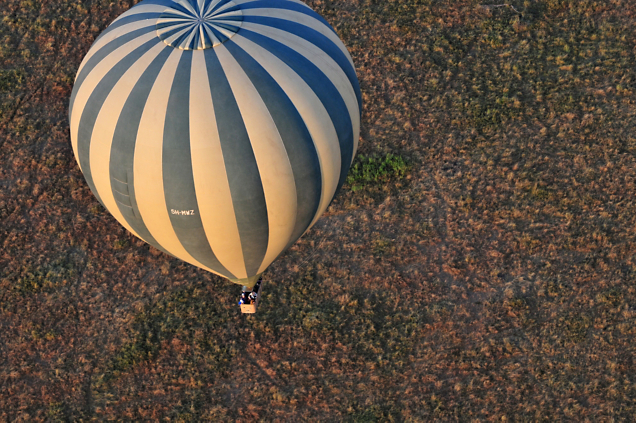 Safari by hot air balloon. When shooting from a moving vehicle, even a balloon, choose a fast shutter speed to reduce motion blur.
Of the hundreds of animal species we encountered, including so much more than just the Big Five, the leopard was one of the most elusive. Here we spotted (as it were) a leopard napping in a tree in Seregenti National Park. This shot was made with a long telephoto lens resting on a beanbag in our safari vehicle.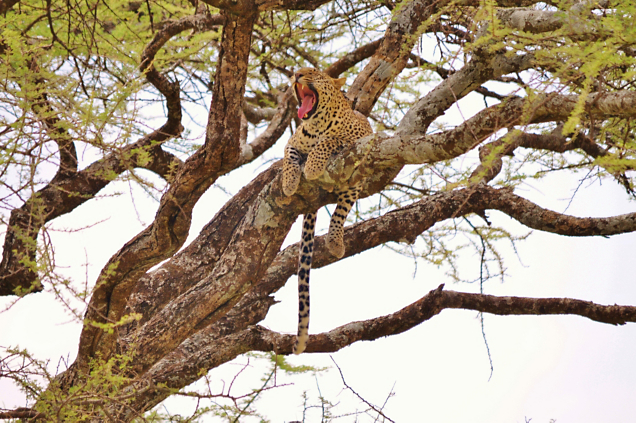 A sleepy leopard yawns in a tree above the Endless Plains of Serengeti National Park. When photographing wildlife, shoot many frames so as to maximize the odds of capturing just the right moment.
The migration of the herds is an annual event across the combined national parks of Serengeti in Tanzania and Maasai Mara in Kenya. It's a spectacular sight as millions of wildebeest, zebra, and gazelles slowly migrate across plains and rivers, occasionally being eaten by the predators that follow them. To give a sense of the scale and the action, in this image I zoomed in on a group of wildebeest so as to compress the scene.
A small vignette from the massive migration of the herds across the East African plain. Don't forget to capture some images by zooming in on the details within a huge sprawling scene. Often, it is the part rather than the whole of a scene that makes the most intriguing images.
We were very fortunate to come across this quiet scene of a lioness with her newborn cubs. We watched from a distance so as not to disturb this family as she cleaned and played with her two cubs who were mewing like housecats all the while. The light was low in this glen, and the long telephoto lens was slow, so I stabilized it on a beanbag and shot at a higher ISO setting to allow for a reasonably fast shutter speed. There was some noise in the image as a result of the high ISO—camera sensors weren't as good at high sensitivities back in 2012—but I did my best to reduce the noise during post-processing.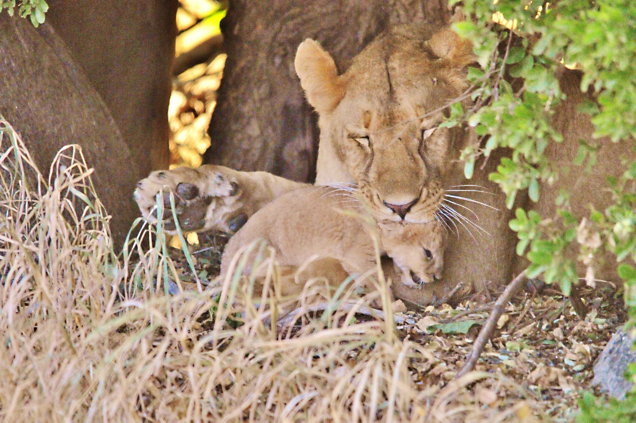 A mother lion spends some quality time with her cubs. When photographing wildlife, it is crucial to keep a reasonable distance so as not to disrupt the animals' routines.
We visited a primary school in a small community. This school was one of the first in Tanzania to serve breakfast and lunch to students who walk miles each way and would have to double their daily walking distance if they had to return home midday for lunch. My daughter enjoyed talking with students about their daily lessons.
Visiting a classroom at a rural primary school. One way to make an authentic group portrait is get to know your subjects first, and then just let them interact and forget you are there. Remember to get down to eye level for a more natural perspective.
I hope you've enjoyed this narrative and that you will be inspired to travel more adventurously, capture images like a pro, and share your photos more powerfully. To see more of my images and to learn more about travel photography, please visit my new project, "To Travel Hopefully," at www.to-travel-hopefully.com.
Perhaps you'll capture some breathtaking images of your own during O.A.T.'s Safari Serengeti: Tanzania Lodge & Tented Safari.