A Photographic Journey Through Cuba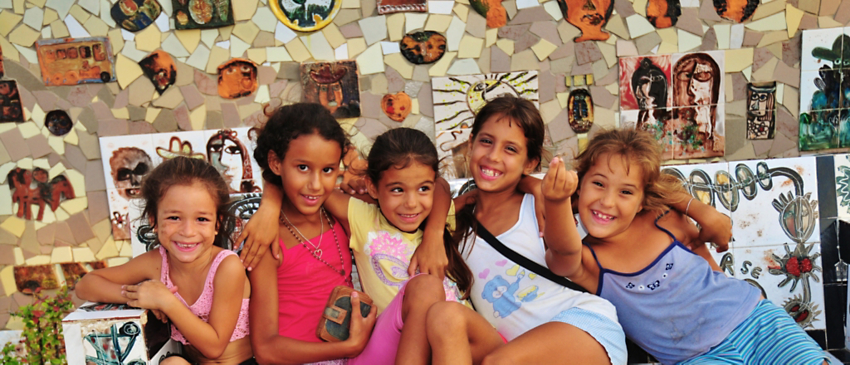 By Kyle A., 8-time traveler from San Carlos, CA
Greetings, fellow O.A.T. travelers! In recent editions of "The Inside Scoop," I introduced myself as a passionate travel photographer and I shared photo narratives from South America, Ireland, and Tanzania. Now I'm excited to have the opportunity to share another personal travel story, this one focusing on Cuba, once again illustrated with some of my favorite photos from the trip and accompanied by suggestions to help you make the best images possible while traveling.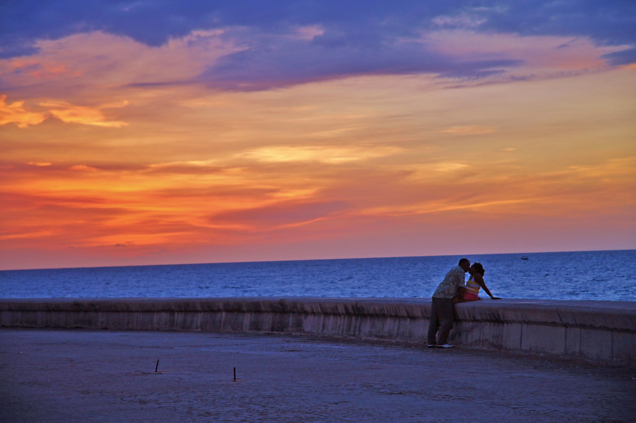 Lovers embrace on Havana's Malecon at sunset. Careful attention to composition allows the leading lines of the seawall and the horizon to draw the viewer's eye through the layers of color and toward the couple.
I am a professional travel photographer with a special interest in helping travelers improve their photography while learning to travel with greater cultural awareness and advocacy. Toward that end, I have launched a project dedicated to improving and inspiring travel photography, "To Travel Hopefully," at www.to-travel-hopefully.com. I lead small group workshops and tours for photographers at any level from beginner through semi-professional. You can take a look at my portfolio of images and learn more about me at www.kadlerphotography.com
Cuba is a remarkable destination for travel photographers! This small island offers all the iconic images we expect—beautiful but crumbling art deco buildings, American cars from the late 1950s, unspoiled Caribbean beaches—but there are so many more opportunities to connect with and photograph a culture and a nation that are undergoing very rapid change.
European and Latin American travelers already know about Cuba's charms and have been coming here for decades, but to many Americans, Cuba has felt off-limits, a destination forbidden by our government. I'm going to steer clear of the political issues in this article, but suffice it to say that the Obama administration's relaxing of Cuba travel restrictions now makes this unique island nation a travel destination within the reach of most Americans.
I do not recommend trying to circumvent the licensing requirements. This can lead to lots of trouble for the unlicensed American traveler later down the road: hefty fines, lots of questions to be answered, and restrictions on one's future travel possibilities. Instead, go with one of the travel companies such as Grand Circle Foundation who operate People-to-People Cultural Exchanges. These are legal trips licensed by the U.S. government for the purposes of the people from the U.S. and Cuba getting to know each other. These trips do require that most of the traveler's time be spent interacting with Cuban people of all walks of life, but isn't that what we travel photographers seek, anyway?
Our small group was invited to attend a rehearsal by Opera de la Calle ("Street Opera"). Held in a decrepit art deco building in downtown Havana, the spirited performance combined song, dance, and performance art. It was not possible to use flash during the rehearsal, so I used a fast medium telephoto lens and a high ISO setting on the camera to frame this image of the ensemble during an emotion-charged scene.
Left: Tobacco farmer Benito enjoying the fruit of his labor. We met him in his drying barn to learn about tobacco production. After his demonstration, I asked him if it was okay to make a portrait. I captured this image using available light only (no flash) as he lit his cigar.
Right: Cuba's national bird, the brightly colored Tocororo. These birds are known to be elusive, so I had my gear all set up in advance. That way, when our guide finally spotted one, I was ready to shoot immediately.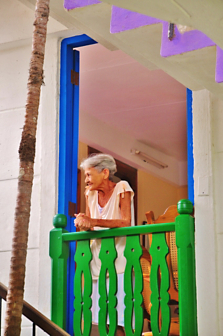 Left: The warm and engaging proprietor of Maria's Cafe surveys her domain. I composed this portrait using the "frame within a frame" technique, using the lines of the door, staircase, and palm tree to frame the image. I love the way the vibrant Caribbean colors offset Maria's remarkable presence.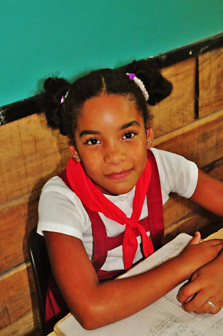 Right: During an elementary school visit, we met the staff and great kids in the classrooms! Three classes for different ages shared one old church building. To capture this portrait, I used just a touch of off-camera fill flash to ensure even lighting on the girl's face. The trick is to dial down the power of the flash and to hold it away from the camera so that the lighting doesn't appear too harsh.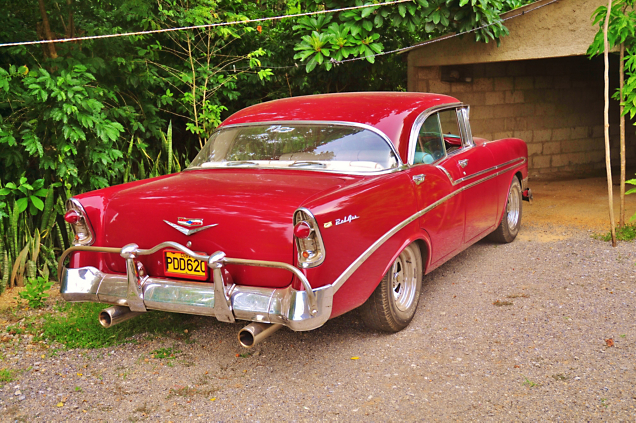 We got to know a friendly and enterprising rural family during a Home-Hosted dinner. This is their family car.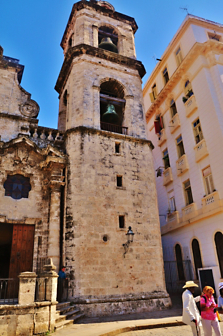 Left: Back in Havana, we strolled through the city's Old Town. One way to breathe life into images of architecture or landscapes is to include local people in them. This shot of people chatting in front of the old cathedral has a street photography feel because the people are featured as just a slice of the overall urban scene.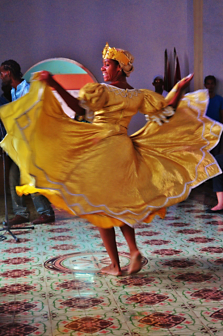 Right: A special performance of Santeria song and dance. Santeria combines Roman Catholicism with African religions to form a uniquely Cuban hybrid. To capture the motion of the dancer, I chose a slower shutter speed so that some motion blur would be included in the image.
This selection of photos barely scratches the surface of all the wonderful, unique photographic opportunities awaiting you in Cuba now. Go soon, though, because for better or for worse, this nation is transitioning quickly into a very different future. The first commercial flight from the U.S. to Cuba in over 50 years recently took off from Florida. If recent trends are not interrupted by political theater, then for many Cubans, the dawn of this new era will mean a partial easing of a great deal of economic hardship suffered under the U.S. embargo.
I'm eager to visit again in a few years to meet more Cuban people and observe how their lives have changed. But if you prefer to visit—and photograph—tiny colorful sidewalk cafes rather than Starbucks, authentic cultural interactions rather than slickly produced touristic shows, and wide open vistas rather than lavish resort developments, then now is the time to book your trip to Cuba!
I hope you've enjoyed this narrative and that you will be inspired to travel more adventurously, capture images like a pro, and share your photos more powerfully. To see more of my images and to learn more about travel photography, please visit my blog, "To Travel Hopefully," at www.to-travel-hopefully.com. And please also take a look at my portfolio at www.kadlerphotography.com. Happy travels!
Take your own photographic journey through Cuba when you join our Cuba: A Bridge Between Cultures tour.
You may also like…
Cuba – Lost in Time
Enjoy the rhythms of Cuba and scenes from across the island.
"Yank Tanks": Here Today, Gone Tomorrow?
Gain another traveler's perspective on Cuba.
Double Blind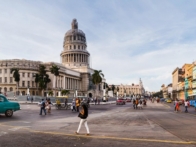 Where do the streets have two names and the houses no numbers?