A Legendary Trip Back in Time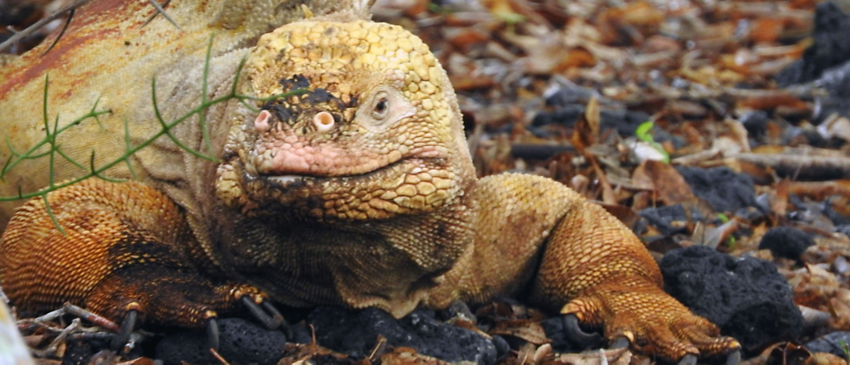 By Pamela Keene, 11-time traveler and 4-time Vacation Ambassador from Flowery Beach, GA
This article was originally published in Lakeside on Lanier, www.lakesidenews.com. You can read part one of Pamela's adventure, featuring her experiences in the Amazon, here.
Expectations became reality as we landed at the airport on Baltra in the Galápagos Islands. In the land known for such animal oddities as blue-footed boobies and flightless cormorants, we spent eight days discovering volcanic islands, sandy beaches, underwater reefs, land tortoises and sea turtles, penguin, sea lions, and what life is like without predators to make the wildlife fearful.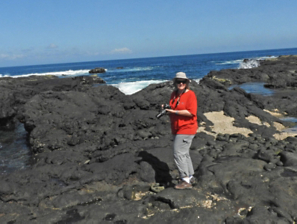 As the second part of the three-week journey to Ecuador, my husband Rick and I made the central part of the Galápagos Islands home aboard the Galaxy II, a 16-passenger private boat operated by Overseas Adventure Travel. Our guide Jessica and our nine fellow passengers made more than a dozen stops along the way, anchoring offshore and taking 8-passenger zodiacs on several excursions each day. We visited inland waterways to see birds and wildlife; walked along lava-encrusted islands where nothing grows except land iguanas; and snorkeled and swam with sea turtles, starfish, and myriad underwater wonders.
On our trip of more than 300 miles by boat, we crossed the equator twice, and circumnavigated a handful of the islands to visit nearly a dozen points of interest—from the Darwin Research Station on Santa Cruz where an active Galápagos tortoise breeding program is underway to the red-sand beaches of Rabida, colored by the high amounts of iron in the sand.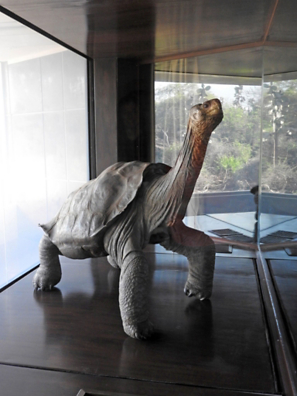 We were among the first people to see the return of Lonesome George, the famous 90-year-old land tortoise who had occupied an island all by himself for years. He died in 2012 and his body was sent to the New York Museum of Natural History for DNA testing and preservation. My husband had seen George in his native habitat more than a decade ago when Rick was SCUBA diving on a live-aboard boat. It was a great surprise to learn that just 10 days before we arrived on this trip, the taxidermied Lonesome George returned to his native land to a specially built climate-controlled building.
The 137-mile long archipelago in the Pacific Ocean that straddles the equator holds the secrets to survival of the fittest. Little did Charles Darwin know when as part of a 5-year seafaring round-the-world journey in the 1830s that he would become a household name the world over. His theories of adaptation of species are often confused with the theory of evolution, a fine-line distinction among scientists, but noteworthy just the same.
As the first-ever World Heritage Site, so named in 1978, the Galápagos Islands are part of the Galápagos National Park Service. It's also a UNESCO site, protected from development. Tourism is strictly regulated, and for good reason. As more human encroachment finds its way there, the environmental balance is even more precarious. Tourists must be accompanied by certified guides who agree to abide by the regulations and ensure that their visitors do as well.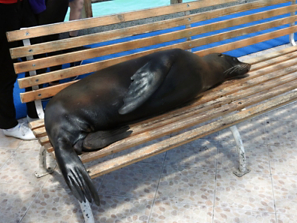 A huge "push-me/pull-me" debate is evident by the conflict between the environmentalists and developers. The Galápagos has been repeatedly compromised by the introduction of non-native flora and fauna, upsetting the delicate balance that's been in place for millions of years. Many of the animals there have no natural predators, so they show no fear when humans come near. We were able to walk right up to—but not touch—lazy sea lions basking on benches, land tortoises out for a casual stroll to forage for lunch, and the thousands of land iguanas that blended in with the landscape.
Several islands have hotels, restaurants, and commercial businesses, including Baltra Island, home of the area's airport; Isabela; Santa Cruz; and Floreana. A couple of environmental resorts are located on the main islands, but visitors can also stay in hostels. Most of the land accommodations are what some travelers would call "roughing it," but our time on the ship was very comfortable with chef-prepared meals, cabins larger than most hotel rooms in Europe, and our own private baths.
People live simply in the Galápagos where there are two seasons. December to May is warm and wet; and June to December is cool and dry. We were lucky that the rains only came at night; however, the humidity made the temperatures in the 90s seem like a steam bath.
Every day held new adventures and discoveries. We walked for miles and hiked across lava formations, sandy paths, and beaches. We saw the most incredible wildlife and marveled at the delicate balance between man and nature.
I spent my days draped with two cameras and a couple of lenses. Truth be told, I have yet to edit the more than 8,000 images I shot while we were there. I'm saving that task for a cold rainy day this winter so that I can relive my time in the Galápagos.
Discover the diverse wildlife of the Galápagos when you join our Ultimate Galápagos Exploration & Ecuador's Amazon Wilds Small Ship Adventure.