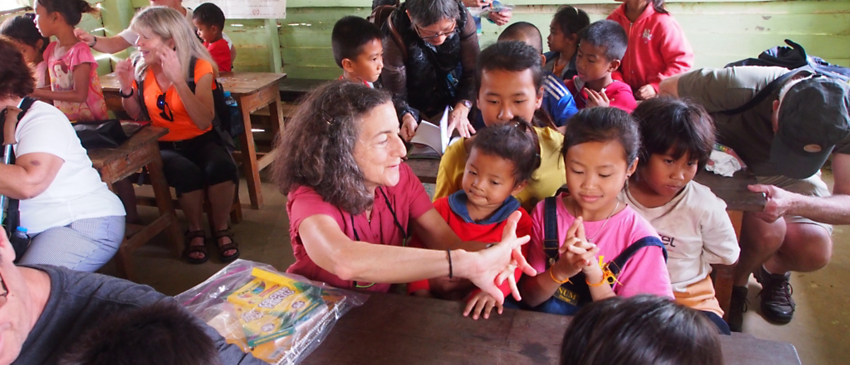 By Abbe R., 3-time traveler from Sedro Woolley, WA
This Traveler Insight comes to us as an except from Abbe's e-Newsletter, Abbe's Ruminations.
There is no place like home, especially if you make home your world and the world your home. An odd statement but in my last newsletter I stepped out of one lifestyle and into another. I realized on my return from Myanmar that I felt like Dorothy in the Wizard of Oz. Dorothy loved Oz, but her appreciation of her own world changed with perspectives from the imaginary creatures and gilded roads of another culture.
A smile and a greeting gives you entrance. In Myanmar, a bow of the head, with hands clasped together as if in prayer, accompanied by the informal hello, minglaba, brings smiles and a welcome from strangers. Of all the Southeast Asian countries, Myanmar, formally called Burma, retains third world status, with many dirt roads and few amenities. Even in the capitol city of Yangon (Rangoon), with the grandeur of the Golden Pagoda, Shewedagon, which is covered with 60 tons of pure gold sheaths, rubies and diamonds, Buddhist dedication keeps the opulence of the temples humble. With narrow roads and the sight of hundreds of monks robed in deep burgundy milling around their monastery, washing clothes or attending classes, the world speaks of merit and honor for a better future.
Our wonderful guide, Joseph, dressed in his longjei (cloth-like skirt wrapped around his waist) introduced us into the magical world of Dala just a ten-minute ferry ride across the Rangoon River. Here there are no paved roads, or water or electricity. Twice daily women fetch water from a small pond off the Rangoon River, carrying the buckets across their shoulders like oxen. Yangon, the urban capital, is modern in comparison.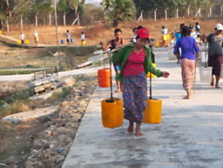 When I say Myanmar is magical, I'm not referring to Bagan's thousands of pagodas, or the historical insights of the military rule, but the joy in learning the art of lacquerware, listening to gongs and bells that ring out the merits of a good deed. This became our theme for the trip—finding the sweet sound of these gongs.
Sa-wat-dee-ka, takes us into Thailand. In Laos, you change your greeting to sa-bi-dee. Cambodia's informal hello, sous-dey, and in Vietnam the bowing of the head and folding of the hands in prayer disappear and you smile with the words sin chow. Each of these countries differs, moving from military dictatorships to Communism, all have cell phones, most retain a dedication to the Buddha.
It isn't the typical tourist visits that stay with me, but the interaction between the guides, the local families cooking with us, the participation at schools, a village visit with the tribal shaman who teaches us archery, a monk who teaches us four types of meditation. Even a trip down the Irrawaddy River offers a look at adaption. A plank stretches across the span of land to the deck of the wooden boat, a handrail is offered for the passengers. The difference is that the plank wobbles and the handrail consists of bamboo held by a slight person on each end. A human handrail for stability, takes trust.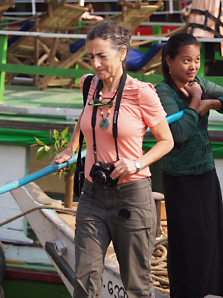 We circle politics, with talks and visits to king's palaces, the Killing Fields, the tunnels where the Viet Cong lived. These are peppered with discussions with a local journalist who speaks of censorship, a toast to a 75-year-old survivor of the Viet Cong re-education camp with his certificate of appreciation from the new government honoring his age with five yearly cans of milk. His son, Henry, guided us through all versions of Vietnam, the good the bad, and the ugly. His sense of humor lingers. When Jim roamed the side streets in Saigon, women from the massage parlors tried to lure him in. Henry's straight faced comment, "Oh those are the bow-wow women. They bow, and the guys say wow." Realities of their life.
It is also Henry who walks us back to our hotel after dinner, stops in the plaza, spreads his hands and says with enthusiasm, "See all these people. They come out at night like I do to enjoy the space and freedom of no walls." Said with such joy, I spread my hands and felt Henry's freedom in the air. Just then the sprinklers, embedded in the plaza floor, shoot a spray of water into the air. The crowds accept this as entertainment. I think of apartments smaller than my hotel room, privacy, showers, and simple luxuries.
Sam, one of our guides in Cambodia, recounts a story about monkeys as we walk through a temple, Bandeay Srei, in the old civilization of Angkor. Still overrun by a tangled jungle, the structures are magnificent. Not only do the locals and tourists enjoy the detailed pink sandstone relief, but so do the resident monkeys. The story is of a traveler who fears the monkeys. His friend tells him not to worry as his monkeys don't bite. When the traveler moves to pet the monkey, the monkey bites him. His friend shakes his head. "Why did the monkey bite me?" His friend says, "That's not my monkey." Sam smiles at us and we laugh, over and over and this becomes our mantra, that's not my monkey!
My day began and ended with tidbits from our guides. I haven't mentioned Lou from Laos, or Shey, another guide from Cambodia. Each brought with them their personal stories, their history, and welcomed us to every aspect of their life. (Sam's son was hospitalized and he went to the hospital near our hotel. Shey's mom visited with us after dinner on her way home from work.) Most impressive of all was Tick, our leader, who guided us in Thailand and oversaw the group in all the other countries. He exemplified the definition of a gentleman—someone who makes others feel comfortable. In the mangroves, he stood in knee-deep mud with Jim and Carol to help replant the depleting mangroves. He nursed my ailing stomach with special teas and tamarin. Up early, in bed late, he left messages by our rooms, explained lifestyles, do's and don'ts, and shared his journey and devotion to his family. He was our overview, our friend who laughed and cried with us as we lived together for a month. I left a piece of my heart with him, and carried a piece of his home with me.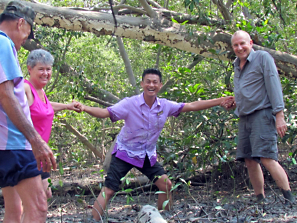 Back in Sedro Woolley, Washington, we hang the gongs we purchased from public markets. A bronze finger bell reminds us of the traditional dances, the sweet note of kindness that rings out through a pious and complicated area. I drive my car along near empty roads to my restaurant and remember the rickshaw rides on both dirt and traffic filled streets. I cook in a kitchen that has running water, an oven and a refrigerator. I relish these amenities. What stays with me are the people of Southeast Asia, the perseverance, love of family, culture, and history. We shared the world with strangers. They made it our home.
Make your own lasting connections and unforgettable memories when you join O.A.T.'s Burma & the Irrawaddy River pre-trip extension during Ancient Kingdoms: Thailand, Laos, Cambodia & Vietnam.