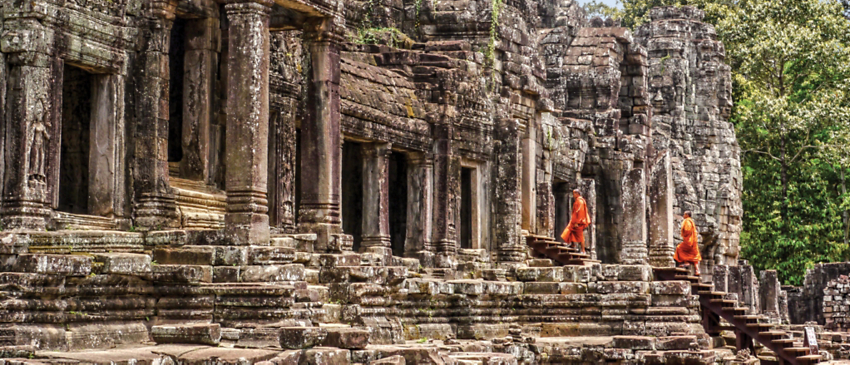 Our online Travel Forum is a vibrant virtual community where travelers can share their expertise and ask questions about our adventures and destinations. Sometimes, these online connections can spark friendships in "real life"—as Sue discovered before her trip to Thailand and Cambodia.
By Sue B., 6-time traveler & 13-time Vacation Ambassador from Carlsbad, CA
Ten months after my husband of 48 years passed away, I decided to take a trip to Thailand. We had planned to do the trip together the previous year, but it was not to be. Having never traveled anywhere by myself I was a bit hesitant, but decided to go ahead and reserve a solo spot with a post-trip to Cambodia through O.A.T. The trip was great! The people I traveled with were friendly and inclusive. I never felt alone or apart. By the end of the trip we were like a family.
On the extension to Cambodia our flight was delayed and our tour guide invited us to his family home to take part in making our own Cambodian lunch. What an experience! It was a real taste of Cambodian life with food made on a fire pit in the house and a hose to get water. Results were amazing!
So! I got the "bug." I could travel on my own as a solo traveler with O.A.T. and not worry.
On my second trip I was having some problems with arrangements so I posted a question on the Forum. I got a response from Kyle and we emailed back and forth. We scheduled our trip to India on the same date, but I was a little concerned about what this man's expectations were. All the Kyles I had ever met were men. At one point I got a call from O.A.T. asking if I would take part in a conference call between O.A.T., Kyle, and myself. I said sure. When I heard Kyle's voice and found that she was a she, I was relieved! We met for the first time at the airport in New York and became great friends. We have traveled together five times now with O.A.T. and two short trips together in the U.S. We get single rooms but always asked for rooms near each other. We look out for each other and have great fun together and with our fellow travelers.
I have two trips planned in 2018 that, unfortunately, Kyle cannot do, but I have no hesitation and know I will meet other like-minded people to share these trips with. I am a "happy wanderer" with the help of O.A.T.!
Make memorable connections with both the people of Southeast Asia and your fellow travelers when you join us for Discover Thailand.