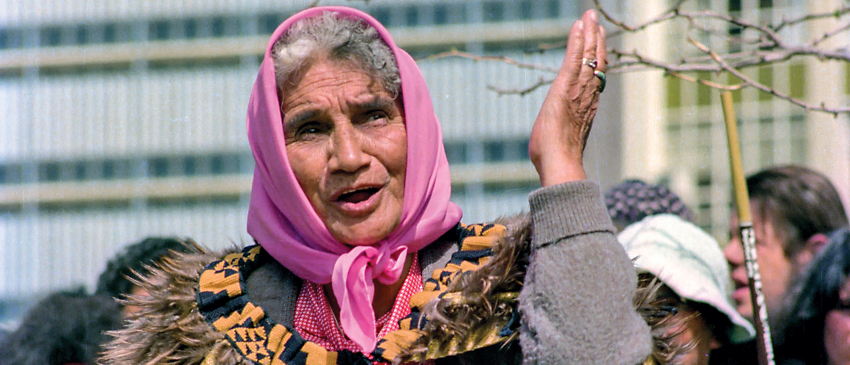 Question: Born at a time when Maori women had no public voice, I led my first protest at age 18, marched for Maori land rights at age 80, and earned the title "Mother of the Nation." Who am I?
Answer: Whina Cooper
Born in 1895 in Te Karaka, New Zealand, I was the first daughter of tribal elder Heremia Te Wake and his second wife, Kare Pauro Kawatihi. I had four half-brothers and three half-sisters from my father's first marriage.


I was attracted to politics even as a child. My father recognized my keen intellect and leadership skills and favored me over his sons, beginning a lifelong rift between my siblings and me.


Maori culture is community based, with local tribes gathering in the marae (sacred meeting space) to decide everything from ownership rights to engagements. At the turn of the century, women were barred from speaking in the marae. But this disenfranchisement did not stop me from becoming a local leader.


At 18, I organized civil disobedience to keep a British farmer from draining a swamp that the local tribes used for shell fishing. While my father challenged the farmer's lease in court, by night, I led a group of young people to fill in the drainage ditches that were dug during the day. Eventually we were charged with trespassing, but by that time the farmer's lease had been revoked and the swamp was saved.


A few years later, I eloped, with the consent of my parents but without the approval of the community—which lowered my status locally and widened the rift with my brothers.


The high status of my parents insulated me from community retribution for a time, but when my parents died within months of each other, my husband and I were exiled from our home and forced to live off the land.


Fortunately, the priest who had married us heard of our circumstances. He advanced us a loan, allowing us to purchase my father's house and the general store in our hometown.


Working at the store, I proved to be such an astute businesswoman that I was able to pay off the priest's loan in just three years. I also opened a post office, another store in town, and two branch stores in neighboring towns.


I returned to public life, building a medical clinic and a community center that allowed women to speak in meetings.


While collaborating with New Zealand's national government in a program to create Maori farming collectives, I met Bill Cooper, a fellow Maori politician. When my first husband died in 1935, romance blossomed and I moved in with Cooper.


Because I was pregnant with Cooper's child at the time, I was once again ostracized from the community. And once again, I had to slowly rebuild my standing, eventually fundraising for the Maori War Effort Organisation during World War II, donating land to the Catholic church, and serving on my tribe's executive committee from 1946 to 1952.


After Bill Cooper died in 1949, I sought a fresh start in Auckland, where I once again immediately became involved in Maori causes. I joined the first conference of the Maori Women's Welfare League in 1951 and was elected president.


During my time leading the league, I initiated programs to improve housing for Maori immigrants to New Zealand cities, and addressed racial discrimination in housing, employment and health services. The Women's Welfare League was the first nationwide Maori organization, and as such it quickly gained political clout.


I remained involved in local and national politics until 1974, when my failing health led me to declare my public life over.


That vow lasted all of one year, until I was persuaded to be the face of a campaign fighting to preserve Maori ownership of our traditional lands. I was 80 years old and arthritic—yet I led a 60-mile march from the far north of the country to Parliament to deliver a petition signed by 60,000 Maori natives. The march solidified my status as a figurehead among Maori women.


In 1990, I spoke at the opening ceremony of the Auckland Commonwealth Games, reminding my listeners of the purpose of the Treaty of Waitangi—and, indeed, of her own life as an activist: "… so that we could all live as one nation in Aotearoa."


I continued to be active until my death at age 98 in 1994. In my obituary, the British newspaper, The Independent noted, "She defied convention and Maori tradition from an early age, eschewing games with other children to listen to tribal elders debating ownership of land."
Learn about the Maori struggle for equality in New Zealand and see firsthand the progress Whina helped create when you join O.A.T. for Pure New Zealand.