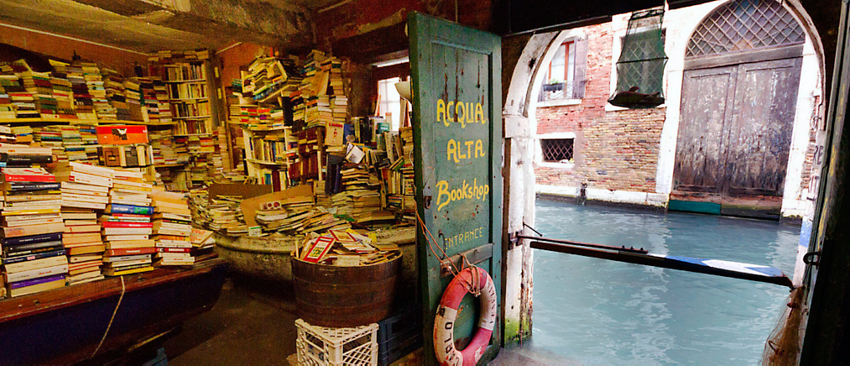 Question: Where in the world will you find a cookbook in a gondola and a dictionary in a bathtub?
Answer: Libraria Acqua Alta, Venice, Italy
Sitting at a mere three feet above sea level, Venice is famed as a city of waterways, with its countless canals as a major draw. But sometimes—in periods known as acqua alta (high waters)—the canals aren't the only waterways. When the water level is high, flooding might turn plazas and alleyways into lakes and rivers. Modest flooding happens about four times a year, with major acqua alta (more than half of Venice under water) every three or four years.
Some people handle this by keeping little of value on the first floor of their homes or businesses and making what they do have easily moved, knowing that they might need to decamp to an upper level on short notice. But not Luigi Frizzi, 76-year-old owner of Libraria Acqua Alta. A world traveler who fathered three children by different women in three countries, he was a rolling stone until he settled down for good in Venice at 40 and became a bookseller. He filled his canal-level shop with hundreds of thousands of books, crammed in with little regard for standard retail display patterns. He says his motto is "think, feel, want," so he designed the bookstore to reflect the experience of being surrounded and embraced by books.
When the shop flooded almost immediately after he opened, the indefatigable Frizzi was inspired, not deterred. He brought in bathtubs, gondolas, canoes, and wash basins to use as stacks. The books remain piled chockablock, but now protected if water flows in. (Even books still on traditional shelves are now perched 12-15 inches off the ground.) Rain or shine, it's a memorable spectacle to see a full-size gondola seemingly sailing up the center of a bookstore while tomes spill out of bathtubs.
Such whimsy is key to the bookstore's success. Frizz's unflagging good humor shows up even in a little sign that points you toward the "fire escape": a door that opens directly onto the canal.
Far the Madding Crowd: 6 Hidden Gems of Venice
The Mad House on the Island: The Isola de San Servolo was the official mental asylum of Venice for 250 years. Once a location of dread to be avoided, it became an institute dedicated to the study of the social stigma and marginalization of those with mental health issues. Now a museum, it has sections with displays on the straightjackets, therapies, and pharmacology of the old days.


The flooded crypt: While Venice's San Zaccaria Church is often visited by people interested in its ornate nave and facade, a small door off to one side in the main hall leads those in the know to a flooded crypt, whose arched pillars and vaults are reflected in water now several feet deep, a scene both eerie and serene.


The Snail Family Staircase: When the Contarini family built its 15th-century palazzo to show off their wealth, they couldn't have expected that one feature would come to define then. The 90-foot spiral staircase of the Palazzo Contarini was nicknamed "the snail" and was so popular it was immortalized in a bird's eye painting of the city from 1500. The family was known ever after as the Contarinis of the Snail.


The Bone Room: You'd hardly think St. Mark's Basilica could be a place to avoid crowds, but it can be if you dart past the nave and enter the Reliquary at St. Mark's, which tourists usually skip. There, gold and crystal vessels filled with the bones of saints are labeled and lined up like the display counter of a morbid high-end jewelry store.


The ancient doctor's arsenal: The Scuola Grande in the Castello district hides a city hospital behind its grand marble façade, but the first floor is also open to visitors seeking to explore its fascinating but unsettling collection of 19th-century (and older) medical instruments used in amputation, trepanation (skull drilling), gynecology, and more.


The skinnier-than-thou street: If you're wider than 20 inches across, even when you suck it in, you'll have to admire but not enter the narrowest street in Venice. Slightly more than a foot-and-a-half wide, the Calletta Varisco makes its nearby peer, the Campiello Albrizzi Sottoportico of Furatola, look palatial at all of 25 inches.
Explore all the gems of Venice and more on our Undiscovered Adriatic: Eastern Italy, Venice, Puglia & Malta Small Ship Adventure.