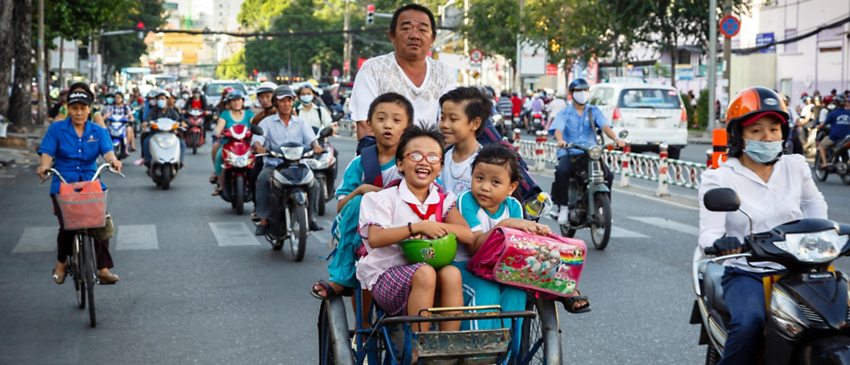 Question: What Vietnamese name became a way to punish your enemies, keep your foes from finding you, announce that you're one of the good guys, and hide that you're a bad guy?
Answer: Nguyễn, the most popular name in Vietnam
The single most common name is Vietnam is Nguyễn. How common? Forty percent of the people have Nguyễn as their surname—and it's not because they're all related. In fact, the shared last name is more likely to signal ancient enemies than distant kin.
The root of the name is actually Chinese, which has versions of it in most of its major dialects (including the Cantonese Yuen and Mandarin Ruan). In the early 13th century, as Vietnam's Ly Dynasty imploded, the new dictator Tran Thu Do made all of his predecessors' family and descendants change their current names to Nguyễn, which made them easy targets. When Tran was deposed, many his loyalists were killed by the next regime, the Ho Dynasty. But when Ho rule in turn collapsed, many Hos—pay attention, now—renamed themselves Nguyễn to blend in with the old Lys so that the Trans couldn't find them and make retribution. Almost two hundred years later, when the Mac Dynasty fell apart, its officials renamed themselves and their families Nguyễn as well to avoid being known as Macs.
Following all that? We're not done. It wasn't until the early 19th century that actual Nguyễns took power, which only got more complicated: their Trinh predecessors all claimed to be Nguyễns for their own safety; the real Nguyễns gifted their name to citizens who they deemed worthy; and criminals started going by Nguyễn as a nomenclature equivalent of being wolves in sheep's clothing. By the dawn of the 20th century, Nguyễn encompassed hundreds of thousands of former Lys, Trans, Hos, Macs, Trins, friend-of-Nguyễns, and fake Nguyễns.
But wait there's (many) more: Nguyễns, Nguyễns Everywhere
Ho Chi Minh was actually a Nguyễn. Born Nguyễn Sinh Cung he changed his name to Nguyễn Tat Thanh followed by Nguyễn Ai Quoc. Ho Chi Minh was his last-adopted, first non-Nguyễn name.
Not only is the current Prime Minister a Nguyễn, but he took over from another Nguyễn who is no relation—and that man served under President Nguyễn.
It's not just in Vietnam. In Asian-friendly Australia, 13% of the population is named Nguyễn and experts estimate that, by the 2050s, it will pass Smith as the most common family name.
It ranks right around 50th of all names in the US and is the most common East Asian name in our country.
It ranks within the top 60 names in countries as diverse as France, Norway, and the Czech Republic.
Genealogy is next to impossible beyond one or two generations if your last name is Nguyễn. To try and track Nguyễn leads not to dead ends, but loose ends—too many threads to follow.
Discover Nguyen country and its many fascinating cultural facets when you join us for Inside Vietnam.