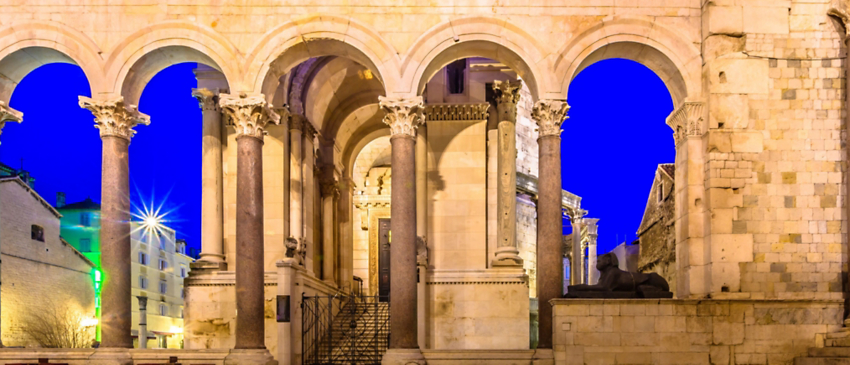 Question: Where in the world did a megalomaniac try to prove he was superior to Egyptians by installing a sphinx?
Answer: Diocletian's Palace, Split, Croatia
Dalmatian-born Diocletian came from humble roots but rose to the greatest level of prominence possible in the third century, becoming Emperor of the Roman Empire. And he didn't get there by making nice. Conquering territory across the Balkans, Persia, and North Africa, he tortured his enemies, put down rebellions, and outlawed practices deemed anti-Roman. He had a bit of a god complex—not so much thinking that he was literally a god himself, but believing that the gods had chosen him to lead.
When he visited Egypt, impressed by the ancient ruins and displays of Pharaonic rule, he found he had some competition. First, the pharaohs also believed themselves to be ruling under divine power, which couldn't be true if he was; second, the growing numbers of Manicheans and Christians not only doubted his spiritual authority but disbelieved the entirety of Roman faith. It became important that he display his own godlike superiority.
He enforced edicts against both religious groups, having their members persecuted terribly. As for Egypt itself, he built forts, increased taxation, denied Alexandria the ability to mint its own currency, and carted away any treasure he wished. While it may not have convinced the locals of his deity, it certainly proved his unchecked power. Back at his palace complex in Split (see below), the spoils were on full display in the form of a dozen sphinxes from the rule of Thutmose II in the 1490s BCE.
Like any mortal, Diocletian didn't live forever, nor did his policies. From the Byzantine era onward, Christianity boomed and eventually became dominant; the sphinxes became a target, not for their foreignness, but because they represented the anti-Christian emperor. Most of the stone creatures were beheaded and some outright destroyed. But one of them remains untouched to this day. Perched so that it rises nine feet off the floor of the peristyle, a lone black granite Sphinx has outlasted not only the pharaohs and Diocletian, but Diocletian's successors, surviving two world wars along the way. It continues to silently greet visitors, perhaps not itself a god, but seemingly immortal.
More Fascinating Facts about Diocletian's Palace
The "palace" isn't a building, it's a sprawling complex of more than 200 structures at the heart of Split's Old Town.


The complex was built as a retirement home for Diocletian that would allow him a key location on the busiest port while also only being four miles from his childhood home of Salona.


The compound was so big because Diocletian needed room for 700: three generations of family, a huge domestic staff, and guards for them all.


Construction began in 295 AD and lasted more than a decade, including after the emperor moved in to the imperial residence, the centerpiece of the complex.


Diocletian's 520-foot by 620-foot residence was constructed primarily of white stone from the island of Brač, and adorned with marble from Italy, Greek columns, and the sphinxes from Egypt.


When it was completed between 305 and 307, the complex boasted residential quarters, three temples, a mausoleum, a combined military fort and prison, the emperor's cabbage patch, the peristyle, and grand public courtyard outlined in stone columns.


Entry to the complex was via one of four imposing gates representing the cardinal points, each made with and named for a different metal: one gold, one bronze, one silver, and one iron.


Despite moving in early, the emperor only enjoyed a decade or so in his palace before dying in 312.


His Roman successors got another 160 years of use out of the complex before Rome fell and the outpost was abandoned and then ransacked.


Over the centuries, new uses for the space emerged: the mausoleum was reconfigured into a Cathedral and the underground chambers became the town dump, while the empty residences became housing for thousands of refugees fleeing regional conflicts.


By the end of the 20th century, Diocletian's Palace had become a thriving miniature city-within-a-city, a UNESCO World Heritage Site full of apartments, cafés, and clubs where people still work and live in the old structures.


In 2006, the city signed off on a plan to drum up revenue by building a mall and parking garage in the midst of the original buildings, but public outcry at this desecration was so great that the city had to abandon the plans.


Today, it is Split's most visited attraction, while still also being a true, living neighborhood, home to 3,000 people.
Walk the emperor's streets when you visit Split during our Cruising the Adriatic: Croatia, Montenegro, Bosnia & Herzegovina Small Ship Adventure.