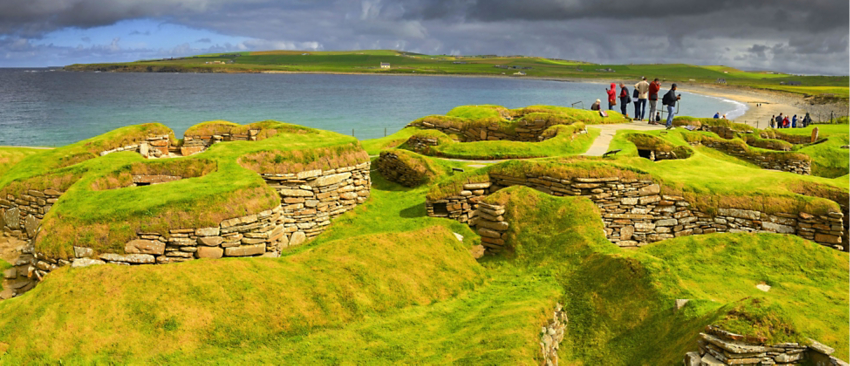 Question: Where in the world is this 5,000-year-old settlement that was quite literally lost to the sands of time?
Answer: Skara Brae in Orkney, Scotland
It was 1850 when a historic storm hit the shores of the Orkney Islands in Scotland. A combination of fierce winds and extremely high tides battered the archipelago, stripping away grass and sand from a large mound at the edge of the sea. What was found underneath would give rich insights into what life was like more than 5,000 years ago.
Want to Learn More About This Destination?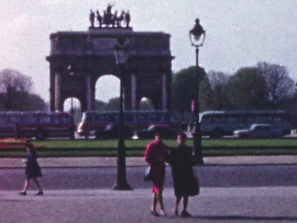 Travelogue: Paris, France and London, England 1957
See 1957 London and Paris through the eyes of an amateur filmmaker as he captures his family's international travels.
Beneath all that sand and dirt turned out to be the most well-preserved Neolithic village in all of Northern Europe—and it may have never been found without that fateful storm. The outline of the stone buildings intrigued a local proprietor who began an excavation of the site. By 1868, the remains of four ancient houses had been unearthed.
Later in 1925, when a sea wall was being built around the remains, even more ancient dwellings were discovered, bringing the total to eight homes linked by a series of covered passages. The sand that covered it for 40 centuries had kept not only the structures intact but also the interior fittings, giving a glimpse into life in Neolithic Orkney.
All of the homes were built of close-fitting stone slabs and contained the same layout. Each residence consists of a large square room, a central fireplace with a stone bed on either side, and a stone-shelved dresser on the opposite wall. Because there are no trees on the island, furniture had to be made from stone, allowing it to survive all these years. A rich array of artifacts were also discovered during excavations including gaming dice, hand tools, pottery, jewelry, and most notably, intricately carved stone objects which may have been used in religious rituals.
The villagers were likely farmers, hunters, and fishermen. No weapons were found at the site and the settlement was not in a readily defended location suggesting the residents most likely lived a peaceful life. It is not certain exactly why the residents abandoned their homes. They may have been forced to leave after a sandstorm engulfed the homes.
Nowhere else in Northern Europe can we see such evidence of how remote ancestors lived. In 1999, Skara Brae was inscribed on the World Heritage List as a part of the Neolithic Orkney World Heritage Sites. This also includes two ceremonial circles known as the Stones of Stenness and the Ring of Brogdar.
Fascinating Facts about the Orkney Islands:
The Orkney Islands consist of 70 islands, only 17 of which are inhabited. About 20,000 people call it home.


Aside from Neolithic ruins, Orkney also has many Viking ruins and cemeteries as well as medieval churches and castles.


Orkney is actually closer to the Arctic Circle than it is to London. It's located at the same latitude as southern Alaska.


This means that in mid-summer, the sun does not set until past 10:00pm with 18 hours of sunlight each day.


15% of the world's seal population can be found in Orkney.


The Orkney Library was founded in 1683 making it the oldest public library in Scotland.


The European Marine Energy Centre is based in Orkney, helping the islands generate more electricity than they need through wind and tidal power.


Greek explorer Pytheas circumnavigated Orkney in 325 B.C.E. and wrote that he had seen the end of the world.


The shortest scheduled airplane ride in the world is between the Orkney Islands of Westray and Papa Westray. The flight is only about one and a half minutes long.
Get a glimpse into life 5,000 years ago when we visit Skara Brae during our New! Maritime Jewels of the British Isles: England, Wales, Northern Ireland & Scotland Small Ship Adventure.