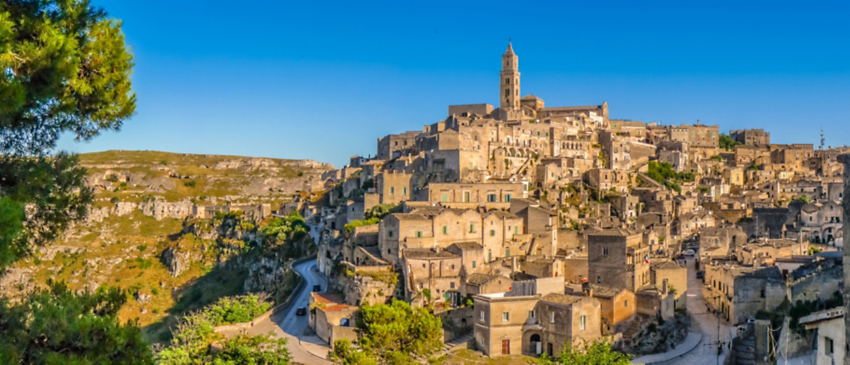 Question: Where in the world do people live in the same houses as their ancestors did 9,000 years ago?
Answer: Sassi di Matera, Italy
In most cities, you look for the signs of early history in the "Old Town." But in Matera, "old" hardly covers it. Its earliest neighborhoods, Sasso Barisano and Sasso Caveoso, have been settled since the Neolithic era, at least 9,000 years ago. Together, they are known as the Sassi (the same name applied to their creators).
Archeological evidence suggests the Sassi people of 7,000 BCE didn't build lodgings; instead, they carved them directly into the tufa rock. Troglodytes (cave dwellers) often capitalized on existing caves, but the Sassi went far beyond ready-made caverns, chiseling out entire neighborhoods, sometimes one atop another, into the slopes of a ravine now called Calle La Gravina. The cave homes were nestled among cisterns, workshops, mills, and storage facilities to care for a population that grew into the tens of thousands across the millennia.
In the mid-20th century, so many people were sharing tiny cave dwellings that conditions were dire. Poverty was rampant and Italian authorities decried the state of the Sassi neighborhoods, eventually forcing most of the residents to move into the "younger" parts of Matera. Nonetheless, some of the residents simply refused to move, citing millennia of occupancy.
The Sassi may have been unloved by the government of that era, but film directors felt otherwise. Cinematic Sassi has appeared onscreen from the 1960s to the present, in films as disparate as Pasolini's Gospel According to St. Matthew and the recent Wonder Woman film. Eventually, Italian authorities warmed up to the idea of Sassi—now a UNESCO Heritage Site—as a destination worth inviting travelers to, instead of one to hide from view.
Today, it is home to houses, chapels, restaurants, bars, and even hotels. Many descendants of those who moved away in the 60s have returned, while a few never left in the first place, keeping the 9,000-year-old chain of family history intact and proving that, for the Sassi, there reality is no place like home.
Beyond the Sassi: 8 More Things Matera is Known For
Matera has a system of underground cisterns—the largest of which holds 1.3 million gallons, is big enough to boat on, and boasts 45-foot-tall ceilings.


Matera's 13th-century cathedral has a 170-foot-tall bell tower, a 16-column rose window, and a Byzantine fresco of the Last Judgment.


San Pietro Barisano, the largest of the rock churches, was built in the 12th century, with "drainage" niches in which the dead were left to decompose, their remains being absorbed into the church.


16th-century Tramontano Castle is an imposing triple-tower manse, better known for its owner—a count who was eventually murdered by the locals because he forced every new bride to sleep with him.


The city loves its crapiata, a humble soup made of beans, chickpeas, wheat, lentils, and water, with only salt for seasoning, still served as it was during the Roman era.


Matera's other culinary claim to fame is its bread, known for its fluffy crumb and its scored golden crust; it is still made with only four ingredients: a yeast base yielded from grapes, milled semolina flour, water, and salt.


The annual festival of Madonna della Bruna involves a parade of the Madonna, shepherds, knights, and an elaborate chariot—which revelers destroy and set ablaze.


In 2019, the city became an officially-designated European Capital of Culture, luring new visitors to discover what they've been missing for 9,000 years.
Visit Matera and explore the Sassi during your Undiscovered Adriatic: Eastern Italy, Venice, Puglia & Malta Small Ship Adventure.