Where in the World?
Posted on 2/20/2018 12:00:00 AM in Travel Trivia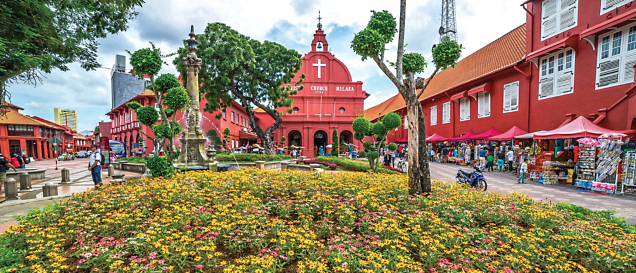 Dutch Square's Christ Church is the oldest functioning Protestant church in all of Malaysia.
Question: In what unexpected location will you find a very British monument completely surrounded by quintessential Dutch architecture?
Answer: Malacca, Malaysia
In a timelessly elegant square, scores of terra cotta-colored buildings adorned with louvered windows and wrought-iron embellishments peer out over the bustling crowds. Clock towers, sculpted topiaries, and cobblestones call to mind a golden age of global trade. The white plaster interiors and heavy dark wood outfitting are dead giveaways that these are 17th- and 18th-century Dutch creations. But the trishaws lined up outside tell a different tale: this is Malaysia.
At the hub of East-West trade routes in centuries past, the Malaysian city of Malacca has long played host to other cultures, including the Portuguese and British. The deepest influence is Dutch, the legacy of the Netherlands' 180 years of rule here from the mid-17th century to the early 19th. The best evidence of this era is Dutch Square, described above, anchored by the imposing red Stadthuys building, which has stood here since 1660.
But the Dutch were not the last to leave their mark. During British rule, a fountain was erected in Dutch Square to honor Queen Victoria. The timing was imprecise—it was meant to honor her jubilee in 1897, but was built in 1904, even though she died in 1901. Still, the styling was impeccably British: interlocking blocks of stone surround an obelisk that rises over a quartet of basins and a circular pool. The inscription claims it was "Erected by the people of Malacca in memory of a great Queen in 1904."
Like all outside empires before it, the United Kingdom eventually relinquished Malaysia, which proclaimed its independence in late summer 1957, when its first Prime Minister chanted, "Merdeka!" ("Freedom!") seven times before a throng of his countrymen.
Sixty years later, Dutch Square is now home to museums dedicated to Malay and Chinese traditions, Islamic heritage, and the city's evolution through history (before and after colonialism). It is the perfect setting to witness the many cultural strands that together make up the fabric of Malaysian life.
5 Places to Discover the Diverse History of Malaysia
An Orang Asli ethnic village in the Cameron Highland valleys: Displaced from their ancient hilltop lands by the British, the indigenous Orang Asli people moved their villages to forested valleys, where they still practice "shifting" cultivation (rotating tracts of land every few years) and pass on how to make traditional blowpipes, bamboo huts, and herbal medicines.


A Chinese "tin town" at Ipoh: When the Malay town of Ipoh was discovered to have tin deposits, it caused a smaller scale version of the gold rush: a Chinese tin rush led largely by ethnic Hakka from southern China. Beginning in the 18th century, Hakka (and Cantonese) miners plumbed the earth for the mineral (which is 25,000 times less common than iron), bringing the nation the wealth that would build much of Kuala Lumpur.


A British entrepôt in Penang: George Town, the first British settlement in East Asia, was an entrepôt—a port where goods were imported, re-sold, and then exported to a new destination. The 640-acre neighborhood, now a UNESCO World Heritage Site, dates back to 1786, and once welcomed notables from Rudyard Kipling to Noel Cowards. Penangites still prefer to call its streets by their original British names, which is why when you stroll down Jalan Masjid Negeri, shopkeepers will assure you you're on Green Lane.


A massive Islamic mosque in Kuala Lumpur: Though Malaysia is officially a secular nation, Islam is the faith of choice for 6 in 10 people here. The National Mosque (Masjid Negara) is a spectacular demonstration of faith. A 210-foot minaret and 48 small domes surround the main hall, where up to 15,000 worshippers may gather beneath a dramatic teal roof shaped like a 16-pointed star.


An American cottage in the Cameron Highlands: In 1976, American ex-pat Jim Thompson left his cottage and entered the realm of mystery. The spy-turned-silk magnate was enjoying a weekend with friends at Moonlight Cottage in the Cameron Highlands, when he went for an afternoon stroll. He never returned. Five hundred people—including policemen, Gurkhas, missionaries, and psychics—searched for 11 days to no avail. As you'll see for yourself, the glamorous American's cottage has remained a destination ever since.
Embrace the rich stew of historic influences and distinct cultures to be found in Malaysia: Kuala Lumpur, Malacca & Penang during a trip extension on our Ancient Kingdoms: Laos, Vietnam & Cambodia adventure.