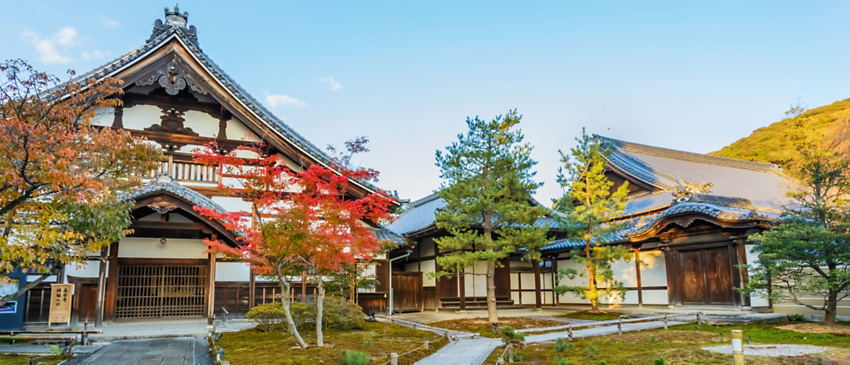 Question: Where in the world did a noblewoman with a "rat" of a husband make a monument to their love that unhappy couples still visit for good luck?
Answer: Kodai-ji Temple in Kyoto, Japan
When young Sugihara Yasuko married samurai Toyotami Hideyoshi, she began a series of evolutions. First, her station rose when he became an Imperial Regent, and then her name changed: she was known informally as Nene and formally by the title Kita-no-Mandokoro. One thing remained steadfast: her devotion to Hideyoshi (whether or not he deserved it).
The daughter of a samurai, she came with connections and an understanding of the politics of the time, both of which her husband relied on. She was known to steer him on policy and was seen as a key player in decision-making, which led to him becoming one of the Three Unifiers of Japan. Her prowess was no secret: when she was 40, the emperor of Japan awarded her the status of Juichii (the highest rank any woman could hold in their society), showing that she had begun to match the acclaim of her husband.
He was, perhaps, the only one not fully appreciating her skills. Though she was technically his favored wife, he groused about her to his concubines. In a letter, Nene's sister Oda once called Hideyoshi "that bald rat" while saying Nene remained "lofty and elegant." (Oda dared her to show him the letter, but history does not record if Nene did.)
Nonetheless, the marriage endured. When Hideyoshi died in 1598, his widow began the work of erecting a temple in his memory to cement his legacy. It took eight years to fund and build Kodai-ji Temple, but when it opened in 1606, funded partly by the first Tokugawa shogun, it was a grand tribute. Nene moved in, determined not to remarry, and instead became a priestess. In so doing, she adopted yet another moniker: Kodai-in Kogetsuni, her dharma name.
Beloved by the populace while she lived, she died at 76. Even then, her evolution continued: she was posthumously named Hikari no Tenshi (Angel of Light). Eventually, the street leading to Kodai-ji was renamed for her. This means that, fittingly, you may only honor her husband by going Nene's way first.
10 Things Not to Miss at Kodai-ji Temple
If you want to honor Nene, visit the Otama-ya, a sanctuary which houses shrines to both wife and husband, including a statue of Nene and a jinbaori (the coat worn atop a samurai's armor) worn by Hideyoshi, woven from gold and silver thread.


The Hojo (or Main Hall), rebuilt in 1912 after a fire, is a serene space, where a large room for devotions opens to reveal a cherry tree, a Zen garden of white gravel that is raked into an array of patterns each year, and the Chokushimon gate to the rest of the complex.


The main garden of Kodai-ji was designed by Kobori Enshu, Japan's all-time most famous landscaper, in a Tsukiyama style with manmade hills, stands of pine and maple, and a pond with an island shaped like a turtle.


A trio of teahouses graces the complex, including Kasatei and Shiguretei, a pair of traditional 16th century houses, and Iho-An, the Cottage of Lingering Fragrance with its unusual large round window.


Kangetsudai, the Moon Viewing Pavilion, was built to frame the image of the moon's reflection on the pond, and boasts a four-pillar construction beneath a Chinese-style gabled cypress bark roof.


At the Temmangu shrine, a statue of Tenman-Tenjin honors Nene's favorite deity, the Shinto god of learning, and it is said that if you circle it three times, your bad fortunes are erased.


The nearby Temmangu Ox statue is a messenger to the gods, so visitors with an illness or wound touch the corresponding part of the ox to ask for healing.


A newer addition is a pair of stylized statues of Nene and her husband; if married couples in distress rub both statues, it is supposed to bring them peace and happiness.
Witness the beauty of Kyoto and perhaps visit Nene's masterpiece in your free time during your Japan's Cultural Treasures adventure.