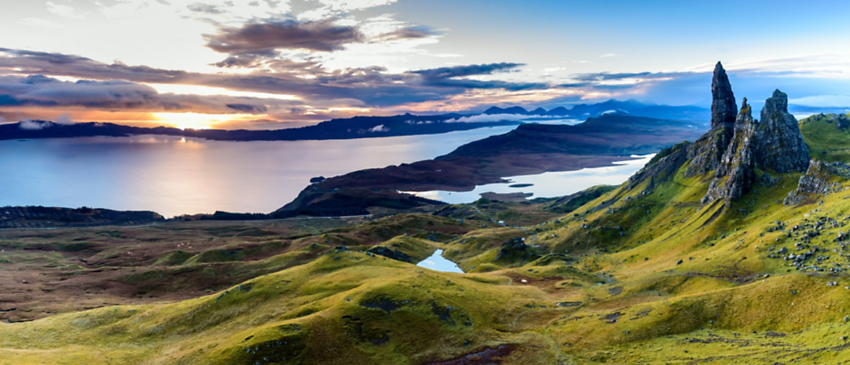 Question: Where in the world did a giant and a "brownie" build a friendship so deep it changed the landscape?
Answer: Isle of Skye, Scotland
One of the most dramatic features of the Isle of Skye is the Old Man of Storr, a dramatic rock pinnacle jutting up from the green landscape with smaller outcroppings at its side. Some travel materials suggest it got its name from resembling an old man's face, but it takes a pretty vivid imagination to see human features in this tableau. And any local will tell you humans had nothing to do with it.
In Isle of Sky tradition, their island was once home to giants and an array of fairies, including mischievous brownies. Brownies (pronounced Broonies) were friendly house elf goblins, dedicated to the families whose homes they shared. They could play tricks (perhaps moving objects around) but never harmed their families and often did chores and favors for them.
A Skye villager named O'Sheen is said to have saved the life of a brownie who then followed him home, doting on O'Sheen and his wife. After many years, O'Sheen's wife died, and O'Sheen was bereft. He soon joined her, dying of a broken heart, leaving the brownie alone for the first time in many years. The brownie, it is said, needed to pour his own grief into action, and chiseled a monument to O'Sheen from rock on the hillside, and then made a smaller rock monument to Mrs. O'Sheen to one side. The brownie vanished and the legend doesn't say where he went, but his quite visible handiwork became The Old Man of Storr, the most famous landmark on the Isle.
True or False: Which of These 10 Isle of Skye Facts Are Real?
There is a working whiskey distillery so old that Robert Louis Stevenson wrote about it a poem.
Munro-baggers are people who climb all eight of the peaks over 3,000 feet on the island.
"Bonnie Prince Charlie" came to Skye in drag.
You are never more than 10 miles from the coastline at any point in the Isle's 80-mile length.
Dunvegan Castle is the oldest continually occupied house in Scotland.
The temperature never varies by more than 40 degrees year-round.
Half the residents of Skye speak Gaelic.
You can see dinosaur footprints on the coastline.
Locals have been catching ferry rides here for 400 years.
The famous Skye Bridge stopped charging tolls once it had collected enough to pay for itself.
Answers
True. Talisker, the only distillery on Skye, is immortalized in a poem from Stevenson's Underwoods.
Half-true. There are actually 12 "munros" (as 3,000-foot peaks are called) and munro-baggers aim to climb them all.
True. He dressed as a serving maid to flee from Uist to Skye undetected.
Technically true. That underplays the truth, as you are actually never more than 5 miles from the coast, due to the deeply indented shape of the island.
True. Home to the MacLeod clan, it has been occupied for 12 centuries.
False. But the truth is also pretty temperate: the temperature has never been lower than the 20s or higher than 80s.
False. In the 1970's as many as 75% of locals spoke Gaelic, but now it is down to 1 in 3.
True. At Staffin, very clear dinosaur footprints are visible in the rocks when the tide is out.
True. Ferries were once the only way to access the nearest islands and started running in the 1600s.
Half-true. The Skye Bridge stopped charging tolls only once the public found out it was raking in 10 times its annual operating costs in tolls and could have paid itself off many years before.
Discover the storied Isle of Skye yourself during The Hebrides: The Isles of Skye, Harris & Lewis pre-trip extension of O.A.T.'s New! Scotland's Legends & Lochs: From Glasgow to Edinburgh adventure.