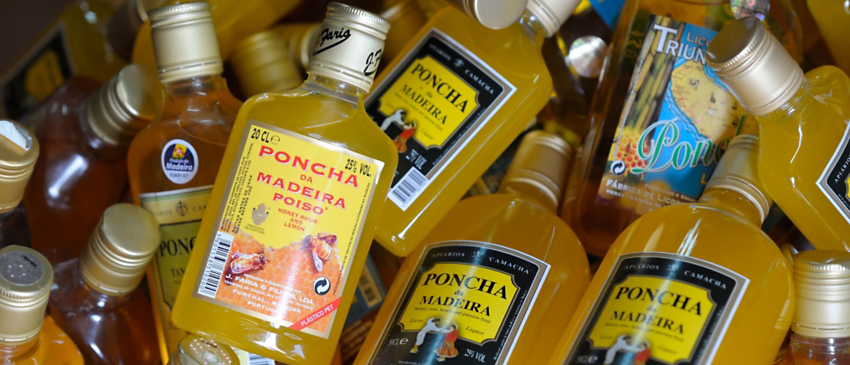 Question: What fisherman's cold remedy—championed by the British and inspired by India—became the hottest cocktail in town?
Answer: Poncha, the beloved cocktail of Madeira
What's a poor fisherman to do? In 18th century Madeira, Portugal, fishing was a hard way of life: the men barely earned enough to get by and taking the day off was not an option, even if one had a cold or the flu. British mariners offered up a little tip they had picked up in their travels: mix honey and lemon with alcohol and the result was tonic that helped soothe throats, clear up lungs, and fight seasickness. They said they'd gotten the idea from India, where a similar drink (with water and spices added) was called panch.
The remedy caught on for fisherman trying to steady themselves for a day at sea, and soon spread outward to the general population as poncha. The original British-influenced concoction used brandy, but Madeirans replaced it with their local Aguardente de Cana, sugar cane rum. This version of poncha became popular as a cocktail with dinner—no longer just a humble medicine. Just as the original idea arrived by sea, poncha cruised along with Portuguese sailors to find fame in Brazil, inspiring the drink known as the Caipirinha.
Today, adapted into a dozen varieties (the original now known as regional), poncha remains the signature Madeira cocktail, poured as often in fancy restaurants as in humble fishing villages.
5 More Madeiran Delights
Madeira's most famous cake is sometimes erroneously translated as "honey cake," but bolo del mel de cana is actually sweetened with sugar cane molasses. Instantly recognizable for the dark color given by the molasses and its circular shape, it is dense and flavorful.
Molasses plays a role again in Broa de mel, treats that boast the cinnamon and nutmeg warmth of a spice cookie, but the crispy lightness of a cracker. They're eaten year round, which is made easier by the fact that these broas last for months.
Bolo de caco is Madeira's bread and butter—specifically, its unleavened wheat bread slathered with melted garlic butter. You can eat it just that way or as a sandwich stuffed with octopus, fried fish, or meat. It takes its name from the basalt slab (caco) on which is it baked.
Imagine a stretched-out green pineapple that tastes like a banana, and you get a hint of what Split Leaf Philodendron fruit is like. It is commonly known as the banana-pineapple though it is neither. Its Latin name might be closer to the truth: monstera deliciosa (delicious monster).
Since 1872, poncha's biggest rival for claim to local fame has been Coral, a lager that is a little darker than the mainland Portuguese beers. Served in a "balloon glass," it tastes like it's going to do you in, but it's actually only 5% alcohol by volume, so you can enjoy raising a second glass to toast your first!