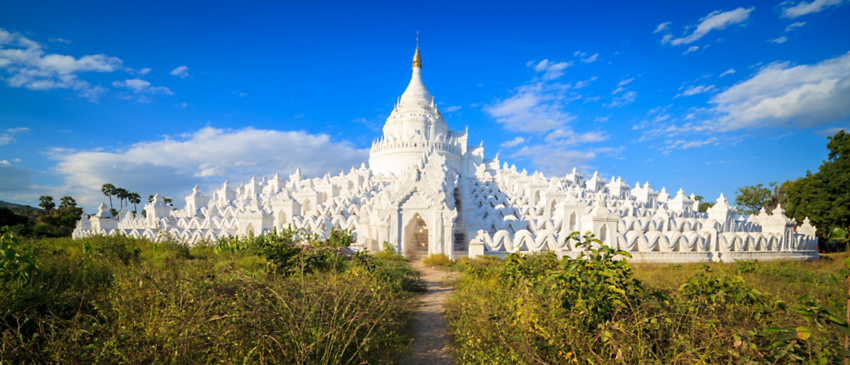 Question: What serene tribute to a lost princess has been causing heated arguments among architects for 200 years?
Answer: Hsibyume Pagoda, Mingun, Burma
When Princess Hsinbyume died in childbirth in 1812, Burmese King Bagyidaw was heartbroken. He was determined to honor her memory with a pagoda unlike any other in Burma, and he set about building it in Mingun, on the shores of the Irrawaddy River. When it opened it 1816, it made a splash for its beauty. But what the King was going for has been up for debate ever since.
Traditional Burmese temples use Buddhist architectural principles, with narrow multi-tiered central chambers rising high. The Hsinbyume Pagoda does rise several stories, but its greatest visual impact is in the way its base spreads out in gorgeous, flowing layers. The question dividing critics is what that's supposed to represent.
The dominant camp argues that the architecture mirrors mountain ranges. Noting that the central part of the pagoda is supposed to be Mount Meru, the most sacred place in Buddhist and Hindu tradition, the concentric terraces of the pagoda would then represent the seven mountains that flank the holy peak. Others argue that these are actually waves, which they more clearly resemble, and are seven in number only because that is a sacred symbol in Buddhist cosmology. A third camp says it is neither: it's simply a replica of a pagoda that was said to exist on the actual Mount Meru in the Himalayas.
Whatever its design is meant to evoke, its function has been inarguable. For over 200 years, locals have come here to light incense and leaving offerings, paying homage to their own lost loved ones and ancestors, just like King envisioned.
7 More Things You'll See in Mingun
Nicknamed "the world's biggest pile of bricks," the Pahtodawgyi Pagoda began to rise in 1790, but a prophecy that its completion would cause the collapse of Burma halted progress. The King who ordered it died before it was finished and an 1839 earthquake sealed the deal. But as ruins go, at 150 feet, it's pretty spectacular even now.


The pagoda was unfinished, but the King's plan for the world's biggest working bell came to fruition: the 90-ton monster sits by the riverbank and still resounds when struck.


Need a Mingun taxi? Look for a bull. Driven by locals, these bull carts are definitely life in the slow lane, and it's a fun way to take a load off your feet.


What appears to be a pair of rounded, towering rock formations are actually man-made: the giant feet of Chinthe lions (deities that guard temples). They were never finished, but were supposed to rise nearly a hundred feet high.


If you see a group of boys forming a circle, they are likely to be playing a game of chinlone, in which they pass a wicker ball from player to player as fast as they can, using any body part except hands. (If you've ever played hacky sack, you could probably keep up!)


For some Burmese artists, Mingun was both home and muse, so you'll find art galleries and amateur painting shops here, spanning everything from watercolors to abstract art to puppet-making. Maybe you'll bring home a masterpiece.


Because the Irrawaddy is the highway for local commerce, you might see floating traffic jams, as pleasure boats vie for space with vendors carrying teak, bamboo, and ceramics. And when the current isn't cooperating, you'll even see people walking onshore attached to ropes that pull their boats along in the water.
Witness the creative marvels and religious treasures of Burma yourself when you join O.A.T. to explore Burma, Land of Golden Temples & Floating Gardens.