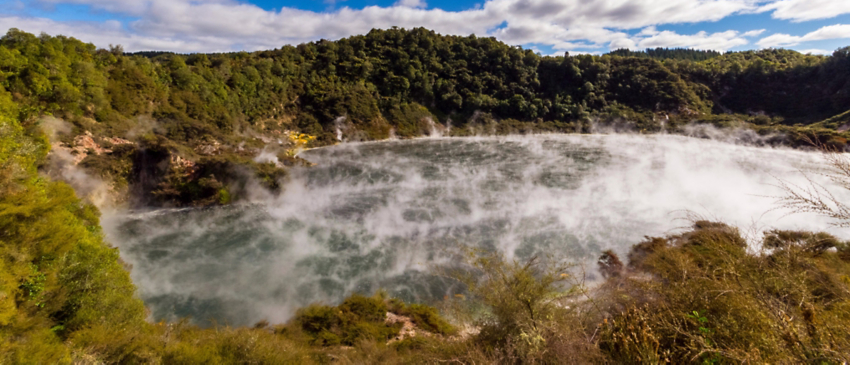 Question: Where on earth can you find one sister pretending to be boiling while the other hides that she's blowing her top?
Answer: Frying Pan Lake and Inferno Crater Lake, Waimangu Valley, New Zealand
When Mount Tarawera erupted in dramatic fashion in 1886, it opened up a series of craters strung like pearls along an 11-mile strand of the Waimangu Valley. Echo Crater was the largest, flooded partly with heated water from the earth and partly with rainwater. 21 years later, an eruption inside the crater itself flooded it with steaming water from the hot springs below, yielding the 9-acre Frying Pan Lake, so named because of its permanently steaming waters.
Despite becoming a tourist attraction almost instantly, Frying Pan Lake guarded its secrets closely. Beneath clouds of constant steam, the lake appears to be boiling—but that's just sleight of hand on the part of Mother Nature. The illusion comes from the hydrogen sulfide and carbon dioxide roiling the surface; the water temperature "only" rises to 140 degrees, well shy of boiling (212 degrees).
Even so, 140 degrees is hot enough to cause second degree burns on contact and completely overcome human pain receptors in seconds. As a result, no one dared to enter the water to take proper measurements. It wasn't until the 1970s that researchers plied the lake in a specially-designed heat-resistant wooden boat (with no metals) and finally conducted a bathymetric sounding, which is the formal way to measure the depth of bodies of water. To the surprise of most, the lake was actually quite shallow overall, dipping only 16-20 feet in most places. (Its deepest spot is only 60 feet.)
Despite cultivating an air of mystery, Echo Crater isn't the only feature that fools the eye at Waimangu; its sister, Inferno Crater Lake, is home to the world's largest geyser—you just can't see it, as it is fuming beneath the surface.
Power Sisters: The Ebb & Flow of Waimangu's Wonders
Frying Pan Lake and Inferno Crater Lake are linked by an interconnected hydrothermal system not replicated anywhere else on earth.


The levels of the lakes rise and fall in a complex pattern of advances and retreats of varying lengths; the entire pattern takes 38 days to complete and then starts over.


Scientists began studying the cycle in the 1970s and have discerned four phases: one lake begins filling over an 8-day period; then it oscillates between rising and falling for several days, right until it hits overflow stage; it overflows for more than two days, discharging water back into system it shares; and then becomes shallower for two weeks until it's ready to rise again.


While the rising and falling water level can be seen at Frying Pan Lake, this cycle is most obvious at Inferno Crater, where the difference between a low period and a high period is 39 feet.


When water rises at Frying Pan Lake, it is also getting progressively hotter; in tandem, the temperatures cool at Inferno Crater Lake.


The depth of the water in each lake changes its color: the lower it is, the more grey, as it is closer to the silica deposits; the higher it is, the more blue, reflecting the sky overhead.


The Waimangu hydrothermal system may be too hot for humans to enjoy, but it is perfect for thermophiles: heat-seeking organisms that have been around longer than either lake—since just about the dawn of life on earth.
Witness the beauty and power of both sisters when you join us for our Enhanced! A South Pacific Odyssey: Australia, the Outback & New Zealandadventure.