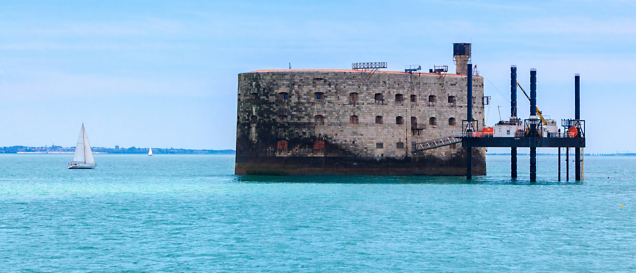 Question: Where in the world does a fort without land guard the coast with no weapons?
Answer: Fort Boyard, Western France
Louis XIV had a vision: he would oversee an unbroken chain of coastal forts protecting the straits of Pertuis d'Antioche. His problem was that the distance between the forts on the isles Aix and Oléro was so great, that the reach of their artillery couldn't quite cover the straits in their entirety. He needed a fort at the midway point, on the banks of Boyard, and hired an engineer to plan it.
By 1692, the engineer gave up, saying the physical geography made the quest all but impossible (and insanely expensive). His exact words: "Your Majesty, it would be easier to seize the moon with your teeth than to attempt such an undertaking in such a place." Sixty-five years later—after the British did indeed get through—the French tried again … and once more gave up.
It took a crew hired by Napoleon in 1800 to move things along. First, they built a whole town at Boyard just for workers. Then they erected a man-made promontory off the coast, piling up stones to yield a foundation where none had been possible. Even then, on-again-off-again construction slowed the process, which didn't yield a finished fort until 1857.
Shaped like a capsule, it was something to behold. Sheer 66-foot walls ran the entire length of its 223 feet, which was more than twice its width. The fort boasted gun casements and portals for mortars—which it never used. By the time it was built, weaponry had advanced so much that there was no longer any gap in coverage; the original forts on either side were more than sufficient to stave off the British without Fort Boyard.
Instead of serving as a defensive site, it became a military prison and then was abandoned. With the passage of time, erosion and a lack of maintenance erased the visible base and connections to land. Now the fort appears to be floating, purposeless, on a sea no one is contesting.
They Said It Couldn't Be Done: 5 Engineering Marvels of Europe
London Eye: When the idea of building the world's tallest Ferris wheel on London's south bank was floated, there was some hesitation. No one had ever built a wheel rising more than 400 feet. The south bank had to be re-engineered and shored up, and the wheel's parts had to be floated down the Thames. But the spectacular result—more than 443 feet high and able to carry the same number of passengers as 11 double decker buses at once—has now welcomed more than 50 million riders. (It is, alas, no longer tallest.)


Mont Saint-Michel: Why would you build a fort you couldn't access most of the time? Because once your own troops were in place, any attackers would be in the same predicament. Mont St. Michel's monastery and fort are perched high over the water, and the only way to reach either is to land at low tide, which does not last long here. If would-be invaders did pull that off, they faced a 900-step climb to the summit, more than enough time for defenders to repel them.


Tour de la Chaîne (Tower of the Chain): Let's say you want to close off a harbor, but not permanently, and thus be able to re-open it every day. You can't install a permanent barrier and it would be unwieldy to move a flotilla in place every evening. In La Rochelle, France, someone had the crazy idea of roping the harbor off at sunset. That's just what they did, with a massive specially-designed iron chain that stretched from the existing Tour St. Nicholas on one shore to a new tower on the opposite. Built in the 14th century, Tour de la Chaîne housed the mighty retractable strand, and was manned by a captain whose primary job was to spool out and coil in the chain each day.


Grosse Cloche (Big Bell) of Bordeaux: When Bordeaux decided to cast a new bell that would hang in the belfry atop 13th-century Porte Saint-Éloi, they wanted a statement piece. The original bell had been such a symbol of the town that the King of France once took it away to punish them. In 1775, the town went big with the 17,000-pound Gross Cloche, inscribed with the Latin words for "I ring the hours and my voice is a call to arms … I sing for happy events and weep for the dead." But they hadn't contemplated how its combined great weight and thin design put it at higher risk of cracking. As a result, they don't dare use it often. It is rung only five holidays a year and on the first Sunday of each month.


The Tower of Hercules: Overlooking the harbor at La Coruña, Spain, the Tower of Hercules was meant to be imposing but it wasn't supposed to a record-breaker. Perched atop a rocky 150-foot hill, the austere-looking 1st century Roman Tower was 112 feet tall. It became so important as a lighthouse—both practically, for sailors, and as an icon for the city—that when it was renovated in 1791, the architect added 70 feet to its height. It is now the oldest continually working Roman lighthouse on earth, and a UNESCO World Heritage Site.
See all these gems of Western Europe and more aboard the M/V Corinthian during our Spain's Northern Coast and the Bay of Biscay Small Ship Adventure.