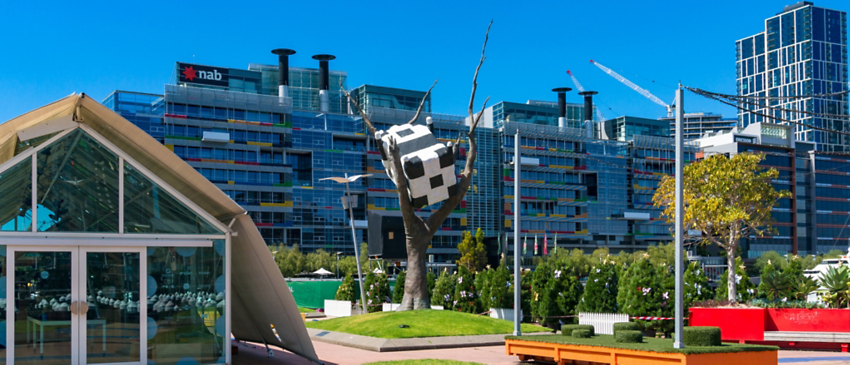 Question: Where in the world would you look to a drowned cow for hope?
Answer: Melbourne, Australia
Australia's John Kelly is a contemporary artist who has made waves on the international stage, with sculptures displayed on the Champs Élysées and featured in Monte Carlo. While his reputation may be serious, his subject matter is not: he loves cows. His most famous work outside Australia was "Three Cows in a Pile," which has been showcased alongside pieces by Keith Haring and Jeff Koons. But ask any of his countrymen what he's best known for and the answer is Melbourne's iconic "Cow up a Tree."
Talk about truth in advertising. The four-ton painted bronze sculpture features a cow, flipped upon its back, stranded in the branches of a gum tree. Before it was permanently installed by the waterfront in Melbourne, it was displayed in Paris and The Hague, a testament to Kelly's acclaim. But visitors in those settings had no way of knowing that it was not an example of absurdist art or surrealism, but a whimsical take on Australia's past.
"Cows up a Tree" acknowledges the long history of flooding in Australia, where sudden fast-moving water on dry earth can result in stunning sights like animals, furniture, and even vehicles lodged in the country's famed gum trees. That might sound like a dark subject for art, but Kelly, ever a jokester, is also paying tribute to one of his artist predecessors, a man whose work was a little less successful.
Artist Sir William Dobell was hired by the government during World War II for the express purpose of camouflaging airfields. One of his ideas was to make life-sized papier-mâché cows that were sprinkled about near airstrips to fool Japanese pilots into believing they were seeing farms and pastures. It didn't work and became a source of national humor.
By mixing a lighthearted example of failure with a symbol of tragedy, Kelly means to symbolize that Aussies can't be held down—and that the sense of humor for which they are well known is a key to their resilience.
6 More Only-in-Melbourne Sites
The tower that's wrapped in a cone: Coop's Shot Tower (211 La Trobe St), once the city's tallest structure, used to make shotgun shells by dropping molten metal 164 feet from its top level into pools of water. Though the bullet-making ceased decades ago, the 1888 landmark was preserved by building an even taller glass-and-metal cone around the tower. It's striking both outside and inside.


Giants that act like cuckoos: In the Royal Arcade (335 Bourke Street), the hour is marked not by birds chirping "cuckoo!" but by the awakening of Gog and Magog, mythic giants who bang mighty bells near them. The seven-foot-tall wooden giants flank Gaunt's Clock, named for the builder who paid for the display, thinking the giants would be good advertising.


The monster that doesn't know what he is: When you visit the State Library Victoria (328 Swanston St), you are greeted by a cheerful looking Bunyip, a swamp creature of Aboriginal legend, which no one can accurately describe. The beloved metal statue depicts the version from a classic children's book in which the bunyip, in an existential crisis, asks, "What am I?"


The loo with a view: What city but Melbourne would boast that the best view is from a bathroom? Tourists and locals alike enter the Sofitel (25 Collins Street) and ride the elevator to the 35th floor to the (very elegant) public restrooms and powder room. Floor-to-ceiling windows overlook the Royal Botanic Gardens, the Dandenong mountain range, and all the way to sea.


The cabinet of curiosities that sells cabinets of curiosity: Wunderkammers (curiosity cabinets stuffed with objects unexplained, rare, or simply bizarre) were all the rage in the 16th and 17th centuries. Melbourne's Wunderkammer shop (439 Lonsdale St) lets you feel like you have stepped inside one, as you find yourself surrounded by skeletons, butterflies, unhatched crocodiles, meteorites, ostrich eggs, and more.


The runny nose called a brain: RMIT (Melbourne's biggest tech university) prides itself on distinct buildings, but some say it overshot with the Green Brain (RMIT 22, corner of Swanston and La Trobe). The red brick building is topped with a bubbling morass of vivid emerald molding. It is supposed to invoke intelligence and eco-friendly designs, but students call it The Snot Building.
Explore the quirky and memorable delights "Down Under" on our Ultimate Australia adventure.