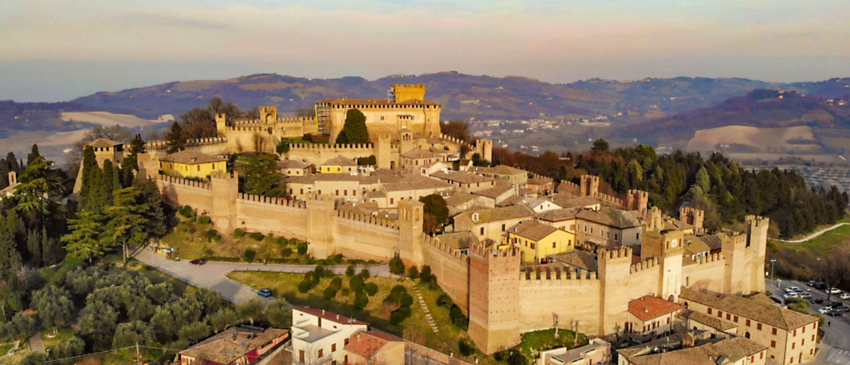 Question: Where in the world did a "family destroyer" fill a castle with the bodies of his own relatives?
Answer: Gradara Castle, Republic of San Marino
A short drive out of San Marino (see below) and into Italy's Marche region, Gradara Castle rises nearly 500 feet above sea level. With its stone towers and a double ring of protective walls (the larger one a half-mile long), it makes a dramatic visual impression. What you can't see at a glance is all the drama that happened on the inside.
For 200 years, the medieval fort-turned-castle was the home of the Malatestas, a family named for their bad attitude (Malatesta meaning "bad head"). When the patriarch Pandolfo died at the turn of the 14th century, his grandsons by three different fathers were all keen on ruling the clan instead of each just inheriting one part of the dynasty. His will urged peace among Malatesta II, Ferrantino, and Ramberto, but it was not to be.
Ramberto threw a big party when Malatesta II was away, then imprisoned Ferrantino who had come as a guest, only to be thwarted when the local people protested. After Malatesta II returned, he invited Ramberto to come to the castle for a hunting party as a truce between cousins, then stabbed him in the neck when Ramberto tried to apologize. Malatesta II moved on to Ferrantino next, capturing him and locking him up in the castle. If that wasn't enough, he dispatched his men to find and murder one of Ferrantino's sons.
Surprisingly, the cousins seemed to have made peace and Ferrantino was again freed. But as Malatesta II aged, now known to the locals as Guastafamiglia ("the family destroyer"), pro-Ferrantino sentiment rose; just to be safe, Malatesta II had his cousin's grandson also killed. Gradara's repute for blood was so widespread that Dante used it as inspiration for the tragic end that befalls Paolo and Francesca in The Divine Comedy. "The Family Destroyer" certainly lived up to his reputation: he ordered the deaths of at least three generations of his family before he himself succumbed to old age.
Singular San Marino: 10 Things You Didn't Know About the Republic
With first walls built in 257 and an independent commune established in 301, San Marino is the oldest existing sovereign state and constitutional republic.
It is one of only three countries on earth entirely surrounded by another country (along with Lesotho and Vatican City).
U.S. President Abraham Lincoln was an honorary citizen of San Marino and called it "secure and enduring."
The world's first democratically-elected communist government was voted into power here in 1945.
There are two heads of state (known as captains regent) at a time, serving only six-months terms.
San Marino has had more female heads of state than any other country, 23 in total, three of them holding the position twice.
No goods are allowed to be imported directly to San Marino; all must pass through Italy first.
San Marino cannot print its own currency and must use Italy's mint instead, though both use the euro.
Despite regular attendance, San Marino athletes have never won an Olympic medal.
Tax law in San Marino allows citizens to steer .3% of their income tax to charities or the Catholic Church instead of the government.
Explore San Marino and Italy on included tours and in free time during your Undiscovered Adriatic: Eastern Italy, Venice, Puglia & Malta Small Ship Adventure.