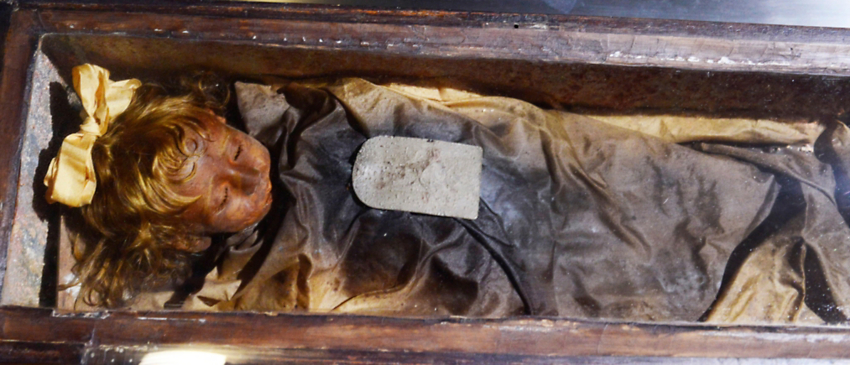 Question: Where on earth does the "most beautiful mummy in the world" bat her eyelashes at you?
Answer: Capuchin Catacombs of Palermo, Italy
Without a doubt, the most popular girl in Palermo is Rosalia Lombardo. Thousands of people each year line up in the Capuchin Catacombs to take pictures of the blinking, blue-eyed blonde whose signature silk bow makes her look like a beauty from another era … which she is. She died in 1920.
What's that, you say? Did you read the word "blinking" wrong? Nope. Though she rested her eyes in eternal slumber nearly a hundred years ago, the so-called Sleeping Beauty of Palermo continues to open and close them today.
Part boneyard, part chapel, the Capuchin Catacombs are full of creepy things. In some chambers, every spare inch of space is lined with limbs and studded with skulls. But nothing beats little Rosalia when it comes to evoking shudders and sighs.
Rosalia died of pneumonia at age two and her grieving father wanted her enshrined in the famous catacombs. But he didn't want her to look like the other mummies. He hired taxidermist Alfredo Salafia and begged him to find a way to keep his child looking truly like herself for eternity.
We're only 97 years in, but it seems like Salafia delivered. Using glycerin to keep her organs intact and zinc salts to keep her features from collapsing, Salafia captured a girl seemingly in slumber, not death. Her glass coffin is saturated with nitrogen to keep any hint of decomposition at bay. Even now, her cheeks remain plump and touched with color, and long lashes frame her eyes as they, yes, open and close.
Science tells us that the fluttering motion reflects changes in room temperature and humidity, but some think there is magic involved and others declare her an angel. Who can say for sure? Unlike her eyes, Rosalia's lips are sealed.
Fascinating Facts about the Catacombs of the Capuchins
The catacombs were originally a cemetery for the monks as they died. In the early 16th century, monks were buried in a mass communal grave beneath the altar of St. Anne.


At the turn of the 17th century, a bigger cemetery was needed, so two underground caves were readied, and it was decided to inter the original monks there as well.


To everyone's surprise, 45 friars were found mummified in the original: not only had they not decomposed, their faces retained recognizable features.


To honor this seeming miracle, the friars were not re-buried but instead displayed in niches along the walls of the entry to the new cemetery.


Word spread and soon laypeople were begging to be interred in the catacombs as well, perhaps hoping for a touch of the miraculous in their own afterlives. But this meant now the monks had to practice intentional mummification by natural methods.


Bodies were placed atop terracotta tubes for draining, and then shut up for year in a chamber called the colatoio, with dry air and low humidity. Their bodies eventually looked leathery and stiff, human but ghoulish.


For 200 years, the wealthy gained rights to be buried there by making generous donations. During that period, having one's bones decorate the caves was literally the ultimate status symbol.


During plagues, when more bodies appeared in rapid succession, the friars used a faster method of arsenic baths. This was considered second-best at the time, but in the end yielded better-preserved mummies.


Soon, the tombs could hold no more. They were closed in 1880, with only two exceptions this century: a U.S. Vice-Consul and, the very last, little Rosalia.
You might visit Rosalia—if you dare—during free time on O.A.T.'s Sicily's Ancient Landscapes & Timeless Traditions adventure.