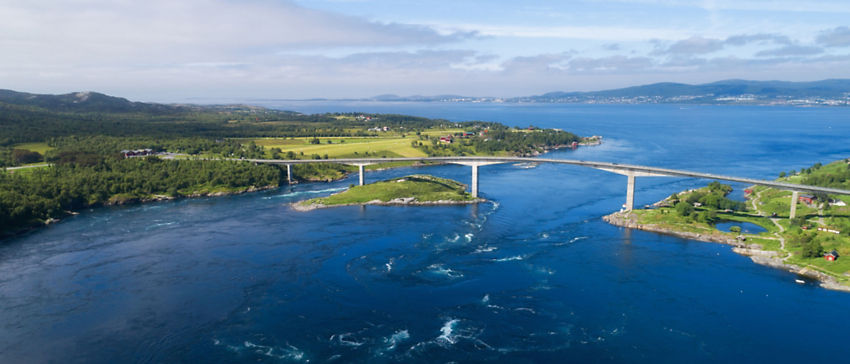 Question: Which sometimes placid, sometimes monstrous whirlpool acts like the Hoover Dam four times a day?
Answer: Saltstraumen near Bodo, Norway
Less than two miles long and only 500 feet wide, the Saltstraumen Strait doesn't always look like a monster. When the strait, which lies just south of Bodo in Nordland, is calm, boats glide along its surface and the waters become a plankton dinner buffet for colonies of sea gulls. But four times a day, it drops its gentle façade and assumes a more aggressive demeanor.
The strait is composed of typically gentle whirlpools that get forced together by the tides, and when they coalesce, it's a sight to behold—from a safe distance. At its peak (especially during a full moon) the current pushes one billion gallons of seawater (the daily output of the Hoover Dam) through the channel at 60 miles per hour. The resulting Saltstraumen Maelstrom is one of a series of Norwegian vortexes so powerful that Edgar Allen Poe crafted one of his dark tales around the phenomena.
In his story, a mountaineer meets an old man in Norway only to discover that the stranger is not old at all—he just looks that way because he has lived through a maelstrom. He was aboard a boat with his two brothers when they got caught in the whirlpool's grip. One drowned immediately and another went mad staring into the gaping maw of water. The "old" man says he recognized the beauty amid the horror and clung to a barrel as it rode the whirling waves until the maelstrom subsided. He went ashore alive, but was instantly white-haired and aged from the fear.
Visitors today tend to take in the view of Saltstraumen from the shore, from above on a bridge by the same name as the strait, or from a boat during Saltstraumen's quieter moments. What many may not know is that "maelstrom," now the common term for whirlpools of this magnitude, was a Norwegian word that the most of the world didn't know until Poe's tale, which ironically ends with the old man saying he knows the reader won't believe him.
11 More Fascinating Facts About Bodo
Bodo is the largest town in Nordland, sprawling across 539 square miles.


In the early 19th century, when the nation was still in Sweden-Norway, illegal English trading got special treatment from the Stockholm-based government in "the Bodo Affair" scandal, leading to a permanent distrust of the Swedes.


In 1908, Fram Kino, Norway's first-ever cinema, opened its doors in Bodo—and it's still open.


Luftwaffe bombing destroyed more than half of Bodo's homes in a single night in 1940; amid the rebuilding, the Swedish government built 107 new apartments in one cluster, which today are called Swedish Town.


Because of its peninsular position, jutting into the Norwegian Sea, Bodo is one of the nation's windiest cities, which results in there rarely being snow cover in the city proper, despite its proximity to the Arctic Circle.


It is comparative mildness has only been exacerbated by climate change: There has been no overnight frost since 1981.


Despite its remove from more metropolitan areas, Bodo is the location of the only Norwegian police academy outside Oslo.


The oldest building in continual use is Bodin Church, built in 1240, and still housing elements from the 14th to 18th centuries.


Modern Bodo is known for its street art, including building-sized murals, many of them painted by international artists.


Beer culture has become prominent in Bodo through several local breweries, including Hundholm Brygghus, which makes up to 4,000 gallons of beer per day, and is hang-out for locals and visitors alike.


Old and new Bodo come together at Melkebaren, a coffee shop that promotes albums of local bands and serves traditional mosbromslefse, a regional specialty of crepes, brown cheese, and cream filling.
Discover the majesty of Saltstraumen and the quaint charms of Bodo during your Fjord Cruise & Lapland: Norway, Finland & the Arctic Small Ship Adventure.