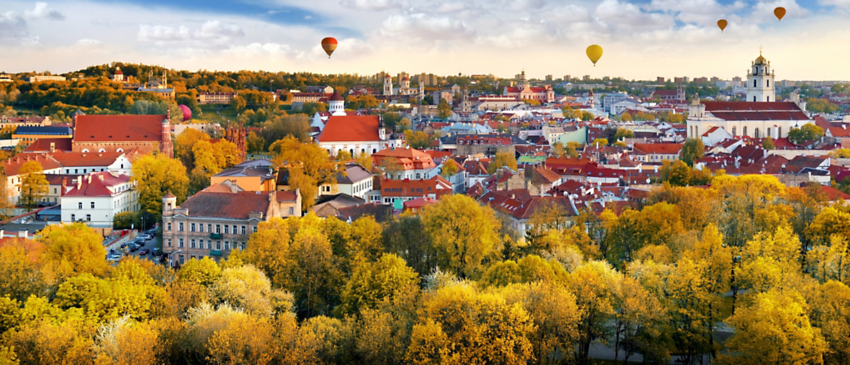 Question: Where in the world is this city best known for its Baroque buildings, a hot-air ballooning hobby, and not being well-known at all?
Answer: Vilnius, Lithuania
With a labyrinth of cobblestone streets and Baroque buildings, Vilnius may be relatively unknown among its more famous European neighbors, but once visited, the dreamy medieval town certainly won't be forgotten. The city pokes fun at its own obscurity with its new slogan, "amazing, wherever you think it is," and while few know more than its name and approximate location, the city is a must-see for its significant influence on the culture and architecture of eastern Europe.
The capital and largest city in the Baltic State of Lithuania, Vilnius is located in the country's southeast corner, bordered by Latvia and Russia. Since the 13th century, the city has been shared by Catholics, Jews, Protestants, Muslims, and more who sought a peaceful life, bringing their art, culture, and cuisine along with them. In the 14th century, Lithuania was the largest country in Europe, and in the 16th and 17th centuries, it was the capital of Europe's then-largest empire, the Polish-Lithuanian Commonwealth. Later joining the Russian Empire and the Soviet Union following World War II, Lithuania finally gained independence in 1991.
Today, the Old Town of Vilnius is a UNESCO World Heritage Site and is acclaimed for its well-preserved Gothic, Renaissance and Baroque structures, most notably the Palace of Grand Dukes and St. Anne's Cathedral. Despite numerous invasions and rulers throughout history, the grandiose architecture has remained remarkably well-preserved. Dotted with quaint café-bars, vine-covered alleyways, and serene parks, contemporary life meets the city's deep history everywhere you look.
Along the jumbled roads however, are reminders of the pain of its many cultures. Before World War II, Vilnius had one of the largest Jewish communities in Europe, but over 90% were killed in the Holocaust. And, while under Soviet rule, torture was inflicted against those who resisted and sought independence. The city's Museum of Genocide Victims, located in a former KGB headquarters, documents the suffering that occurred during the Holocaust and Soviet genocide.
Today, crosses, spires, and domes of multi-denominational churches fill the skyline and open squares and courtyards create a feeling of unity. Even if you can't spot Vilnius on a map, its unique spirit makes for a place you should surely know.
8 More Fun Facts about Vilnius:
Lithuania is ranked number one in the world for number of hot-air balloons per resident, and Vilnius is one of the only European capitals where you can fly in a hot air balloon. Soaring above the city is one of the most popular activities.


In 1323, the Grand Duke Gediminas wrote to foreign craftsmen, merchants, artists, and thinkers from a variety of ethnic and religious backgrounds, inviting them to settle in the city. He offered them free trade and a peaceful life, and Vilnius soon began to prosper from the wide array of backgrounds.


Today, situated atop a grassy hill stands Gediminas Tower and the remains of a 15th century fortress. The stone tower overlooking the city has become a celebrated symbol for Vilnius and Lithuania as a whole.


Vilnius is home to one of the greatest love stories in Baltic history, between the King of Poland and the Grand Duchess of Lithuania, who fell in love despite the disapproval of parliament and the Royal Court. In 1547, they wed, and she was crowned Queen of Poland but died only five months later by poisoning. The love story has inspired many paintings, literary works, and films.


Opened in 1579, Vilnius University is the oldest university in the Baltic States and one of the oldest in all of Europe. The university is home to the nation's first printing press and oldest library, which contains millions of books today.


The 500-year-old Church of St. Anne stands today as a significant example of Gothic architecture and is so beautiful that even Napoleon Bonaparte fell in love with it. Legend has it that when Napoleon spotted the church during the Franco-Russian War in 1812 he wished he could carry it home with him in the palm of his hand.


In 1989, one of Europe's largest peaceful protests, known as The Baltic Way, took place in Vilnius. To protest Soviet rule, citizens from Lithuania, Latvia, and Estonia stood hand and hand in a chain that covered over 420 miles.


The city has its own small bohemian and artistic republic located inside of it. Known as Uzupis, the independent community was formed by a group of creative artists in 1997, to reclaim life following the dark communist rule. You can now even get your passport stamped from within the neighborhood.
Explore the magic of Vilnius when you travel on our Enhanced! The Baltic Capitals & St. Petersburg adventure.