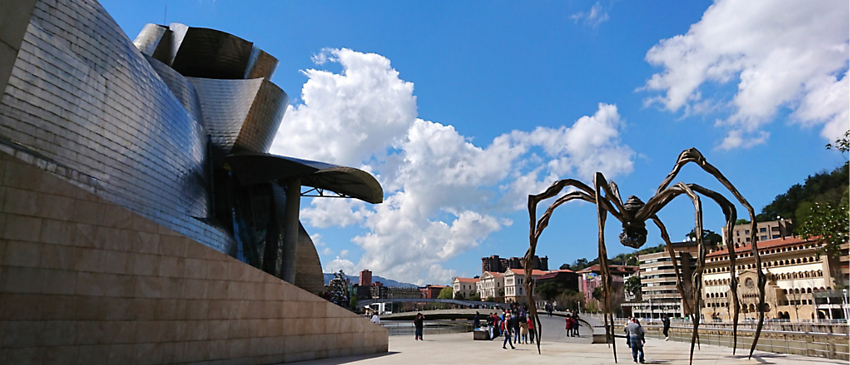 Question: Where in the world was a giant spider built not to frighten, but as a tribute to love?
Answer: Maman, Sculpture, Bilbao, Spain
If you're scared of spiders, the 32-foot tall Maman sculpture in Bilbao, Spain might be quite the spooky site, but despite what may be a fear-inducing presence, the meaning behind the sculpture is one of love. It's the largest in a series of six spider sculptures created by artist Louise Bourgeois which honor her mother's skill of weaving. With its title referencing the French word for "mommy," the piece of artwork turns a typically scary symbol into a tribute to her mother's role of weaver and protector—just like that of spiders.
Maman is Louise's most famous and ambitious work of art in her 70-year career. While she has created many pieces involving spider motifs and she designed six different spider sculptures located at museums around the world, the spider in Bilbao is her largest (and among the largest pieces of spider artwork ever created). The sculpture is positioned outside of the Guggenheim Museum in Bilbao and forged from bronze and stainless steel to form the long, skinny legs and cage-like body. Visitors can walk freely underneath it and look up at 32 marble eggs hanging from the mother's belly.
She first conceptualized the theme of arachnid art in 1947 when she sketched a spider in a small charcoal drawing, but her massive Maman piece was not brought to life until the late 1990s. She connected the creature with her mother due to their shared skills of spinning, weaving, and nurturing. Her mother worked in the family's textile business repairing tapestries up until her death from an unknown illness when Louise was 21 years old. She considered her mother her best friend and was heartbroken over her death—much of her artwork would reflect this relationship as well as her childhood experiences and emotions.
When speaking about the connection between her mother and the symbol of a spider she said, "I came from a family of repairers. The spider is a repairer. If you bash into the web of a spider, she doesn't get mad. She weaves and repairs it…Spiders are helpful and protective, just like my mother."
So while it may look like a scene from a horror movie or a nightmare, the story behind the spider is a heartwarming one. It symbolizes a daughter's love for her mother in the most unusual and unprecedented way.
The Life of Louise Bourgeois, the "Queen of Spiders":
Louise was born in Paris, France in 1911. Her parents owned an antique tapestry gallery where her mother worked repairing tapestries.


Growing up her father was abusive and unfaithful— he even had his mistress become a nanny to Louise and her sisters. While her mother was loving and protecting she was complicit in her father's affairs and abuse. These childhood experiences and trauma were prevalent in her later works of art.


In 1932, her mother died of an unknown illness, and Louise was distraught. She even tried to take her own life by drowning in a river, however, her father pulled her out to safety.


Louise was originally studying mathematics and geometry at the College of Sorbonne, but after her mother's death, she abandoned math to begin studying art. She studied at the École du Louvre and also had a job leading tours at the Louvre. After completing school, she opened a small print shop next to her family's textile business.


It was there that she met and fell in love with art historian Robert Goldman. The two married and moved to New York City where she continued the majority of her career.


She first gained recognition in the 1940s for her work designed from junkyard scraps and driftwood which stood upright. The scraps represented her experiences as a child hiding underneath a dining table and watching her parents walking around.


Her long career included painting, drawing, printmaking, and sculpturing, and she alternated between using different materials, forms, and sizes. From abstract works of art to unusual organically shaped sculptures, all of her work included themes of loneliness, jealousy, anger, and fear.


Her work was often her own way of repairing and reconciling her painful childhood memories, and she captured many themes of childhood, marriage, and motherhood.


Later in life, she taught at the Pratt Institute, Cooper Union, and the School of Visual Arts in New York for printmaking and sculpture.


In 1982 at age 71, she became the first female artist honored with a major retrospective at the New York Museum of Modern Art.


She continued creating her masterpieces until she passed away in 2010 at the age of 98 and is still known worldwide as one of the great figures in modern and contemporary art.
Witness the astonishing Maman sculpture in Bilbao when you travel with us on Northern Spain & Portugal: Pilgrimage into the Past .