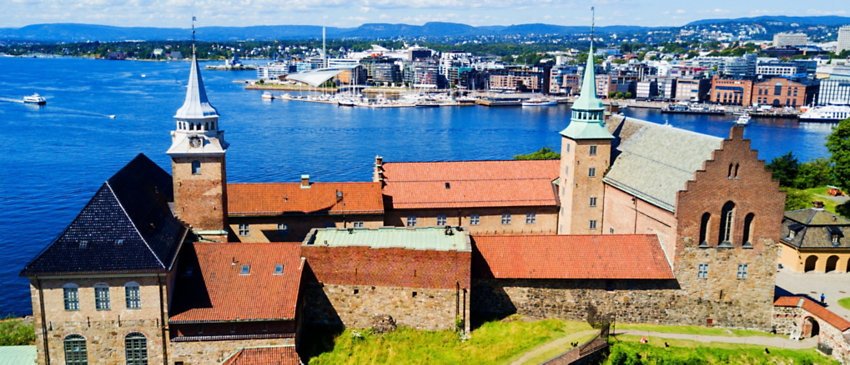 Question: In what mighty fortress did a Nazi sympathizer end up dying as a result of an illegal policy he himself made legal?
Answer: Akershus Castle, Oslo, Norway
When the Nazis invaded Norway in 1940, they had the perfect home base in mind: Akershus, the castle fortress of Oslo.
It was a steep fall from glory for a castle once central to Norwegian identity. First built by King Haakon V in the 14th century, it was later home to one of Norway's most storied figures, Queen Margaret, the Uniter of Norway, Denmark, and Sweden. (More about her below.) 17th-century King Christian the Fourth loved Akershus so much that when Oslo burned down, he ordered the city moved close to the castle, famously throwing his glove on the ground to indicate the perfect spot. At the same time, he remodeled the fortress into a Renaissance masterpiece.
To the Nazis, its formidable size and strength made it an ideal headquarters during their occupation. Among the Germans' uses of the castle, it became a death row of sorts. Norwegian resistance fighters were hauled off to Akershus, where they were often tortured before meeting their final fates. Surprisingly, these murders of the opposition all happened under the watch of a Norwegian—Vidkun Quisling.
Quisling had pretty much campaigned to rule Norway himself but settled on a deal with the Nazis to be Prime Minister under German rule. He allowed nearly 800 Norwegian Jews to be deported to death camps (only 35 survived) and punished the remaining citizenry for any behavior that displayed national pride (even singing Norwegian songs). The death penalty had been declared illegal in 1905, but noting that war trumped all such rules, Quisling allowed 40 executions at Akershus.
When the war ended, capital punishment ended once more, but an exception was made for traitors like Quisling, who was universally loathed in his homeland. He was executed for murder, embezzlement, and high treason at the very castle which he'd once imagined himself ruling for years. The fortress became, once again, a Norwegian icon, and today it contains a museum dedicated to the very resistance fighters Quisling tried to silence.
16 Fascinating Facts about Margaret I
Daughter of the ruler of Denmark, Margaret was only 10 years old when she was married to young Norwegian King Haakon in a deal brokered to unite dynasties.


She left Denmark to be raised by a noblewoman who instructed her in reading, writing, and statecraft at Akershus.


She was a young mother when her father died and she maneuvered to have her infant son made ruler of Denmark; since he was a baby, that made her the de facto ruler.


Five years later, when Haakon died, her son was named King of Norway as well, but again, Margaret was the effectual ruler, though now officially named Regent.


Margaret had her eye on claiming Sweden, too, and soon was courting Swedes who wanted to bring down unpopular King Albert, leading to an invasion.


Albert called her King Pantsless and vowed to defeat her in battle, but she prevailed, uniting the three kingdoms under her rule.


When Olaf died unexpectedly at 16, she was sole ruler, but could not formally be called Queen as none of the countries allowed for female succession to the throne.


She made her great-nephew Eric the king, knowing he was too young to serve, so that she could remain regent, and issued the Treaty of Kalmar, formalizing the union of three nations, soon after.


Her treaty allowed each nation to govern itself and keep its own customs, winning loyalty from the citizenry, as they did not have to give up their national identities.


When Eric turned 18, he was officially the ruler of the Kalmar Union, but by this time it was understood that it was her kingdom to rule.


In 1396, she issued ordinances protecting churches, farmers, and field workers, with special attention to the rights of women, not previously included in charters of the peace.


In an unprecedented action, she issued reparations to women who had been sexually assaulted during past conflicts between Sweden and Denmark.


She encouraged intermarriage among noble families of the three nations, placed leaders from each nation in high offices in the other lands, and traveled frequently between each domain, in hopes of preserving an unshakable union.


After attending a public debate during one of her travels, she boarded her royal ship and became suddenly, violently ill. Sure of her doom, she told the crew to take money to a nearby monastery to offer a mass for her soul.


Some argue that Eric poisoned her and others suggest she caught plague during her travel, but either way, her premonition was right and she died before the ship reached shore.


Twice daily, a bell is rung in a Copenhagen cathedral to honor the woman fondly known to her subjects as "The Lady King."
Explore the northernmost reaches of Margaret's Kingdom during our New! Arctic Expedition: Untamed Norway & Svalbard Small Ship Adventure.