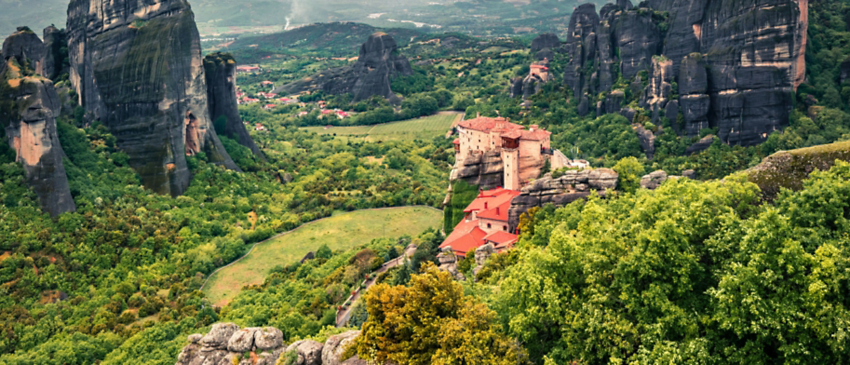 Question: Where in the world did hungry monks make a dumbwaiter as tall as the Empire State Building?
Answer: Meteora Monasteries, Kalambaka, Greece
Caves tucked into the base of towering sandstone cliffs originally seemed like a good enough hideaway for ninth century Greek monks needing a place to escape the tumult of the outside world. Some even took their quiet bliss to new heights, with cells in crannies as much 500 feet off the ground. This arrangement was safe enough for the first five centuries, but during local skirmishes and the arrival of Turkish raiders in the 14th century, the monks needed more protection, and there was nowhere to go but up—way up.
Bidding farewell to their cave, visionaries established the first clifftop monastery at Meteora on Broad Rock, an outcropping 1,200 feet high. Mortals can hardly get closer to God than a sheer vertical rise of a quarter mile—and once the standard was set, others followed suit. In the coming years, every clifftop became fair game, and eventually 20 monasteries studded the peaks like pearl sugar on pastry.
It's one thing to get up there—and another to stay up there, which required not only transporting building material but also food supplies, which would have to be continually renewed. For the (comparatively) lower monasteries, this meant a series of ladders (don't look down!) and woven bridges. For the higher sites, monks and supplies alike were bundled into netting hoisted by a hand-cranked windlass system with a rope that could be pulled to the same height as our Empire State Building.
How could the monks be sure this epic version of a dumbwaiter system was safe? They couldn't. In fact, the risk was seen as a matter of faith: they only replaced the ropes "when God's will let them break," so that each trip came with a contemplation of mortality. In the 20th century, permanent stairs (146 to reach Great Meteoron) were cut into the rock, and bridges built between some of the monasteries.
This has made it easier for visitors to access the six remaining monasteries, together designated as a UNESCO World Heritage Site. While it may still require a bit of effort to explore the ancient sites, it is no longer literally a death-defying feat.
10 Things to Know About 6 Distinct Monasteries
If you have the lungpower for the steep steps to Great Meteoron, you'll find a library with texts by Homer, Sophocles, Demosthenes, and Aristotle.
Great Meteoron might seem a surprising location for health care, it but it served as a nursing home and hospital at one point in the 20th century.
If you want to visit some the old monks, you can: their skulls are arranged neatly on wooden cupboards here.
One hallway is adorned with anti-Nazi propaganda posters, including a picture of a soldier and his swastika flag being thrown off the cliff.
St. Varlaam's is home to the last used windlass and rope basket; the one on display is the final iteration of a series, each only replaced when "god's will" demanded.
St. Varlaam is also home to a massive 16th-century water barrel, the contents of which the monks would ration to make survival possible with the fewest trips.
The walls of St. Stephen's Monastery show the toll of battle, with bullet holes from not only World War II but the Greek Civil War.
The Holy Trinity Monastery (Agia Triada) was looted by the Nazis in World War II, but one of its treasures escaped and remains today: a book of gospels with a silver cover, made in Venice in 1539.
Cretan artist Theophanes Strelitzas, the most important Greek fresco painter of his time, painted the interior of the St Nikolaos Monastery; it's his earliest signed work.
Roussanou Monastery is one of only two tended by nuns, and their cheerful demeanor stands in contrast the gruesome frescoes of martyrdom that await visitors.
Keep an eye out at Roussanou for ostrich eggs, which symbolize new life and God's watchful care over this stunning aerie in the sky.
Witness the soaring achievements of the ancient monks on our Aegean Islands, Athens & Ephesus Small Ship Adventure.