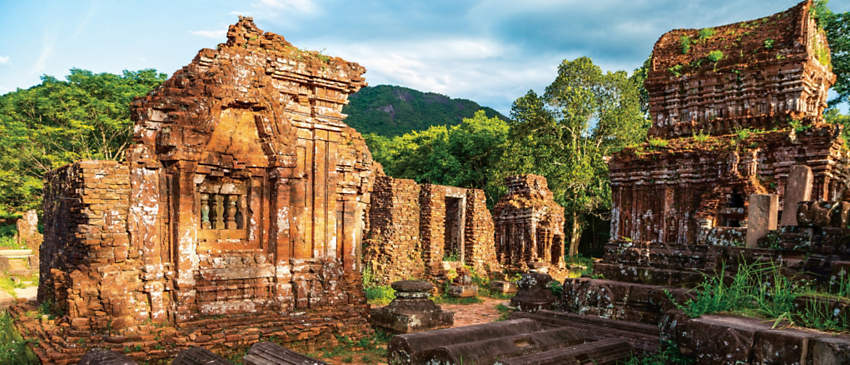 Question: Where can you find this Hindu temple—among the ruins of more than 70 others? (Hint: It's not in India.)
Answer: My Son Sanctuary, Vietnam
You might not think of Hinduism as a prominent religion in Vietnam—and you're right. But there is a Hindu minority in Vietnam, descended from the ancient Champa civilization. Here are some facts about this little-known kingdom, and the monuments they left behind.
Trade wins: From the second century until the 15th century, the southern portion of modern-day Vietnam belonged to the Champa kingdom—a seafaring people with a vast trade network. Their commercial capital was Hoi An, which, due to its strategic location on the South China Sea, allowed the Cham to control the spice trade.
Cultural crossroads: Not only did this success bring great monetary wealth to the empire, it brought a wealth of cultural influences as well. Scholars believe that Indian merchants introduced Hinduism to the Cham people fairly early in their rule. To honor their religion, the Cham built My Son Sanctuary between the fourth and 14th centuries.
Status symbol: More than 70 Hindu temples once stood at My Son, nestled majestically in a lush valley overlooked by Hon Quap (Cat's Tooth Mountain). Today, about 20 remain intact. The red brick structures incorporate Indian architectural styles, including carvings dedicated to Shiva and other Hindu deities. Gold leaf once graced the roofs of the temples as a testament to Champa wealth
The mighty have fallen: Sandwiched between the Viet to the north and the Khmer to the south, and threatened by the territorial expansion of China's Ming Dynasty, the war-weary Champa empire was almost entirely occupied by the Vietnamese by 1471. The last remnant of the once-mighty kingdom was a small state in the south of modern-day Vietnam, which finally collapsed in 1720.
Disrepair, destruction, and reconstruction: It's hard to imagine such a stunning complex of temples being ignored and forgotten, but the Vietnamese had little use for Hindu monuments. In 1898, the French rediscovered My Son and began to study and restore the temples. But just as it looked as though My Son might reclaim its former beauty, the Vietnam War began. The Viet Cong, having no sentimental attachment to Champa heritage, used My Son as a base, which in turn resulted in carpet bombing by American forces. Fortunately, in 1999 My Son Sanctuary was recognized as a UNESCO World Heritage Site, ensuring that the precious temples that still remain standing will be preserved for future generations.
Explore the ruins of My Son Sanctuary—and learn about its wartime history—with OAT during Inside Vietnam.