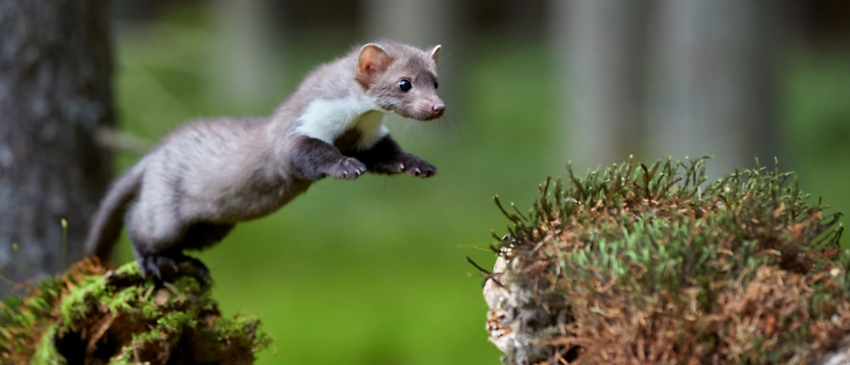 Question: In what European country will you still pay for a meal with wildlife instead of euros?
Answer: Croatia, home of the kuna
In 1994, as Croatia began to lay groundwork for independence, it created its own currency, the kuna. But unlike most of the surrounding countries, its coins were emblazoned not with its historic leaders and monuments. Instead, its monetary system was premised on a beast that looks like a weasel crossed with a cat.
A kuna is a Croatian pine marten, a carnivorous creature wearing a lovely long fur coat. That pelt was considered so valuable in the medieval era that it was treated like cash. For centuries, big trade deals were paid in literal kuna, so why not name the national currency after it? The agile animal is embossed on the back of every coin, with more fauna on the flip side: the single kuna features a nightingale, while a tuna swims across the two-kuna coin, and the five-kuna coin is prowled by a growling bear. In fact, the Croatian equivalent of "Buddy can you spare a dime" is "Imas medu? (Do you have a bear?)"
The kuna isn't the smallest unit of currency; one kuna be divided into 100 lipa, another nod to nature. Lipa is the Croatian word for linden tree, which is the national symbol for rebellion and independence. Just as all kuna feature wildlife, all lipa feature plants (including corn, oak, and tobacco), showing the importance of agriculture to local life.
When Croatia joined the EU in 2013, it was expected to adopt the euro within two years, but that date passed, with half the nation preferring to just keep their kuna. The next target date was set for 2019, until the Croatian President announced the switch was more likely to happen in 2020. Immediately thereafter, the Prime Minister told reporters to "not take seriously" any target dates. For now, Croatia is still kuna country, with its wildlife-based currency untamed by the EU.
Five More Ways Croatia Is Unique
Its gingerbread has no ginger. The UNESCO Intangible Cultural Heritage designation for Croatian gingerbread recognizes the importance of Licitari in local culture, but "gingerbread" is a catch-all term that misses a small detail: Licitari is made with honey, flour, eggs, and water—but no spices at all. The ornately-decorated heart-shaped cookies take more than a month to make from start to finish (with three drying periods), but while they are edible, they are often treated more like greeting cards than as food. (Who wants to eat a five-week-old cookie?)


Its most famous language isn't a language. Glagolitsa, the ninth-century brainchild of a pair of monks, was created to give all the Slavic peoples a shared language they could read. Used for official papers and transcriptions of holy texts, it appeared all over Croatia. But there was no common spoken version; everyone knew what the written form meant but kept speaking their original languages. As a result, it remained a script, not a true language. Nonetheless, Glagolithic text is a popular souvenir and symbol of Croatian heritage today.


Its smallest city is also the world's. Tiny Hum, officially incorporated as a city hundreds of years ago, has roughly 20 residents at any time (though it boomed to 23 once a few years back). Unlike the world's smallest town (Lost Springs, Wyoming, population 1), these residents of Hum are spread out in multiple homes, and the city boasts not only more than one street, but its own Catholic church.


Its liquor cabinets double as medicine chests. Croatians love their brandies, none more than travarica, which is infused with herbs. The combinations are endless; travarica may be flavored with as few as three or four herbs, or feature up to 20, running the gamut from grass to juniper. That may explain why travarica is used to treat so many illnesses. Known as "doctor in a bottle," travarica is pressed into service to sterilize wounds, soothe toothaches, calm an upset stomach, and even treat the common cold.


Its ham tastes like the wind. Croatians disdain any comparison between Italian prosciutto and their own prsut, even though both are dry cured hams. They explain that the difference is how prsut is hung outside to dry facing the bura wind from the mountains, which Croats claim is scented by herbs growing on the slopes. If you can't taste the bura wind, it isn't really Croatian prosciutto.
Experience the singular pleasures of Croatia when you join our Hidden Gems of the Dalmatian Coast & Greece Small Ship Adventure.