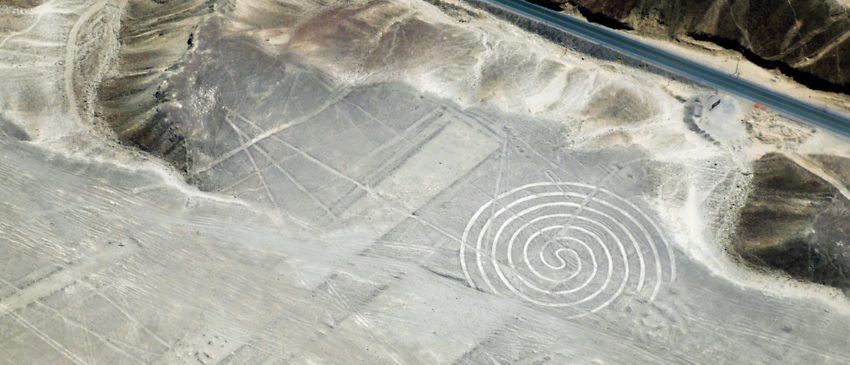 Question: What's 2,500 years old, the size of a football field, and invisible if you're standing in front of it?
Answer: The biggest of Peru's "new" Nazca Lines
The sunbaked earth of the Nazca region of Peru has been a palette for ingenious artists for 2,500 years. But it hasn't always been easy to see their handiwork. The Nazca lines, giant glyphs of animals and mysterious figures etched into the sand, were not visible to those at ground level, and have only been re-discovered since the dawn of air travel. In the past 50 years especially, adventurous travelers have flown over the lines to enjoy views once intended for the birds and the gods (or for aliens, depending on whom you ask).
You'd think it would be hard to hide enormous pieces of environmental art, but Nazca is full of surprises. A two-year effort has just revealed more than 140 lines previously unknown. How is that possible? For one thing, they predate the original lines by centuries (made by the Paracas people, who came before the Nazcas). In the eras since, erosion, flood water patterns, and human activity have obscured the lines.
National Geographic and volunteer citizen scientists worked to scour satellite images for potentially missing sites. Land visits followed, which were inconclusive. The breakthrough came when drones were sent to examine the same sites from close above, taking photos and running 3D scans. A few dozen new lines were found, setting off further scrutiny.
Japan's Yamagata University, in tandem with IBM, used geospatial artificial intelligence systems to analyze high-resolution satellite imagery, which exposed even more of the figures, divided into two categories: larger, animal-shaped figures, and smaller ones that read as human. The animal lines (the largest at over 300 feet in length) seemed to be ceremonial gathering places, while the human symbols (the smallest is only 12 feet long) seemed to be signposts to guide people to the larger sites.
It's fascinating to think that one of the world's ancient mysteries is just now being revealed to us thanks to our most modern technology. As science becomes ever more sophisticated, we may yet learn that Nazca's trove of secrets still holds more treasure.
10 Memorable Nazca Lines, Old and New
A tall "tupu," a pin used by the indigenous people for holding clothing together.


A pelican sprawling 145 feet in length with its talons flexed.


A hummingbird with wings extended so that it hovers, mid-flight.


A nine-fingered monkey with spiral tale that is said to be analogous to Ursa Major.


A Frigate bird, 525-feet long, with a head composed of tiny, palm-sized circles.


A two-headed snake, tongues flicking at both ends, one mouth about consume prey.


A human in a fancy headdress, arms up and legs spread, perhaps dancing or striking a war pose.


A giant bird with an elongated neck, stretching 985 feet from tail feather to pointed beak.


A perfectly symmetrical spider that has only six legs.


A much-debated figure that might be a fisherman or (for fans of alien encounter theories) an astronaut.
Start your Real Affordable Peru adventure early with our NEW pre-trip extension to Lima, Paracas & the Nazca Lines.