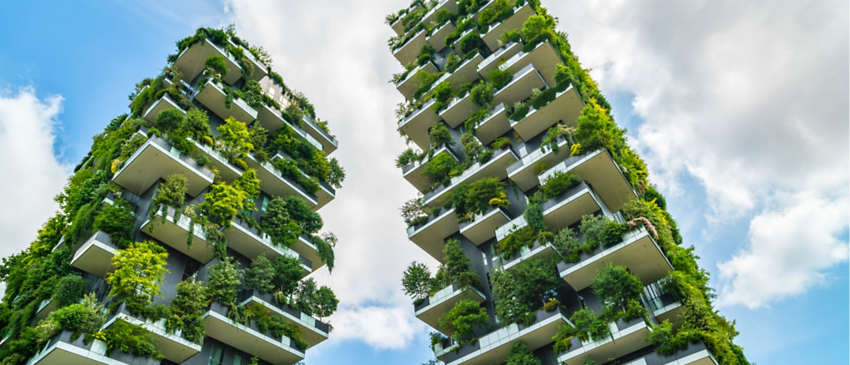 Question: Where is a new forest growing so fast, it will be Africa's tallest in just a few years?
Answer: Cairo, Egypt—soon-to-be-home of the "vertical" woods
Cairo, Egypt, is set to tackle urban congestion and fight pollution by planting a brand-new forest in the city. Or, more accurately, by building one.
The city hired Italian architect Stefano Boeri to build Africa's first-ever "vertical" woods. Boeri specializes in green buildings, where architecture and environmental sustainability are interwoven. In Boeri's vertical garden plans, pollution is decreased because the plants absorb both CO2 and dust from urban traffic, while cooling the attached buildings (interiors by three degrees and facades by as much as 30 degrees in direct sun), which in turn reduces electricity consumption from A/C use. The trees are irrigated by solar-power-drive groundwater pumps, so that no further electricity is required to keep them thriving.
Cairo's project, just announced in August, will be a trio of these buildings, each with a 98' x 98' footprint, rising seven stories. Two will be apartment blocks, the third a hotel. Between them, they will host a landscape of 350 trees, representing a hundred species, and 14,000 shrubs and plants. The complex is expected to yield eight tons of oxygen per year, yielding more fresh air for everyone.
Boeri's project is just one of Cairo's plans to make the city greener. Environmental designers aim to convert thousands of flat roofs into green energy producers. And authorities hope to follow the first vertical forest with several more. Scheduled to be finished in 2022, Boeri's will pave the way, a project truly worth looking up to.
More than Pyramids: 7 More Memorable Cairo Structures
Ibn Tulun Mosque: The second-oldest mosque in the city (established in 876) boasts the oldest intact colonnades, rows of impressive columns still bearing remnants of 1,100-year-old friezes based on adornments in Mecca.


Bab Zuweila: This 11th-century gate is the only southern gate of Old Town left standing, and boasts two Mamluk-style minarets, but it's best known as an execution sight, where rebel heads were hung from the massive entrance like doorknockers.


Qalaun Madrasa: Built in 1293, it's the earliest example of what is now called the "urban aesthetic" period of Mamluk architecture: a somber exterior giving way to an interior full of tile, marble, and mother of pearl. Defying norms of its time, the minaret attaches to the mausoleum, not the madrasa.


Hoda Shaarawy: A block full of elegant Italian- and French-influenced buildings with pretty balconies and stonework from the Ottoman era, the street is named after the founder of Egypt's feminist movement, which rallied during the 1919 revolution.


Yacoubian Building: Built in the 1930s, the building was long admired for it art deco flair, and the way the pale cream façade forms a gentle crescent, but it became a national symbol after a novel of the same name became a bestseller in 2002, inspiring a movie as well.


Al-Fath Mosque: The highest minaret in Cairo rises 311 feet over the mosque's 21 domes; built in 1990, it was immediately famous as a landmark, but it became notorious during the Arab Spring when protestors hid out there and turned it into a triage center for those wounded in skirmishes with the police.


Cairo Tower: The tallest structure in all of Egypt and North Africa, completed in 1961, the lattice-covered tower rises 614 feet above Gezira Island in the Nile River, and its top floor has become the number one lookout to view the rest of the city, the Nile, and even the Pyramids.


Witness the wonders of Cairo when you join our new Ancient Egypt & the Nile River Small Ship Adventure.