The Warrior, the Princess, and the King Who Said No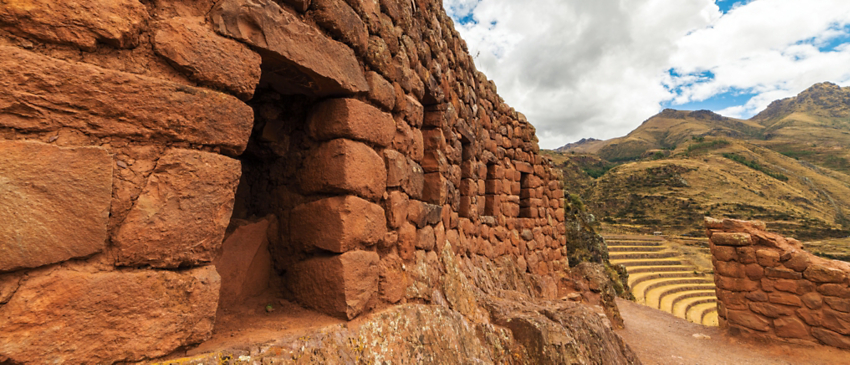 Question: What pre-Columbian ruin is at the heart of an ancient civilization's Romeo & Juliet?

Answer: Ollantaytambo, Peru

One of the most enduring legends of the Inca people is a tale of star-crossed lovers, secret identity, and court intrigue that has all the hallmarks of a Shakespeare play or Greek tragedy.

Peasant boy Ollantay trains himself to be a warrior, soon becoming an Incan soldier and rising rapidly through the ranks to General. He impresses more than the military leaders: he wins over Kusi Quyllur, the daughter of Pachachuti, ruler of the Incas. His roots as a peasant mean that they can never marry—but they keep meeting in secret anyway, as lovers do, enlisting the aid of Quya Anawarkhi, wife of the king.

Turning to a high priest for help, Ollantay is warned that the priest sees visions of ruin if the couple goes forward. The stubborn soldier ignores the warnings and goes to Pachacuti even so, asking for Kusi Quyllur's hand in marriage. The ruler, furious at his young general's impudence, not only banishes Ollantay from the court, but imprisons his own daughter.

Ollantay, sure Kusi Quyllur is dead, hides out in the city complex that was named for him: Ollantaytambo. For years, he plots his revenge, planning to return to Cusco and bring down Pachacuti.

What he doesn't know is that his true love not only lives, but gave birth to their daughter, Ima Sumac, who was given away to the care of a friend who promised to never tell the child that her mother is royalty.

When the respective followers of Ollantay and Pachacuti finally begin armed struggle, they discover themselves so evenly matched that another decade passes with no victor, until Pachacuti dies and his son Tupac Yupanqui takes over. Tupac is craftier than his father and actually captures Ollantay through trickery, not force. At first inclined to execute Ollantay, Tupac decides to capitalize on his foe's strength and instead makes him a general once again.

Now a young woman, Ima Sumac hears that the new ruler is kinder than the old one, and she goes to Tupac to beg for her mother's release. Tupac agrees to come examine the captive and brings with him his newly-minted general Ollantay. You can imagine the rest: Tupac recognizes his sister, Ollantay recognizes his lover, and Ima discovers that she has brought her own brother and father to her mother's prison. At long last, the once-separated couple is allowed to marry and to become a family with their daughter.

Is the story true? No way to be sure, but the historic records do show that Pachacuti did rule Cusco at the time that Ollantaytambo was built and that he passed his empire down to his Tupac. Regardless of how much is based in fact, the twists and turns are so entertaining, it's no wonder the legend became a play, Apu Ollantay, now considered the oldest work of Quechua literature.

How the Legend Became a Play
Oral histories, love songs, and epic poems were performed live before the Inca royal court as entertainment. They were not recorded in written form but passed down orally.
During the era of Spanish rule, the Quechua people were prohibited from presenting any performances of indigenous culture, but their stories were quietly shared nonetheless.
The earliest known manuscript of the text dates from 1770, but it wasn't until the 1830s that it was described in an academic article about the region.
The play is written in rhyming and non-rhyming verse and contains dramatic embellishments on the already dramatic tale.
In the play, Ollantay climbs the highest peak over Cusco for a soliloquy, pledging to avenge the wrong and bring down the king, a speech comparable to Hamlet's "To Be or Not to Be."
In the play, the events take place in just ten years, so Ima Sumac is still only a child, not a young adult, when she pleads with Tupac.
During the 19th century, the play was translated into Spanish, German, English, French, Italian, Czech, and Latin. Because the first translation was by a Catholic priest, the work was erroneously credited as his creation.
The President of Argentina promoted this theory widely to help establish the work as a Spanish-language masterpiece. The 1939 National Comedy Theatre of Argentina's production was a blockbuster, running for 100 performances and breaking box office records.
By the mid-20th century, scholars agreed that the bones of the story were undeniably Quechua in origin, but agreed that the first well-known manuscript had been romanticized in keeping with Spanish aesthetics of the time.
Today, a version of the play, now titled Ollantay Raymi, is performed live in the ruins of Ollantaytambo, a setting itself as unforgettable as the story being told.
Discover the powerful impact of Inca culture and the continued contributions of Quechua tradition on our Machu Picchu & the Galapagos adventure.