Question: Where can you find the world's oldest bottle of wine—which, dated to 325 C.E., may not have grown better with age?
Answer: The Historic Museum of the Palatinate in Speyer, Germany
What you take to the grave can say a lot about your culture. The ancient Egyptians were entombed with royal pets and stunning jewels, for instance, while Shang dynasty rulers in China buried their entire (and deeply unfortunate) household staffs with them. Considering what we know of the ancient Romans, perhaps then it is no surprise that they met their makers with fine wine on hand.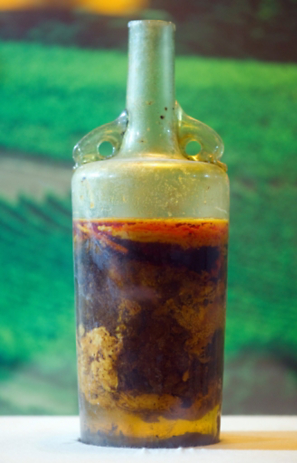 In 1867, excavators in the German city of Speyer unearthed a grave from 325 C.E., purported to be that of a Roman noblewoman and nobleman. No one was shocked to find the lady and her husband surrounded by 15 broken bottles of wine which had been intended to soothe them on their journey to the afterlife. The big surprise was a 16th bottle discovered intact and unopened. That's not just a rare vintage—it's the rarest: at 1,542 years old when it was found, that wine is now in its 1,693rd year.
Obviously, it has become one of the most examined bottles of wine on earth—but only from the outside. Its endurance seemed premised on the fact that its seal was unbroken: olive oil and wax poured into the bottle had effectively locked out the air in a way that cork would not have been able to do. This oil-and-wax combination long ago settled into a thick rosin that expanded into much of the bottle. Below it, the wine is still liquid (if murky), but experts suggest that it is unlikely to have any alcohol content at this point. They can't say for sure because 19th-century scientists were too afraid to tamper with it.
The noblewoman's tipple became a curio, the bottle taken on a tour and displayed around Germany during the 19th century. It was even used by Kaiser Wilhelm in World War I to goad his chemists toward excellence. Today, it occupies the place of honor in the Tower Room of the Historical Museum of the Palatinate in Speyer.
In 2017, scientists again debated opening the bottle and, again, chose not to. Uncorking the wine might only yield disappointment, says one German wine expert: "It is probably not spoiled, but it would not bring joy to the palate."
Toast This Way: How to Raise Your Glass along the Rhine & Mosel
In Germany, though "Prost!" is the most common toast when drinking beer, if you're drinking wine, raise your glass and nod at your companions, saying, "Zum wohl!" (to your health). (Either way, if you don't make eye contact, it is said to bring bad luck.) A toast used in Germany but not elsewhere is "Genieße das Leben ständig! Du bist länger tot als lebendig!" (which means: "Always enjoy life! You will be dead longer than you are alive!")


In France, while "Sante!" (cheers) is common, clinking glasses is more likely to be accompanied by "Tchin, tchin," a toast with a global pedigree. "Tchin tchin" was how the 19th-century Chinese invited people to drink, and French soldiers fighting the opium wars brought the phrase home from them. The French used the word "trinquer" to describe clinking classes, a term they adapted from "trinken," the German word for drink.


In Belgium, the typical toast is the French "Sante!" But the word is less important than the manners: Follow the lead of your host, who is traditionally allowed to make the toast. Don't sip your drink until either the toast is made or it is clear your host isn't going to make one. In Flemish communities, you will raise your glass twice: once for the toast, once again when it ends.


For casual drinks, the typical Dutch toast is "Proost!" (derived from and pronounced like the German word prost). But for wine, people often skip toasts entirely, instead tastefully exchanging glances with others present and raising glasses in their direction. If there are toasts, the host always goes first.


In Switzerland, your toast depends on where you are: "Proscht!" in German-speaking regions, "Sante!" in French zones, and "Salute!" in Italian-speaking areas. Never sip a drink until the wine has been poured for everyone in your group and make sure to make eye contact with your companions before you taste a drop. It's not considered bad luck to skip this step—but it is bad manners.
Raise a glass to the delights of five countries on your Romance of the Rhine & Mosel River Cruise.