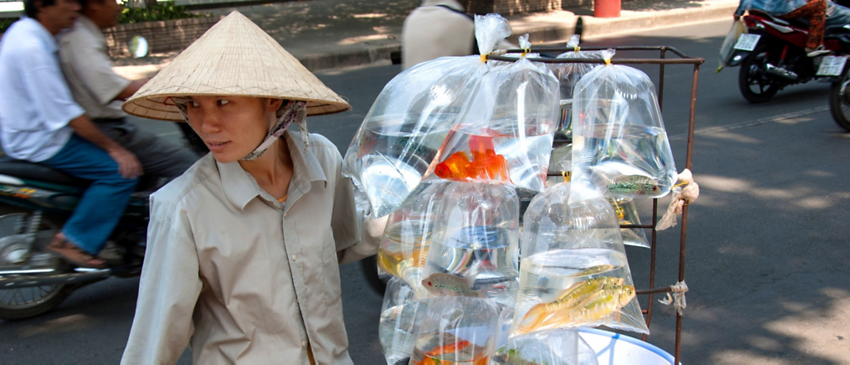 Question: What country rings in the New Year with a holiday dedicated to a domestic deity—and a fiery love triangle?
Answer: Vietnam, with Kitchen God's Day
On the 23rd day of Lunar December (this year February 8), Vietnamese people kick off the celebrations that lead to Tet (New Year's Day). The first order of business is to pray to the Kitchen God, hoping this will bring one's family happiness and luck for the coming year. The backstory for this guardian of domestic bliss might seem surprising: it began with a love triangle.
Trong Cao and his wife Thi Nhi had been married many childless years and eventually their tension led them into endless shouting matches. In an impulsive fury, Trong Cao threw Thi Nhi out and she hightailed it to another city, where she married the kindly Pham Lang. When Trong Cao finally came to his senses, he began hunting for his ex-wife, a journey so long and costly, he was reduced to being a beggar. When Thi Nhi found her newly humble old love in rags—and learned how he had become so poor—her heart went out to him and she brought him home.
She had second thoughts about this visit when Pham Lang returned. Hoping to keep the men she loved from an altercation, she had Trong Cao hide in the hay bales. Unfortunately, this was the night Pham Lang had planned to burn the hay. When she saw what was happening, Thi Nhi leaped into the burning bale to save her first husband and they both died; her second husband, seeing what had happened, killed himself to be with her. Their souls floated up to the heavens, where the Jade Emperor, impressed by all these demonstrations of love, bound them together as one family forever, the Tao Quan: Three Gods. Trong Cao was god of land and house, Thi Nhi of markets, and Pham Lang of the kitchen.
On Kitchen God's Day, it is believed that Pham Lang and his eternal spouses return to heaven to give reports and to pray for prosperity. Pham rides a golden carp as an offering, a tradition that the mortals have since memorialized by releasing goldfish into ponds and streams on that day. The streets and parks of Vietnam are full of goldfish vendors making sure that everyone has a chance to honor the Kitchen God. But once that ritual is over, people turn their attention to housecleaning, as they get ready for the return of these gods who were married not just till death, which did not part them.
10 More Ways to Celebrate Tet
For two days after Kitchen God's Day, Vietnamese people try to literally sweep away the past, deep cleaning their houses to get rid of any dust and dirt to which lingering bad luck might cling.


After deep cleaning, it's time to bring home a New Year's Tree, a blossoming fruit tree that represents fertility and prosperity. Some grow their own in the country and bring them to the city just for the holiday.


Thick rice cakes, full of meat or eggs and bound up in banana leaves, Banh Chung are the definitive food of Tet, and are often given as presents. A big batch may take hours to finish (and must sit 24 hours before they are ready to eat), so Banh Chung wrapping can be a multi-day affair.


It is considered bad luck to start the year in old clothes, especially for children, so parents flock to stores to find the new outfits for Tet.


Tet begins in earnest on Lunar New Year's Eve (February 15 this year). Many take ritual herbal baths to wash away the old year and start the new one pure.


That night, fireworks shows have become a huge part of life, having taken the place of traditional firecracker celebrations (banned in the 1990s).


Families gather for New Year's Day, but all eyes are on the first visitor; legend says the outcome of the rest of the year is determined by the luck and character of the first person to cross the threshold. Some families game this by sending out their most trusted member just before midnight and have that person re-enter as soon as Tet has begun.


Children are given red envelopes by their elders; the envelopes contain cash they may use however they like, for treats, education, or charity.


The most spiritually important event in Tet is inviting the Ancestors to "An Tet" ("eat the Tet"). Families welcome the departed souls to altars decorated with incense and paper offerings, and surrounded with favorite foods and wine.


Three days of eating follow Tet. The day after Tet involves meals with extended family, and the day after that emphasizes meals with friends and teachers. The biggest meal of the year is Hoa Vang, the final day of Tet, with hours-long meals at home or in restaurants that often give way to mingling with one's neighbors in the streets—a joyful start to the year.
Fascinating cultural legacies surround you on our Ancient Kingdoms: Thailand, Laos, Cambodia & Vietnam adventure.