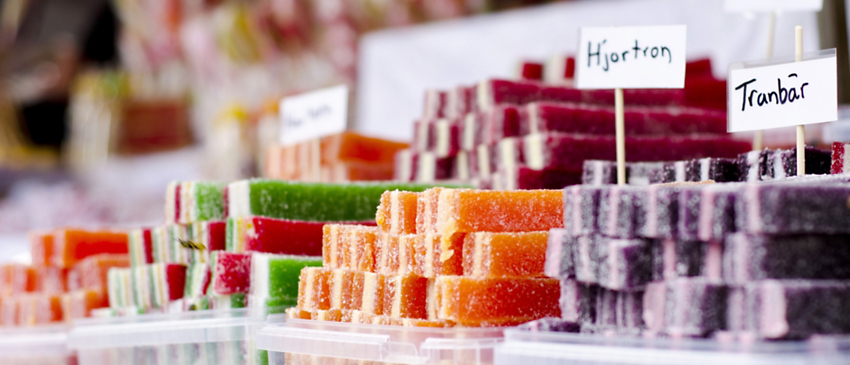 Question: Why do Swedes only eat candy on Saturdays? Hint: Mad scientists were involved.
Answer: Medical experiments on human subjects scared them off eating too many sweets.
By the late 1940s, Sweden had a problem: On average, its children had cavities in 80% of their teeth. At this time, no one knew for sure what was causing the cavities, but one hypothesis was that too much sugar was the problem. The government set about to conduct a study that might be able to test that theory.
The study used three groups of subjects: one third getting sugar via liquids, one third eating sugary bread with each meal, and a third getting sugar by specially-made toffee candies (knowing that these would stick to teeth). All three groups were expected to routinely consume sugar in unusual quantities for two years. In the case of the candy trials, the participants had to consume 24 sticky toffees every single day—amounts sure to cause noticeable decay.
Who would agree to such a thing? Nobody. Instead of seeking volunteers who could give informed consent, Swedish medical authorities conducted their clinical trials at Vipeholm, a mental health facility with patients deemed "uneducable." Most often confined to their rooms, with many tied to their beds, they were truly defenseless and the government knew it.
When the results came out, they were dramatic: Excess sugar consumption was cavity-causing for all three groups, but for the candy-eaters, it was especially devastating. Fifty of those patients lost their teeth entirely.
Gaining a clear result should have been good news for Sweden, but they had to sit on the study for a few years due to moral questions about their methods. The study had just begun when the Nuremberg Code for medical ethics was created in response to World War II abuses. These guidelines were soon adopted around the world; by the end of the Vipeholm study in 1949, these ethics guidelines were considered the gold standard, so announcing that Sweden had done exactly the opposite would have been embarrassing.
It was a decade after the study began that Sweden finally started promoting the results with the slogan "All the sweets you like, but only once a week!" Citizens got the message through pamphlets in the mail, radio commercials, and even posters in dentist office waiting rooms. The mantra worked, yielding a new tradition: lördagsgodis, which means Saturday candy.
Each Saturday, families flood the grocery stores with kids eager for their sugar rush. Stores stock dozens of bins with loose candies (on the old penny candy store model of pay-by-the-pound), with bigger stores offering more than a hundred choices at once. Swedes love their licorice, of course, but jelly beans, chocolates, gummies, and countless other treats await eager fingers.
After sixty years, Saturday candy has become a sweet tradition and that first generation of kids is now old enough to bring the grandchildren with them when they indulge.
Fascinating Facts about Sweden's Saturday Candy, Past & Present
In 1930s Sweden, a law was passed mandating free dental care. But so many people showed up, dentists couldn't see them all.


A Swedish medical board decided to focus on prevention, except that they didn't yet know what caused tooth decay. Theories included too much wine, hot food, and vitamin deficiency.


The Vipeholm study was, quite surprisingly, funded by the sugar, chocolate, and candy industries. They were sure it would vindicate them.


The toffees were chosen because caramel candies are famous for sticking to your teeth, making them a direct delivery system for sugar.


Because they didn't like the results, the food industries pressured the government to suppress it, which it did for years (for its own reasons above).


Today, the peak of Saturday candy madness is midday, when the aisles are most likely to be clogged.


The easiest time to buy is Saturday evening, as you avoid crowds—but the candy bins are well-picked over by then.


Adults without kids have added their own tradition: nabbing sweets a day early for fredagsmys (cozy Friday), which means spending Friday night in, hanging out at home with snacks.


Once-a-week consumption hasn't decreased sugar intake: Swedes are among the top 10 candy-consuming nations on earth, scarfing down 25 pounds each per year (or nearly a half pound every week).
Learn more about Swedish culture and traditions on our Grand Baltic Sea Voyage.