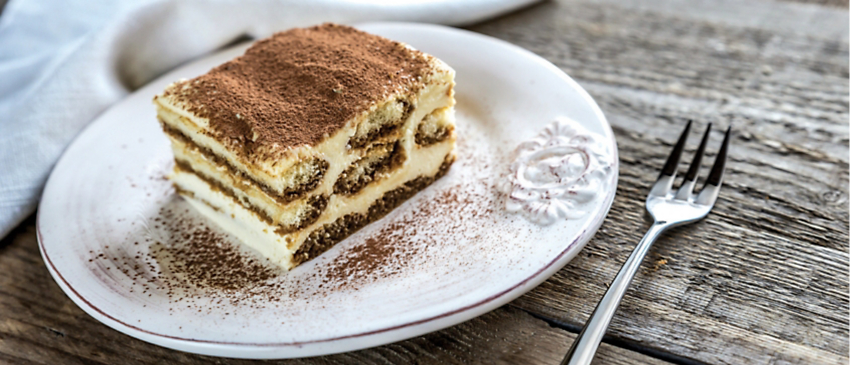 Question: Which "pick-me-up" dessert created an ongoing rift between two Italian regions?
Answer: Tiramisu
The combination of coffee-soaked ladyfingers, mascarpone cheese, eggs, sugar, and cocoa makes for a spongy, moist treat—but it also has two regions of Italy battling to stake claim.
The origins of tiramisu have been under much debate for decades, with the regions of Veneto (which encompasses Venice) and Friuli Venezia Giulia both insisting that the classic Italian dessert was originally invented in their respective areas. Residents of Veneto have a variety of accounts of the origin, which range from the dish being created in a small bakery in Treviso, Italy in the late 1960s, to a local woman whipping up the dessert because she craved an energy boost after the birth of her son. After all, tiramisu literally translates to "pick-me-up," so the story seems to add up.
But try and tell that to residents of Friuli Venezia Giulia, a region in northeast Italy near Slovenia and Austria, who are adamant that tiramisu hails from their neck of the woods. It turns out the proof is in the pudding for Friuli Venezia Giulia, because just last year, food writers Clara and Gigi Padovani discovered concrete evidence that left Veneto feeling pretty sour.
The Padovanis uncovered recipes in the Friuli Venezia Giulia region that referenced a dessert called "tirimi su" or "tirime su" that dated back to the 1950s. Tough luck for Veneto, whose stories are just that, and without physical evidence, experts were forced to grant Friuli Venezia Giulia with a sweet victory.
On July 29, 2017, tiramisu was added to the esteemed list of "prodotti agroalimentari tradizionali" by the Italian Ministry of Agricultural, Food, and Forestry Policies. The list formally recognizes traditional Italian food products and the area in which they were invented. Much like the other residents of Friuli Venezia Giulia, Christiano Shaurli, a regional politician in charge of agriculture, is overjoyed by the ruling: "This is a really important result and it fills us with satisfaction. We're proud to have finally obtained a result that sanctifies once and for all the links between tiramisu and Friuli Venezia Giulia, earning gastronomic prestige for the entire region."
The governor of Veneto, Luca Zaia, is "literally thunderstruck in response to this decree," and has asked that the decision be suspended. But for now, Friuli Venezia Giulia remains victorious—only time will tell if the ruling will stay that way. Much like tiramisu, a number of other classic Italian dishes have a murky origin, while others have an undebatable history:
Pizza: Naples has proudly claimed the rights to inventing the first pizza in the 16th century. It was originally a popular dish among the poor and sold as a street food before it became a staple in kitchens around the world.


Lasagna: Much like pizza, lasagna also calls Naples its first home. The earliest recorded recipe can be found in the 14th-century text Liber de Coquina, or The Book of Cookery.


Pasta: Although pasta is commonly associated with Italy, it wasn't invented there. It's unclear when pasta officially arrived, but many believe that Marco Polo brought it to Italy from China back in the 13th century, even though noodles in general existed throughout Asia long before his trip.


Gelato: Also like pasta, gelato made its way to Italy by means of China. Gelato, which very fittingly translates to "frozen," is believed to have made ground in Italy in the 14th century through traveling merchants.


Espresso: There is some debate around the official inventor of espresso because of the sheer number of prototypes and patents associated with espresso-creating machines and techniques. The patent for the method that would eventually lead to espresso was granted to Angelo Moriondo of Turin, Italy in 1884. The patent was titled "New steam machinery for the economic and instantaneous confection of coffee beverage,
Method A."


Tortellini: Some of the most obscure origin stories are associated with this famous pasta variety. One legend claims Lucrezia Borgia (the daughter of Pope Alexander VI) was staying at an inn in Modena and her host, so captivated by her beauty, stared through the keyhole to her room. All he could see was her navel, but that was enough inspiration for him to go off and create tortellini. Another similar tale takes place in medieval Italy and claims Venus and Jupiter retired to a local inn one evening. The innkeeper also peered through the keyhole after being taken by Venus' beauty, but was only able to see her navel. He rushed to his kitchen to create tortellini, which paid tribute to what he has seen.
Pick a side during your visit to the battling tiramisu regions when you join our Voyage to Istria: Italy, Slovenia & Croatia Small Ship Adventure.