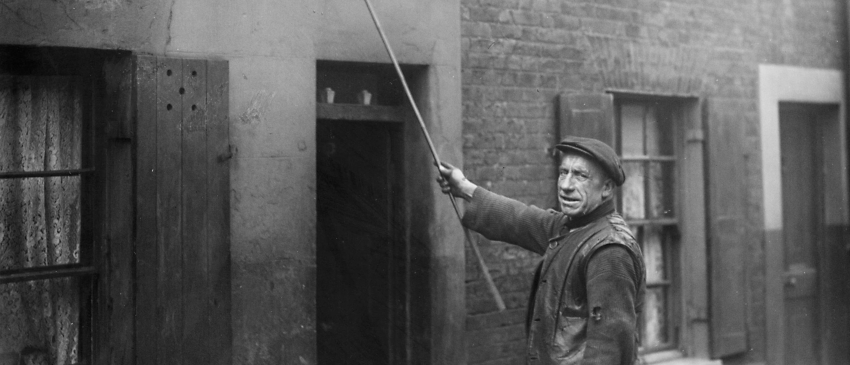 Question: Before alarm clocks, how did British workers make sure to wake up on time in the morning?
Answer: Knocker-Uppers, door-to-door human alarms
For more than a century, Britain was the province of Knocker-Uppers, women and men paid to go house-to-house rapping on bedroom windows to alert the sleepers inside. This was especially important in the mill towns, where the first shift might start before sunrise and the last shift might begin in the wee hours. As the practice spread, fishing communities adopted it too, with Knocker-Uppers adjusting their schedules to match the tides and seasons.
Knocker-Uppers were always locals, paid a tiny fee to wake their neighbors. Most carried long poles capable of just reaching the second floor, but others had their own tools of choice, some carrying loud rattles, hammers, or even pea shooters. This was not without controversy. As a newspaper noted in 1878: "The knocker-up soon found out that while he knocked up one who paid him, he knocked up several on each side who did not!"
The practice became so well-known that Dickens referenced it in Great Expectations. It was so highly valued that a witness to Jack the Ripper's first victim couldn't get a policeman to help him, as the officer he stopped was doing double duty as Knocker-Upper and refused to leave his route. And in popular culture of the time, party guests would rattle off a Knocker-Upper tongue twister: We had a knocker-up, and our knocker-up had a knocker-up, and our knocker-up's knocker-up didn't knock our knocker up, so our knocker-up didn't knock us up, 'cause he's not up.
Some Knocker-Uppers became well-known, from Mrs. Bowers of County Durham, famed for her doing her route with her dog Jack, and the two Marys, a mother-daughter duo who served in succession as pea-shooting Knocker-Uppers in East London. But as the 19th century drew to a close, it brought the first patented mechanical alarm clock that could be adjusted daily. It took a few decades, but alarm clocks eventually became so commonplace that most Knocker-Uppers found themselves without clients in the 1920s. By mid-century, after years of making noise, the Knocker-Uppers were gone, having quietly faded into history.
Granny Cousins: The Life of a Knocker-Upper
One of the most famous of all Knocker-Uppers was Caroline Jane Cousins, born in 1841.


At 22, she married a man 34 years older than herself, and together they had four children.


In 1880, when her husband died, she ended up in a workhouse with her children, where they lived for several years.


In 1901, she found private lodging and began her job as Knocker-Upper for brewery workers of Poole, earning 3 cents a week per.


She typically began her route (from the Quay to the Gas Works) around 4AM, always carrying a long pole in one hand and a lantern in the other.


Her attire was formal and intentionally old-fashioned: a black dress with a white apron, shawl, and bonnet.


This contributed to her nickname, Granny Cousins, which made her sound like a sweet little old lady.


She wasn't actually very maternal: When one son lost both legs in an accident and then died, she did not stop her route, and she rarely interacted with her own grandchildren.


"Granny Cousins" was well-known for stopping passersby to talk about how she missed her childhood in the country.


She told many strangers her recipe for rustic "Skiver Cake": bacon and cabbage boiled with a hunk of dough on top. She emphasized that drinking the cooking water was good for health.


She was well-known for making all these speeches without making eye contact with her listeners.


She retired at age 77—but only from being a Knocker-Upper. She took a job in a twine factory.


She lived (and worked) until she was 89, attributing her longevity to the restorative effects of Skiver Cake water.


When she died, one of the few possessions found in her room was an early model alarm clock, the "knock" that she used to get up to be a Knocker-Upper.
Explore the history of England and more during our Maritime Jewels of the British Isles & Ireland Small Ship Adventure.