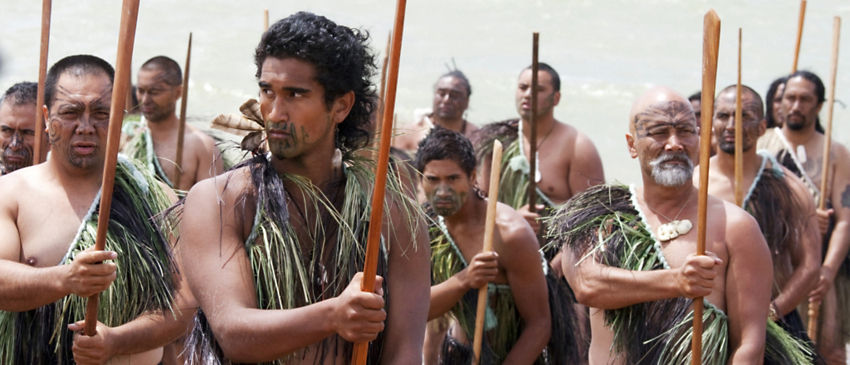 Question: On what surprising surface did Maoris traditionally chisel out a list detailing their ancestry, job title, and class?
Answer: Their own faces.
When you see Maori faces adorned with dramatic black and white designs, you are seeing the revival of an 18th-century tradition known as ta moko. These permanent facial designs served as status symbols and the equivalent of biographies. Patterns on your cheekbones specified your line of work, while the jaw and chin respectively showed your status at birth and at the time of tattooing. The left side of the face gave clues to the father's side of the family and the right side revealed the mother's—but only if either were nobility. Blank sides meant the elders were not of status; a blank forehead suggested the wearer, too, was of low status. (And no ta moko at all meant you couldn't afford the procedure).
Ta moko was distinct from other tattooing in that instead of using a needle to apply ink to the surface of skin, the tohunga ta moko (tattoo artists) used chisels (known as uhi) to actually carve the channels into which the color would be applied. A decidedly more painful process, ta moko resulted in grooved skin instead of smooth, and the changed appearance became a signature of adulthood. Over time, ta moko spread to include pretty much any body part, for sexual attractiveness and further proof of status.
In the 19th century, as European culture dominated New Zealand, male ta moko fell out of fashion, and in the early 20th century, it was banned outright. It's only been in the last 25 years that ta moko (no longer illegal) has made a resurgence. With new times have come some changes: once a male field, the ranks of tohunga now include women, and most ta moko is done with tattoo needles. But a contingent of new adopters is sticking to old school methods, braving the chisel for the most authentic experience of their heritage.
7 Ways to Read a Face, Maori-style
Manuah Lines: The strong outlines that shape the main pattern represent the wearer's life and time on earth.


Korus: These are the tiny unfolding fern shapes that shoot off the manuah. Meant to suggest new life, these often represent the people most important to the wearer.


Raurau: The unique pattern displayed beneath one's nose is the equivalent of a signature and used to be recognized for formal transactions and business deals.


Unaunahi: Fish scales represent abundance and health (as the Maori diet is seafood-heavy).


Hei matu: This recognizable fish hook symbolizes prosperity and the way one may bring unaunahi to themselves.


Pakati: What looks like interconnected ink tips is called "Dog skin cloak" and represents warrior-like courage and strength.


Hei tiki: What looks like a tiki charm is the symbol of fertility, but not just of body—it means fertile mind and good character.
Meet today's Maori as you explore the rich traditions of Pure New Zealand with O.A.T.